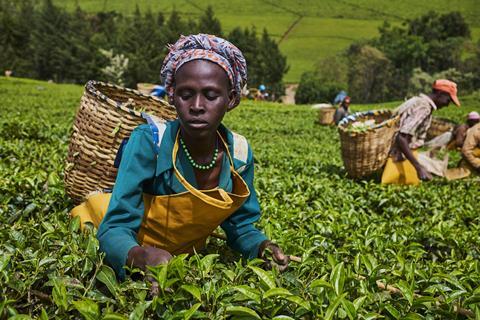 Some of the UK's biggest tea brands and retailers received a wake-up call in May, when the Business & Human Rights Resource Centre (BHRRC) linked them to 70 allegations of human rights abuse on estates in Asia and Africa.
Tetley, Twinings, Tesco and Starbucks were among those failing to address the likes of unfair wages, inhumane living standards, and poor health and safety conditions, it said.
In responses, most of the businesses said they had promptly investigated the cases brought to their attention.
The abuses had come to light via work by the BHRRC's Tea Supply Chain Tracker – research spanning 25 companies and more than 3,100 tea estates.
Similarly, Fairtrade has its Risk Map. Released in January, it is based on conversations with producers of bananas, cocoa, coffee and 14 other commodities about the challenges they face.
It's key to making meaningful change, insists Anna Mann, head of responsible business at the Fairtrade Foundation. "It's a tool for producers as well as businesses, so they can see the risks and adapt and mitigate them," she says.
"From a business perspective, it provides greater understanding and transparency on the issues in their supply chains, and where they need to be focusing."
Greater awareness is essential to improving conditions, agrees Ben Greensmith, UK manager at Tony's Chocolonely, which works to eradicate modern slavery from the chocolate supply chain.
"Once you know, you can't unknow," he says, adding that this applies not just to brands but everyone in the supply chain, from farmers to consumers.
At Tony's, the business has reached a "tipping point" by persuading other suppliers to adopt its five fairer sourcing principles, Greensmith says. The latest to join is Ben & Jerry's, with two more UK 'mission allies' on board soon.
Also working to identify and respond to human rights issues in the supply chain is Princes, which this month completed an assessment into the pulses it uses from Argentina.
Having claimed an industry first for its initiative, the ambient goods supplier is hoping to share what it has learnt – including via the Ethical Trade Initiative and the Food Network for Ethical Trade – to wake up more brands and retailers.
Is sustainability the right direction for Fairtrade?
1

2

Currently reading

How ethical brands are tackling human rights abuses in supply chains