The Business Benchmark on Farm Animal Welfare report scores the world's top 150 food companies on their welfare practices, processes and performance based on publicly available information, along with a survey
Last week, the ninth edition of the Business Benchmark on Farm Animal Welfare revealed suppliers had overtaken retailers on progress.
It's a report that scores the world's top 150 food companies on their welfare practices, processes and performance based on publicly available information, along with a survey. It then ranks them across six tiers.
The latest report, covering the year to November 2020, showed food producers and manufacturers' average score had risen from 33% to 38%, leapfrogging supermarkets, whose score went up 1% to 36%.
So why are suppliers now performing better than retailers? And which suppliers are driving the progress?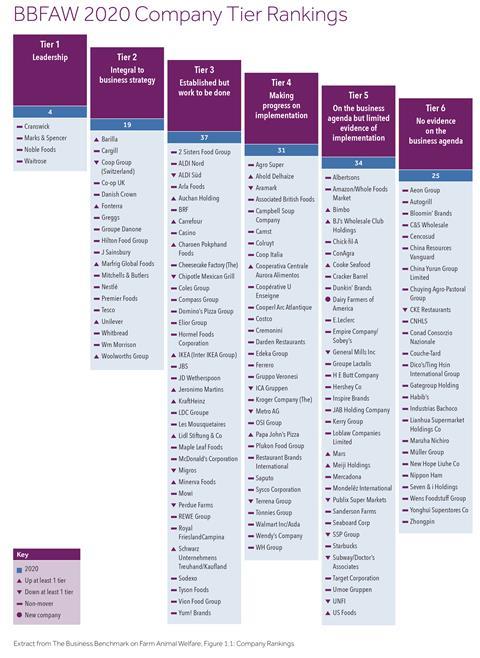 According to BBFAW executive director Nicky Amos, that pattern stems partly from producers simply responding to increased demand from customers and consumers.
Amos says this demand ties in with animal welfare becoming a "more mature business issue". In other words, having good welfare practices and the structures in place to guarantee them has become a key requirement for their customers.
"There's a strong onus on producers to have monitoring systems in place not only to report for themselves but also to furnish their customers with that performance data so they can report across their supply chains," she explains.
"For almost 10 years now, BBFAW has been saying these are the expectations of food businesses. If you're managing animals in your supply chain then this is what you're expected to do in terms of having clear management commitments and having the governance sitting behind that."
Meat producers have also faced added pressure from new sources of competition, namely the growth in plant-based diets.
"I think the increasing interest in plant-based alternatives is pulling into sharp relief the welfare standards of meat supply chains," Amos says.
"As plant alternatives are being promoted as a more sustainable option to meat production, there's an increasing challenge for meat producers to demonstrate they actually can and are producing meat in a responsible way, promoting higher welfare standards that meet consumer expectations."
According to the report, much of the momentum behind the boost to the sector's score came from South American suppliers, whose overall average score rose from 29% last year to 40% this year.
The continent was first included in BBFAW in 2018, meaning the timing of this increase chimes with trends the report's authors have seen before from other quarters.
"We know it typically takes two to three years for companies to start engaging with the BBFAW," says Amos. "The first year they might not realise it's happened because it's based on published information or they hope it's just going to go away. By the third year, firms begin to realise that there's a business benefit to engaging in this process."
There are two further motivating factors, Amos believes. First, these producers – which include major players like JBS and BRF – have growing global ambitions.
"The export market is very important to companies in Latin America and producers are recognising animal welfare is a growing consumer concern, particularly in the markets they're looking to export to like Europe," she says.
Secondly, Amos believes added pressure from NGOs has forced them to become "more active in championing different welfare issues". Indeed, JBS and BRF in particular have faced increased scrutiny since 2017's food fraud scandal and the Amazon rainforest fires in 2019.
While South America has raised its game considerably, it's still some way behind the UK in terms of its BBFAW performance.
All four of the top 'leadership' tier firms – Cranswick, M&S, Noble and Waitrose – are UK-based, with UK businesses also dominating the second tier. The difference in the UK is that it is retailers, with a 75% average score, rather than producers, with 61%, who are leading on welfare.
According to Amos, this is because UK supermarkets have been engaged in improving animal welfare for longer than foreign retailers, for example through Compassion in World Farming's Supermarket Survey, which has run biennially since 2001.
But with BBFAW's methodology set to change, so that scores are more greatly weighted towards actual welfare impacts on animals, and with individual scores set to be released from next year, UK firms should not rest on their laurels if they wish to maintain their leadership role.