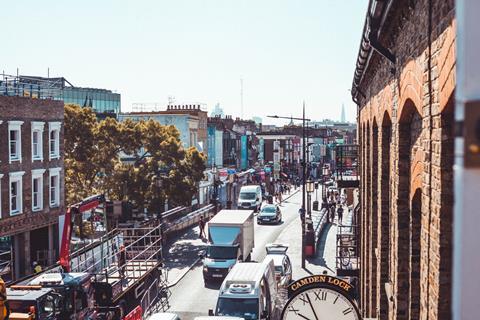 Retailer rollouts of micro-fulfilment centres (MFCs) in London could significantly reduce congestion and emissions, a study by Accenture and Frontier Economics has found.
Delivery traffic in the capital would fall by 13% – which equates to about 320 million fewer miles travelled by delivery vehicles – if MFCs fulfilled half of London's e-commerce orders over the next five years.
Their use could also lower delivery vehicle-related emissions in London by 17% by 2025, the report calculates. The reduction in CO2 alone would be equivalent to taking over 15,000 cars off the road permanently.
While typically defined as fulfilment-only 'dark warehouses', for the purposes of the study MFCs included in-store click and collect points, automated locker storage facilities, and standalone micro-warehouse facilities.
Of the three cities analysed – Sydney and Chicago were also covered – London stood to see the biggest reduction in traffic from greater MFC use, and the second biggest drop in emissions.
"With the uptick in demand for e-commerce during the Covid-19 pandemic looking set to stay, the need to address the carbon footprint of the last-mile supply chain has never been more pressing," said Henry Cartwright, Accenture's post and parcel industry lead for Europe. "The last mile ecosystem is at a tipping point. Go one way, and it can extend these gains. Go the other way, and environmental impacts will worsen."
Several grocers are increasing their use of MFCs. Ocado is planning 12 or more Zoom sites across London situated in areas of high population density, offering rapid delivery of around 10,000 SKUs.
The slew of ultra-rapid grocery delivery companies like Getir, Dija, Weezy, Zapp and Fancy also manage fulfilment from small dark warehouses, sited within residential areas.
Separate forecasts from Interact Analysis predicts more than 220 automated MFCs across the UK by 2024. These include standalone dark warehouses, and one situated in stores, a strategy being pursued by Tesco.
The impact of last-mile deliveries on the environment is worsening. Related emissions are on track to increase by over 30% by 2030 in the top 100 cities globally, according to the World Economic Forum. The forum also predicts traffic congestion will rise by over 21% in major cities by 2030, adding 11 minutes to every journey.