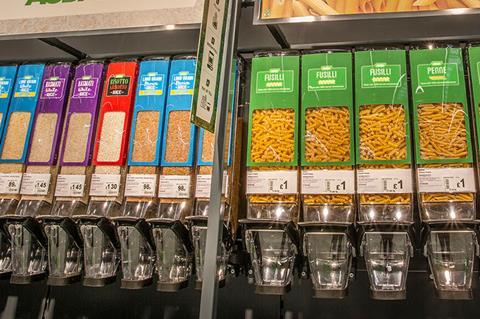 Asda's new 'sustainability trial store' in Middleton is the latest in a line of innovative and forward-thinking concepts designed to build a more sustainable future for grocery retail. Similar to a trial in Waitrose last year, Asda has included 'refill stations' as part of this new store format.
While the jury remains out on how effective these will be in meeting shopper needs at scale – the need to carry six different containers with you at all times renders the concept of 'convenience' rather redundant – these stations present an interesting set of challenges for the various grocery brands contained within them.
A product's packaging remains one of its most important and distinctive assets, helping shoppers to navigate quickly and effectively through peripheral vision and 'system one' thinking. Removing this familiar brand asset forces shoppers to switch off autopilot and engage more critical thinking, as they struggle to find your products, or worse still, switch to a competitor.
Refill stations themselves could suddenly become expensive pieces of retailer real estate – media formats purchased and dominated by the biggest player in the category. Would it be logistically viable for retailers to provide a branded dispensed presence for every single product? Would it be financially viable for smaller independent brands to fund a new branded presence in the absence of packaging's 'owned media'? And what about NPD?
We also have to consider the category implications. With transparent refill dispensers housing what are at their core essence, commodity food and drink products, does this spell an impending decline in category value? Branding and packaging make up such a large percentage of what a shopper 'buys into', extensive rollout of refill stations could further accelerate the current and widespread shift to EDLP strategy, selling shoppers commodity products rather than true 'branded goods'.
The format also impacts on-pack promotions. Suffice to say, with no 'packs', there's nothing that promotions can go 'on' and brands would need to deliver value to shoppers in new ways. And of course, we know that promotions help to secure 'off-shelf display', which, in turn, helps to drive incremental sales. With such a high degree of planning needed to shop refill stations, widespread adoption could be the end of impulse purchasing as we know it.
Make no mistake: this is not an attack on refill stations and all attempts to foster a more sustainable grocery ecosystem should be lauded. But we also need to recognise that 'packaging' is not the enemy: single-use, non-recyclable plastic is.
Packaging provides so much 'value', from health and allergen security along the supply chain, to freshness and longer-lasting products – in itself, a sustainable food waste benefit – to shopper and consumer value that 'brands' offer to every single category.
The future of our planet is of critical importance and is rightly the leading priority as we face into the next few years. But let's not underestimate the need for sustainable solutions that allow retailers and brands to work in harmony. Refill stations play an important role in the future of our industry: as does value-added, plastic-free, sustainable packaging.