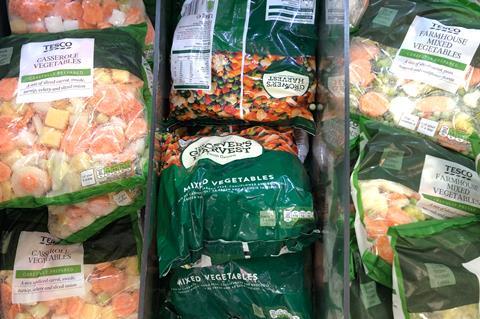 Greenyard is to become Tesco's sole supplier of own label frozen fruit, veg and herbs from September as the retailer continues the rollout of its strategic single supplier tactic.
Through the partnership, Greenyard Frozen UK will increase the volume of frozen vegetables and herbs it supplies to Tesco. It will also add a range of 25 frozen fruit SKUs, increasing the retailer's current offering by three.
It builds on a 35-year relationship between the two, both of whom refused to name the supplier or suppliers who had lost out in the deal. Greenyard said the move would "contribute positively to the revenue of all parties in the supply chain".
"This landmark deal is the biggest win we at Greenyard Frozen UK have ever been involved in with a single customer," added MD Nigel Terry. "We are extremely excited to have been awarded a supply agreement for the full assortment of frozen vegetables, fruits and herbs."
Greenyard's partnership follows a pattern of Tesco entering strategic single supplier deals, most recently partnering with potato supplier Branston at the expense of the Produce Investments-owned supplier Greenvale. It counts Müller, fresh supplier G's and food-to-go supplier Samworth Brothers among those partners, in addition to meat giant Hilton Food Group and its fish subsidiary Seachill.
The deal follows a tough year for Greenyard Frozen UK's parent company, Greenyard, which announced it would cut more than 400 jobs in the UK and Germany, in March. The move came as part of a 'transformation plan' designed to boost dwindling profits, which would also see it explore the divestment of its prepared veg division.
Meanwhile, Greenyard Frozen UK was forced to recall a raft of 43 frozen veg products linked to a pan-European outbreak of listeria last summer. The company was forced to pull products from shelves across Europe, in action which was estimated to cost €30m (£27m).