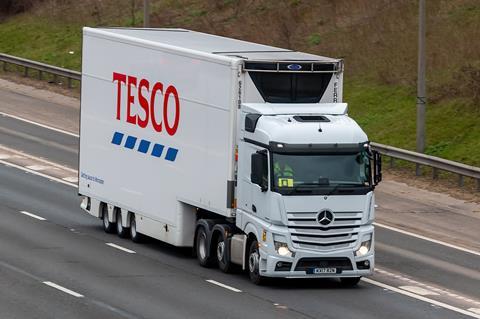 Some Tesco suppliers are being hit with their third rise in distribution fees in as many years, with the cost for using its services up nearly 30% since the pandemic.
The supermarket has given suppliers just four weeks' notice of the new charges, claiming it can no longer afford to subsidise companies using its primary distribution service.
However, it has been slammed by suppliers for justifying the rise, in part, because of increased energy prices, despite fuel prices having been falling rapidly since they peaked last year.
A letter from Michelle Day, primary commercial manager at Tesco, seen by The Grocer, tells suppliers using the service that Tesco has faced rising costs due to factors "including shortage of drivers and the pressure on wages, inflation levels, increased energy, fleet and insurance costs".
"These factors are outside of our control but as Tesco Primary we do our best to limit the impact of these cost pressures," she added.
"Tesco have been subsidising several increased costs for several months. However, having reviewed rates and any mitigations, unfortunately we need to advise you of a change to your rates."
Surcharge
The blow to suppliers follows an 8% rise brought in last year, on top of an eye-watering 14% surcharge billed to suppliers using the service in July 2021, at the height of the driver shortage crisis.
It also comes on top of Tesco's controversial move to try to persuade suppliers to pay fulfilment fees for using its online and Booker wholesale services, with the supermarket arguing it had been shouldering more than its fair share of the costs.
"Tesco buyers are saying they want lower prices but at the same time their charges are going up," said Ged Futter, founder of The Retail Mind. "So how are suppliers supposed to give you lower prices if the cost of doing business with Tesco is going up?
"Part of the justification is that costs are going up: the shortage of drivers, pressure on wages, increased energy, fleet and insurance costs. When a supplier mentions those costs, it's not acceptable, but when Tesco says that to a supplier it's take it or leave it.
"It also shows that despite what buyers are saying to their suppliers, inflation is still present."
One supplier told The Grocer: "Our response is: What has Tesco done to mitigate the costs? Diesel has fallen 29% (at today's price) from its peak price in October last year, therefore we are expecting a reduction to logistics costs."
Tesco declined to comment.