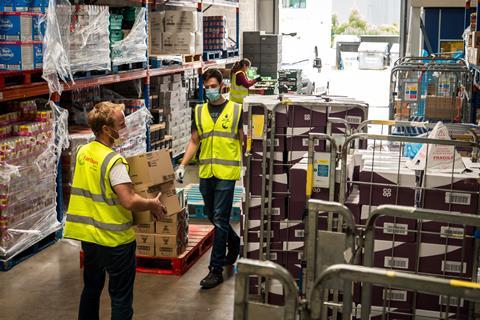 The Co-op has diverted more than five million meals of surplus food to people at risk of hunger since forming its partnership with food redistribution charity FareShare.
The charity announced the milestone this week in what it said was a crucial time as the FareShare network of over 30 warehouses continues to respond to the Covid-19 crisis.
The retailer's 10 distribution centres first began working with FareShare to divert surplus food to frontline charities across the country in 2015, and in the five years since the equivalent of 5.7 million meals has been saved from waste.
The Co-op's landmark follows its Local Heroes advertising campaign in support of FareShare earlier this year, which resulted in Co-op customers donating enough money to fund the distribution of more than four million additional meals through FareShare's network.
The campaign, featuring Marcus Rashford and FareShare employees, saw Co-op staff encourage the UK population to come together and support each other during the Covid-19 crisis by donating to FareShare.
"As more than two million tonnes of good-to-eat surplus food goes to waste each year whilst more than eight million people nationwide struggle to afford to eat, FareShare continues to work tirelessly to tackle both issues and connect this food with the communities who need it most," said FareShare CEO Lindsay Boswell. "We thank Co-op for its commitment in helping us to make this happen.
"The Covid-19 pandemic means there is more pressure than ever to do the right thing with surplus food and ensure it feeds people first. With the brilliant and continued support of partners such as Co-op we are closer to our mission of ensuring no good food goes to waste – especially whilst millions of vulnerable people nationwide face serious hardship."
Co-op Retail CEO Jo Whitfield added: "Co-operation really is key when it comes to alleviating food poverty. Our long-term partnership with FareShare enables us to get our unsold produce to vulnerable communities right across the country.
"None of us could have predicted just how essential FareShare's work would become this year. Many people continue to experience tough times and it's essential that this important work is able to carry on. We commend FareShare, and its network of UK charities, for the phenomenal efforts they go to in getting millions of meals to those most in need."