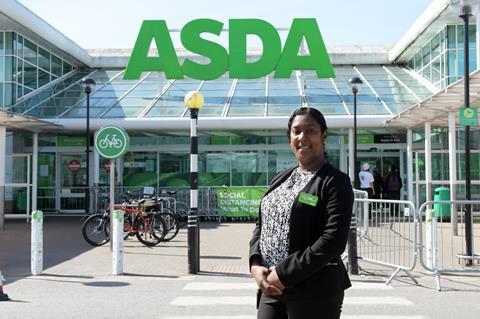 Winner: Asda Hulme
Deputy store manager: Natalie Kandeke
Opened: 1998
Size: 78,000 sq ft
Market share: 13.4%
Nearest rivals: Sainsbury's - 1.8 miles, Aldi - 1.9 miles, Morrisons - 2.3 miles, Tesco - 2.8 miles
Store data source: Analysis by CACI. Call the market planning group on 020 7602 6000
Availability was strong this week. How are you managing it? Everyone is working hard to improve the situation and availability is more or less normal now. We've used our bakery to plug the gaps in home baking and have been packaging self-raising flour in the doughnut bags to improve availability. And we're also selling fresh yeast as demand for breadmaking at home has risen. Shoppers have reacted positively, and the flour is one of our bestselling lines

Waiting times outside stores were lengthy this weekend. Do you have any plans to trial virtual queueing or other initiatives? Not at the moment. We're near the town centre, so we get quite busy at the weekend, but it is better during the week. Customers have adapted to the situation really well. This weekend was slightly busier than recent weeks because of Eid and the large number of Muslim shoppers in the area.

Did sales hold up during Eid or has lockdown affected numbers? We've definitely seen a drop in sales year on year as the usual celebrations were affected by the current crisis and families were unable to gather in big groups as they normally would.

How was business over the bank holiday weekend generally? Did the good weather help? There is a noticeable difference, but our BWS lines were very popular as customers were unable to go to pubs and restaurants. The weather was beautiful over the weekend, which helped. Sales were spread across all categories of alcohol and we also saw an uplift in barbecues and the home and leisure department. The gas barbecue that was on Rollback sold particularly well.

Prices were slashed across 1,000 SKUs in May. Has it helped volumes? The refresh of EDLP has given customers confidence and more consistency. We are giving them the best value for money, and they have responded well

How do you ensure the store remains welcoming to customers while also staying safe? We have security on doors to control the queues and greet customers as they enter. They also make customers aware of a cleaning station for baskets and trolleys. We also have signs and posters everywhere to remind customers of the importance of social distancing guidelines. There are floor markings and a one-way system. And there are also colleagues on the shop floor in case customers do need help. I must credit our colleagues, who are all friendly and helpful. They have done a fantastic job trying to maintain the rules under difficult circumstances.

Are customers making more use of the expanded Scan & Go technology? We are seeing more and more customers using the device and we are advertising it. It reduces shopping time and also helps us manage the queues more effectively.

How has your store managed the surge in demand for click & collect and online shopping? We have added lots more slots for online and have given priority to vulnerable customers. We have also changed the working hours of our staff that pick products for online to manage the demand. Staff usually would start at 5am to pick orders for a couple of hours before the store opens, but they now start at 2am to give them more time. Colleagues are handling the change well. The staff take a lot of pride in what they are doing. I'm really proud of what they are achieving. They know they are picking for the most vulnerable in society and doing it in during the night gives those customers the best availability possible.

Are customers beginning to shop more normally as lockdown eases? The mezzanine level with George clothing and home and leisure has been like a ghost town over the past nine weeks. But as lockdown begins to ease and the sun is shining, we are seeing more and more customers heading upstairs, with sales improving. Customers are definitely starting slowly to browse again over the last two weeks.

Will we see food counters reopening any time soon? We have reopened our pizza counters this week, the rotisserie is open and in the bakery we are going back to slicing bread. There are signs of a return to normal. We don't have a café, but there is a McDonald's, which is still closed.