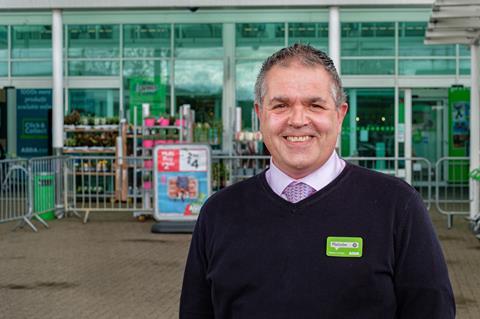 Winner: Asda, Llansamlet, Swansea
Store manager: Malcolm Thompson
Size: 60,000 sq ft
Opened: 1999
Market share: 15%
Nearest stores: Tesco – 0.9 miles, Morrisons – 1.9 miles, Sainsbury's – 7.3 miles
Store data source: Analysis by CACI.
Call the market planning group on 020 7602 6000
Now that lockdown is easing, can you describe what it's been like being on the frontline of the pandemic for over a year? It's been quite a challenge but the whole team has shown fantastic resilience, flexibility, adaptability and commitment. When we were first classed as key workers people were saying we were at risk but we didn't see it like that. We saw it as doing our bit to keep the nation fed.
How have shopper numbers picked up since the lockdown measures were eased? We were able to start selling non-essential goods before the rest of the shops opened but they are back now, so the competition is fierce. People do seem to be getting out and about again which is good, but it's still too soon to say things are back to normal.
How has your online operation changed to cope with demand since the pandemic began? Our online operation has grown massively and we are now the top e-commerce operation in the company. In the last year we've had between 75 to 100 more colleagues brought into online and we've had five more vans. We cover the whole of the Swansea area and as far away as Aberystwyth so it's a big area anyway, but you just couldn't have predicted the growth we've seen in our e-commerce operation or that we would have adapted so quickly. It's shown what's possible really.
When does your café reopen for business? We reopen next week, although obviously we still have all the social distancing measures in place. It's been kept open for takeaways only but will be great to have it back, it's definitely something else we can offer to get some sense of things coming back to normality. It's also a useful thing to have open because we can't always rely on the good old British weather to stay warm and sunny for outdoor meetings.
Wales still has the two-metre rule – how does that impact the store? We are so used to it now. Of course it means we have to maintain limits on numbers in stores. I'd like to see us go back to not having it, but I can't see it happening just yet. I think face masks and social distancing are going to be around for the foreseeable future.
How do you feel about the Asda bakeries stopping scratch cooking? We are still in consultation on that, but I have seen a massive shift in demand away from traditional loaves to things like Mediterranean bread and bagels. There's definitely a change in customer habits.
Have you had any new concessions in store? We haven't had any new concessions yet but there is space where the fish counters and the meat counters were. That is available for concessions as and when they decide to open them.
How much attention do you and your staff pay to the takeover by the Issa brothers? We get on with things day to day but it is exciting. The Issa brothers have been very successful at what they've done with their other businesses. I think there is a real anticipation about what's to come.