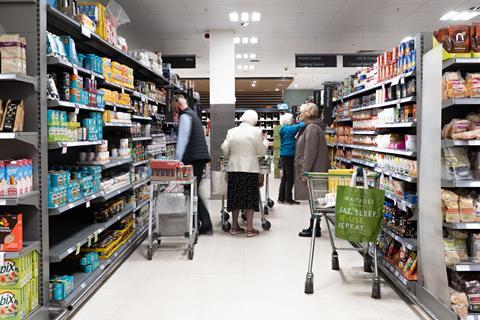 Waitrose beat Asda and Morrisons on their home turf in Leeds in The Grocer's latest single-location mystery shop.
What's more, it did so despite IT glitches that caused widespread availability issues across the Waitrose store estate over the bank holiday weekend.
Leeds is Asda's HQ, with Morrisons in nearby Bradford. Not surprisingly they dominate in terms of market share, with 10 supermarkets each – although Aldi has the most stores over 3,000 sq ft of any multiple at 14, according to CACI (while Lidl has only six).
With a population of 697,000, CACI analysis shows Leeds has a lower-income customer base than the national average, while an above-average student population is also a feature thanks to its four universities.
However, while HS2 won't be arriving after all, Leeds is a vibrant city with a strong art and culture scene, while the likes of Channel 4, Sky News, the BBC and the government have recently opened offices here, and it overindexes on what CACI calls 'Lavish Lifestyles' by 20% compared with the national average.
It's a group no doubt well catered for by Waitrose Green Road, a 27,000 sq ft store in the up-and-coming Meanwood suburb, which offers a selection of counters including cheese, sushi and patisserie, and John Lewis clothing and toys.
The "attractive" store scored 80 points, with smartly dressed, helpful, friendly staff impressing. And it had the least out-of-stocks, though our shopper was given vouchers at the till to compensate for poor availability due to supply issues.
Asda also performed creditably. Its 52,658 sq ft store, located on one of the main routes to the north east of the city centre, has a 13.5% market share, despite a Tesco Extra just down the road.
As well as an excellent car park, the store layout worked well, with a "good follow on from each department". The store was also clean and tidy with friendly staff and good food options.
The Sainsbury's store, in the busy White Rose Shopping Centre on the south west of the city, shares its car park with other stores, including M&S.
Scoring 60 points, the 60,000 sq ft store was clean and tidy, but staff were of varying helpfulness, while there were queues for the three checkouts open, and our shopper's receipt had a mistake for the price of the Tropicana orange juice.
Morrisons Kirkstall scored just 45 points, despite being a large, modern and well-located superstore, on a main arterial route to the north west of Leeds.
The displays inside were attractive but poorly stocked, including the food to go, which looked depleted, and the sparse fish counter.
Our shopper was forced to wait 10 minutes at the checkout, as only four of the 10 checkouts were open. There were no staff available to offer help at the self-scan checkouts.
Seven items were out of stock, including the asparagus and the steak pie.
Tesco Roundhay Road came last with just 41 points, in a shop that also featured seven out of stock items.
Tesco underindexes in the traditional heartland of Asda and Morrisons, with just five stores, though the 31,379 sq ft store has a market share of 9.99%, higher than Sainsbury's 7.75% share despite the smaller form factor.
On the other hand the illogical store layout made it hard for our shopper to navigate aisles, store standards were poor and the narrow entrance to the car park caused queues upon entering and leaving.