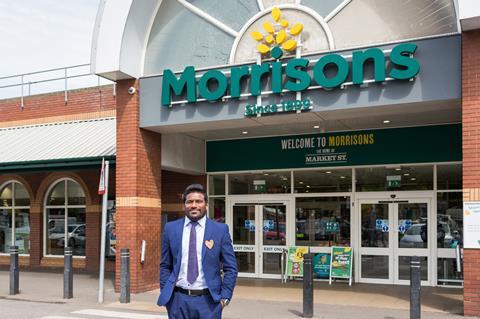 Store: Morrisons Peckham
Store manager: Ivan Fernando
Opened: 1986
Size: 33,200 sq ft
Market share: 7.22%
Population: 2,117,968
Grocery spend: £54,185,767.43
Spend by household: £60.38
Competitors: 527
Nearest rivals: Aldi 0.7 miles, Asda 0.3 miles, Co-op 0.7 miles, Iceland 0.1 miles, Lidl 0.1 miles, M&S 0.9 miles, Morrisons 1.0 miles, Sainsbury's 0.4 miles, Tesco 0.1 miles, Waitrose 2.3 miles
Source: CACI. For more info visit www.caci.co.uk/contact. Notes: Shopper profiling is measured using Grocery Acorn shopper segmentation. Store catchment data (market share, population, expenditure, spend by household, competition) is within a five-mile radius.
For CACI's shopper segmentation of the other stores we visited this week see the online report at www.thegrocer.co.uk/stores/the-grocer-33
Could you tell us a bit about your career at Morrisons? I've been with the company almost eight years now. Before that I worked for a couple of different retailers while I was at university. I started at Morrisons as a checkout colleague and then worked my way up through many positions, and now I have been a store manager for just over a year. In that time I've managed quite a few stores – the one I managed for the longest was Becontree Heath. I've been at this Morrisons in Peckham for around a month.
How are you settling into the store? It's very good. I have a very strong team here. I must thank them as they've made it very easy for me to settle in. Obviously every manager operates differently and the team has been great at adapting to change, which is really positive.
Could you tell us a bit about the store and your customers? This is one of the more high-profile stores and the footfall is really big as well. During the pandemic the other competitors around this store shut down, and we were the only retailer who was open at the time. So the store became even more popular. We have a lot of different customers, including a lot of loyal local customers, because the store has been here since 1986.
How have the Morrisons More relaunch and Savers relaunch gone down in store? We have relaunched the Morrisons More card recently and it's a huge success, the customer engagement is very positive. The engagement is massive because of the value and the great offers customers get. And the Savers range is great quality, great value, and hugely popular among most of the customers. I believe it's one of the big attractions towards Morrisons in terms of the customer point of view.
What stands out about the store? One of the things we have that really makes a difference from other retailers is our Market Street. Our competitors around us do not provide that service. We have our own butchers, fishmongers, we make our own bakery items. It's a service people still love and want to have regardless of the price.
You had impressive availability this week with a full basket. How do you keep availability high in store? We have a very well trialled formula. The business provides every tool for you to operate your store. I encourage my colleagues to follow the full process to ensure full availability. When we have an offer, we make sure we have a lot of stock available for that.
What offers and ranges do you have on for the summer? We've got some great things coming up, especially with introducing the Morrisons More card. We have some great deals for summer such as gardening and barbecue offers. We also have drinks and a range of seasonal lines in. On the counters themselves, we've got the barbecue lines already displayed and out. Customers are very excited to see these lines back in. One thing we do with our butchery counter is provide our customers with different kinds of cuts and seasonings based on their needs. Customers love it.
What are you focusing on as a retailer at the moment? We want to promote the Morrisons Daily stores. Sooner or later, customers who cannot get to a Morrisons store will have access to a Morrisons Daily.