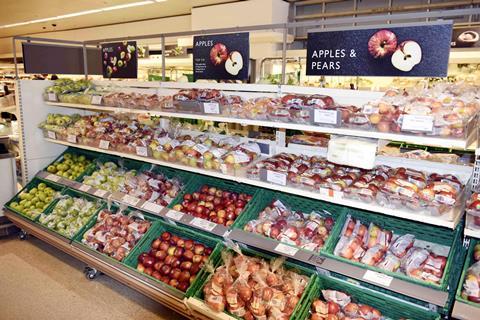 Waitrose bagged its first store of the week award since early March with its strong standards and service at its Kingsthorpe store.
Racking up an impressive 86 points, the branch delivered the goods even as it kicked off a major refurbishment.
While in-store standards and customer service stood out, availability was also strong. Our shopper only missed out on a full basket as the little gem lettuce was out of stock.
Our shopper described the store as "really nice, very well laid out, tidy and organised". She had no difficulties in finding staff when she needed them and praised them as being "very helpful and personable", even opening a till for her.
Runner-up Tesco Lincoln pushed Waitrose close this week with a score of 82. Again, it was for the most part a smooth experience.
The store was generally tidy, but our shopper said an outside gardening display was less so, with litter strewn around. Two restocking trolleys at the head of the drinks aisle obstructed shoppers, which led to a queue forming. The store was generally well stocked but our shopper did spot a few gaps and there were two out-of-stocks.
She approached two members of staff for help and both were excellent. However, the checkout operator was less friendly, starting to scan the next customer's items before our shopper had time to finish putting her purse away.
Third place was a close contest, with Morrisons East Kilbride pipping Asda's Old Kent Road branch by one point.
Morrisons scored 69 points. Our shopper said the store was well stocked, barring some noticeable gaps in the beers, wines & spirits and ice cream sections, which she attributed to the "unexpectedly warm weather". She picked up 28 items, with four out-of-stocks and one not-stocked line.
Staff were friendly and helpful, either taking our shopper to the item she needed or telling her it was out of stock. None of them made any further checks in the stockroom, however.
The store lost further marks as the tills were not being managed, allowing queues to form into the aisles.
Asda was the only store without any out-of-stocks. However, our shopper couldn't complete a full basket due to four not-stocked items.
For the most part, the store was clean and tidy, though our shopper spotted some spilt milk that seemingly had not been noticed by staff.
Staff were helpful and friendly on the shop floor but our shopper was less impressed by the "impersonal" experience at the till, with the checkout operator only speaking to him when he said goodbye.
Availability was the biggest issue at Sainsbury's Wakefield, which managed just 58 points. There were four out-of-stocks and one not-stocked item.
The store was struggling with a refrigeration problem and many chilled and frozen areas were cordoned off. This clearly affected availability.
Staff were hard to find at times and were polite but not exceptionally helpful – barring the checkout operator who was friendly, chatty and efficient.
"I would not visit this store again," was the damning verdict on Iceland Morden, which our shopper gave just 16 points. There were 10 out-of-stocks and five not-stocked items.
Our shopper called the store "unkempt and untidy" with rubbish even blocking the fire exit. Abandoned restocking trolleys made it almost impossible to socially distance in the narrow aisles.
This week's results:
WEEK 43: Sunday 18/04/2021 (1.00pm - 3.00pm)
WINNER
Asda
Morrisons
Sainsbury's
Tesco
Waitrose
Location
Old Kent Road, London
East Kilbride, Glasgow
Wakefield
Lincoln
Kingsthorpe
Date
13/04/2021
14/04/2021
15/04/2021
16/04/2021
17/04/2021
Time slot
1pm - 3pm
1pm - 3pm
1pm - 3pm
1pm - 3pm
1pm - 3pm
Shop starts
01:00pm
01:08pm
02:01pm
01.25pm
01:19pm
Visit Duration
02:15pm
02:04pm
02:48
02:45pm
02:09pm
Car Park (10)
8
10
10
9
10
Car park management (3)
2
3
3
3
3
Queueing time to park and finding a parking space (2)
2
2
2
2
2
Exiting the car park (2)
2
2
2
2
2
After exiting your car please rate your experience before entering the store? (3)
2
3
3
2
3
Feedback
The car park looked well kept. The trolleys were not scattered all over the place.
The store has made a dedicated entrance and exit so queues can be formed and not block anyone and people arent squeezing by each other, when i arrived there was no queue and i could just walk right in, there was someone standing watching the door to count the number of shoppers, there were hand and trolley sanitising areas at the entrance. There trolley bay had an adequate number of trolleys and was easy to get to before entering the store
N/A
This is a large Tesco Extra situated on the north side of the city. The car park was easy to navigate and there were plenty of spaces available for parking. Trolleys were neatly stacked and there was no queue to enter the store. A one way system was in place and two sanitiser stations were available at the entrance. A member of staff was standing in the entrance, greeting and monitoring customers entering and and leaving the store.
Car park was easy to locate for the parade of shops and the time you were allowed to stay was clearly signposted. There were plenty of parking spaces.
Store standards (20)
12
17
12
13
18
First impression (6)
4
6
4
4
6
Displays (4)
2
3
1
3
3
Fruit & vegetables section (3)
2
3
2
2
3
Store standards - remaining sections (3)
2
2
1
2
3
Obstractions (2)
2
1
2
0
1
Spillages (2)
0
2
2
2
2
Feedback
The shelves were well stocked and there was lots of stock on top of the shelves in boxes.
The fruit and veg section had several staff members adding supplies.
I saw some spilt milk in a corner by the milk section but this wasn't affecting people walking in the aisles so might have gone unnoticed by staff.
When first entering the store there were displays of charcoal and other BBQ items and gardening items which is very appropriate given the nice weather the past couple of days, the fruit and veg section was well laid out and well stocked, most areas of the store had good amounts of stock especially for a Sunday however some areas like ice creams and alcohol had large gaps but again due to the nice weather this wasnt unexpected and i imagine when they get the next delivery this will look much better stocked. There was one aisle with 2 restacking/rubbish trolleys that blocked part of the aisle and seemed to have been abandoned but the rest of the trolleys i seen were pushed in as much as possible to avoid disruption
There were lots of unmanned trolleys, see pics but none could be said to be causing an obstruction.
There were many refrigerated/frozen area barriered off with no stock due to a refrigeration problem, also see pics. There were some gardening products when you got fully into the store but definitely nothing you would call attractive or enticing. Very bland
There was a gardening display at the entrance to the store which was rather untidy with litter on the floor. Inside the store was clean and tidy overall. There was a large clothing area to the right of the entrance which was attractive, well stocked and free of litter. The fruit and veg section was mixed: some products such as apples and potatoes were well stocked while others such as berries and peppers contained a lot of empty boxes. At the top of the drinks aisle were two restocking trolleys which were causing an obstruction. Only one trolley could get past at a time and this led to a queue of people trying to get in and out of the aisle. The sugar section was untidy and in the cereal aisle there were empty shelves and boxes. However overall the store appeared well stocked and there were plenty of staff on the shop floor restocking the fruit and veg, chilled and frozen aisles. In the centre of the store was an attractive beauty section which was well presented.
The store had a person on the door directing people in and out. On entrance the flower and plant display looked very enticing. I did notice that compared to other supermarkets they had some wider than average isles, I'm not sure if this has been done since the pandemic but it felt very spacious and spread out.
Store layout and services (10)
10
10
7
10
8
Did the store layout seem logical and intuitive? (4)
4
4
4
4
2
Available services (6)
6
6
3
6
6
Feedback
Very clear large signs around the store so no help was required in finding my items. There was also a sign mentioning that the store had Wi-Fi.
The click and collect area was well sign posted at the entrance to the car park so people could easily get to the right area and not have to drive around the car park, this store had a lot of different counters and all were open and well stocked,there was a sandwich and drinks area as you first enter the shop for quick purchases, Pizza, pie and hot food,butcher, fish, bakery and even a party kiosk for balloons etc were all available, this seems like a really great variety and much more than i would expect from a supermarket
Possibly due to the refrigeration problem but you wouldn't know because no signs here, there was no fish, cheese or deli counters stocked at all, see pics. Nice wide aisles in this store
The store was easy to navigate in spite of its size. There was a sushi counter which was well presented and a hot deli counter but this was empty. Other counters included a bakery, deli, fish and meat: these were quiet with not many customers. They were tidy with a variety of products on display but not particularly impressive. Within the store there was also a Vision Express (this appeared to be closed), pharmacy and Holland and Barrett health food store.
I found this Waitrose very easy to navigate and all but the bakery counter was well stocked and well presented. The bakery counter was completely empty, not sure why. The signage above the isles was useful and easy to read and items that I thought would be together, were.
Shop Floor Service (20)
18
16
10
20
19
Finding a member of staff (5)
3
3
1
5
5
Shop floor staff helpfulness in locating items (5)
5
4
2
5
5
Shop floor staff diligence and hard work in replenishing shelves and picking in-store orders (5)
5
5
2
5
5
Staff presentation (5)
5
4
5
5
4
Feedback
The staff members I spoke to were polite and after searching for missing items for me confirmed they were not sold in store.
There were a lot of staff on the floor i had to go an aisle away when i needed help to find someone but never much further than that, the staff were helpful and either found me the item on the shelf where i couldnt see it or informed me it was out of stock, they didnt check the stockroom, all of the staff i seen were neat and tidy looking and some were wearing masks and some werent.
I asked Hamzah if there would be anymore white pittas anywhere as the shelf was bare and he said 'I don't think so. That is the only place they would be.' He didn't offer to check for me or leave his position to look. Staff were hard to find.
I asked Scott for help in the frozen aisle to help me find the Admiral's Pie. He was polite and friendly and walked me round to the area where they should have been. Unfortunately the product was out of stock but Scott was able to tell me it would be back in stock the next day. The second member of staff I asked for help was Kerry when I couldn't find the Fry's chocolate creams. She looked it up on her handheld device and then took me down to the chocolate aisle and helped me to locate it. She was friendly and chatty and didn't make me feel as though I was being a nuisance despite having to go out of her way.
There were plenty of staff and super helpful. I didn't have to leave the isle to find help. 4 out of 5 staff members had visible name badges, only 1 was hidden by a jacket. I needed help to find the Fry's chocolate and the only lady whose name was covered by a jacket was extremely helpful. She bought up a picture of them on her console and location and we found them straight away. Similarly, Sue who worked in the bakery section found the Warburtons Old English straight away, even though it's a tiny loaf surrounded by ten's of different options. I found all the staff friendly and helpful, actually more friendly than my local Waitrose!
Tills and checkouts (20)
8
14
17
18
15
Rate how well managed were the queues leading to the tills? Were a sufficient number of checkouts open for the volume of staff? Were staff on hand to advise on checkouts with shorter queues, or manage social distancing (5)
3
3
5
5
5
How long did you have to queue? (5)
0
2
4
5
5
Please rate checkout staff on their customer service (8)
3
7
6
6
3
Was the till receipt free of mistakes? (2)
2
2
2
2
2
Feedback
There was not much human interaction from the cashier. He only spoke when I said goodbye. It was quite an impersonal experience and I felt I could have just as well checked out using the self-service tills.
When i approached i was unable to see anyone managing people at the tills, i just joined the first queue i seen going down the aisle, the shop was very busy and there was an appropriate number of tills open, due to the business it took a while for me to reach the till and load my shopping, however the till staff were polite and friendly and worked quickly to get me checked out and on my way, for the time of day and how busy the shop was the wait time didnt seem too bad to me
Eszter on the till was friendly and chatty. She had her arm in a sling but was still careful with products. Maybe because we were talking she didn't ask for my nectar card
Although the store was busy I was able to walk straight up to a till and be served without having to queue. I was served by Tracy who was not the friendliest till operator I have come across. She was efficient but I didn't like the way she started putting through items from the next customer before I had finished putting my purse away, and she didn't say goodbye to me.
The store was quite quiet and only 2 of the main tills were open but as I arrived to pay they opened a till especially for me so I didn't have to queue at all. The checkout lady wore a mask and gloves and took her time in scanning the products.
Availability score (20)
12
2
2
12
16
Of the 33 items on your shopping list how many were:
Available (up to 20)
29
28
28
31
32
Out of stock (-4 per item)
0
4
4
2
1
Not stocked (-2 per item)
4
1
1
0
0
Number of items bought (incl.subs)
29
28
28
31
32
Availability %
100.0
87.5
87.5
93.9
97.0
Please note down the items on your shopping list that were out of stock (please highlight the products that have managed to get a satisfactory substitutions)
N/A
Product 1: Heck Sausages
Product 2: Little Gem Lettuce
Product 3: Orange Lucozade
Product 4: Calippo Minis
Product 1: Birds Eye 30 Cod Fish fingers
Product 2: Youngs Admirals Pie
Product 3: Little Gem Lettuce
Product 4: White Pitta Bread
Product 1: Youngs Admirals Pie
Product 2: Fray Bentos Steak and Kidney
Product 1: Own Label Little Gem lettuce
Please note down the items on your shopping list that were not stocked (please highlight the products that have managed to get a satisfactory substitutions)
Product 1: Batchelors Super Noodles Bbq Beef Flavour 90g
Product 2: Fry's Chocolate Cream 3 Pack 147g
Product 3: Galaxy Revels 205g
Product 4: Lucozade Energy Orange 6x380ml 2280ml
Product 1: Weetabix 72 pack
Product 1: Lucozade Energy Orange 6x380ml
N/A
N/A
Please give any other details or info about your shopping trip, good or bad
It was a positive experience. It was very easy for the shopper to find all their items on their own. And any help needed was provided by courteous staff members.
The shop is a great size and has a lrge selection of products, staff were working hard to restock. However the store seemed very busy and at times i was uncomfortable with how many people were in certain areas. There were 5 cages set up with discounted items available and the amount of people looking in these when i passed was way to high for social distancing measures, i understand the shoppers have to be responsible for sticking to the distancing measures but these cages were very close together in a high traffic area so it became very busy. I would definitely shop here again as they seemed to stock most of the items i would be looking to buy, i would just go at a different time to see if it would be quieter
All of the items that were out of stock, apart from the pitta bread, were due to the refrigeration problem. Banks of fridges and freezers were either empty or covered over with signs on them explaining
I was surprised how busy the store was for a Sunday afternoon. I did feel a bit on top of other customers in certain aisles such as the chilled aisles and fruit and veg. Overall this was a fairly stress free shop as most of the products were easy to locate and there were plenty of staff on the shop floor to help.
I really enjoyed this experience of shopping at Waitrose, the store was really nice, very well laid out, tidy and organised. The staff were very helpful and personable. There were quite a few restocking trolleys and on the whole all were placed in the middle of the isle causing no obstruction. There was only one right at the end of the store next to the wine section where it made accessing the isle slightly more difficult but as it was quiet it didn't matter.
TOTAL SCORE (100)
68
69
58
82
86