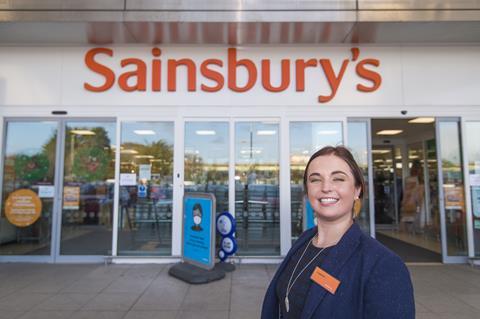 Store manager: Louise Adamson
Store: Sainsbury's Marsh Mills
Opened: 1994
Size: 51,240 sq ft
Market share: 10%
Population: 275,822
Grocery spend: £7,292,510
Spend by household: £62
Competitors: 70
Nearest rivals: Aldi - 2.1 miles, Asda - 1.5 miles, Co-op - 0.4 miles, Iceland - 1.6 miles, Lidl - 0.7 miles, M&S - 2.2 miles, Morrisons - 1.8 miles, Sainsbury's - 2.1 miles, Tesco - 1.2 miles, Waitrose - 6.8 miles
Source: CACI. For more info visit www.caci.co.uk/contact. Notes: Shopper profiling is measured using Grocery Acorn shopper segmentation. Store catchment data (market share, population, expenditure, spend by household, competition) is within a five-mile radius.
Tell us about your career.
I've worked at Sainsbury's for 13 years in a number of different stores across Devon and Cornwall, and spent the last 12 months at Marsh Mills in Plymouth. I joined in the midst of the November lockdown, but I had already gone through that in my previous store.
How have customers and shop floor workers responded to news that face masks in stores are compulsory again?
I would say the customers have reacted appropriately to the change so far. We've got greeters and security guards in our supermarkets to remind customers of the latest measures. At Sainsbury's safety is our highest priority and we continue to have a range of measures in place to ensure the safety of colleagues and customers is maintained.
Are you worried about potential abuse towards shop floor staff following the announcement?
No – I think if we all continue to work together, we shouldn't see any of that. We brief our teams on the guidance as it's received, so they are fully up to date and that helps them stay knowledgeable. They are definitely supportive of the situation and empathetic of how the customers are feeling, but also how their colleagues are feeling.
Are you bringing back the two-way entry system and Perspex screens between self-service checkouts?
We are keeping things as they are at the moment but we may well adapt and change as things progress.
Our shopper noticed one of your checkout colleagues was undergoing training. How is the recruitment programme going for you?
We've recruited a number of people in this area and the recruitment drive we've had across the business has really supported that and enabled me to fill my Christmas vacancies.
There are fears shops across the southwest may experience availability issues due to potential HGV driver strikes. What measures do you have in place to deal with such challenges?
Our colleagues and suppliers are working hard to make sure our customers can find everything they need when they shop with us. Availability in some product categories may vary, but alternatives are available and stores continue to receive deliveries daily. The biggest thing for us is we have our Christmas plan, however we need to be able to adapt as things may change and government guidance may also change. We need to deliver the best shopping environment for our customers throughout that time and look after our colleagues at the same time.
Sainsbury's food poverty campaign, 'Help Brighten a Million Christmases', launched this week. How is it going?
We've found the support from the local community has been brilliant. They make great use of the food bins at the front of the store where the charities come in and collect them. Our partnership with Neighbourly also supports that. We do our food waste disposal in the evening and they collect it daily to distribute to charities in the surrounding area. The [surplus food] varies day to day.
At the moment we've got Christmas jumpers and a seasonal feeling in the clothing and home department. As we move into new year, we'll have changes in those areas but not substantial changes.