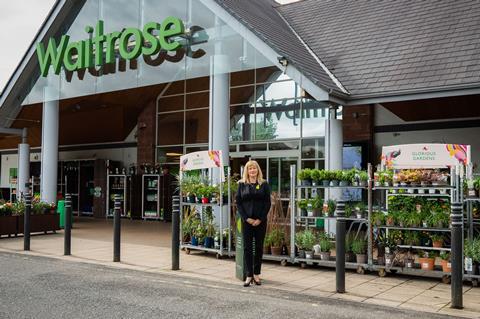 Winner: Waitrose Abergavenny
Store manager: Gill Klinkert
Open: 2004
Size: 47,000 sq ft
Market share: 29.3%
Nearest rivals: Morrisons – 1 mile, Iceland – 1 mile, Aldi – 2 miles, Asda – 7.8 miles
Store data source: Analysis by CACI.
Call the market planning group on 020 7602 6000
Face masks have now been made mandatory in Scotland and England. What is the expectation in Wales? We are awaiting an update from the Welsh government. Partners and customers have been asking. I'm sure something will be imminent here this week.
Are customers already wearing coverings in store? It is 50/50 at the minute and has been pretty much like that all the way through. Some customers still feel really anxious and vulnerable, but there are also those who aren't sure whether face masks offer any protection and feel just washing their hands is enough.
What have been the noticeable differences for Welsh stores during the pandemic? From a supermarket perspective, it hasn't been that different. In terms of two metres, we have stuck with that from the off. We have been completely aligned in making sure customer numbers in store are appropriate and comfortable. And also making sure both our partners and customers are protected through measures such as only opening every other till bank.
Is there potential for the queues to shift from outside to the checkouts with more numbers in store? We have two partners managing this front of store at all times, and every branch from the end of July is having the extra protective screens installed between every till. From the end of this month, I will be able to open all my checkouts and all my self-serve.
Did a lack of tourism affect sales earlier in the year and is it returning now? Trolley sizes have grown significantly during the crisis as transactions have reduced, so value has grown and doubled through the first 12 weeks of Covid. We have now started to see a reduction in basket size. The tourist trade has also come back, and people are travelling to second homes. We have the Brecon Beacons on our doorstep and tourists are heading to Pembroke as well. We are very much a traditional holiday branch here – our sales in the summer are far higher than the spring.
Is availability back to pre-outbreak levels yet? Not quite yet. What the business has really tried to focus on is, where we have had issues, for instance in flour, they have sourced other lines and bigger lines, even catering-sized packs, just to try and get something back on the shelf. The business has tried to react to that in the layouts that have consistently been a challenge. Fresh now is not far away, we are probably about 95% there compared to where we were. Our variety of assortment is huge. It may take until September until we are back to business as usual.
How has trading been on the Scrumptious Summer range? It has gone really well. What has flown is our barbecue three for £10 offer on meat. We have some new lines compared with last year and I can't see a competitor out there who does it better. The drinks and cordials have also gone really well. And even some of the Basics such as the meringue has been popular. The Scrumptious Summer promotion has been phenomenal – there isn't anyone to touch us on the range and variety.