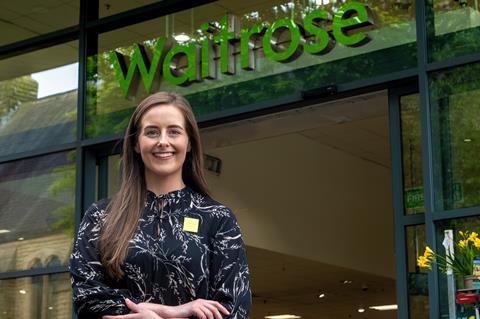 Store: Waitrose Green Road
Store manager: Rebecca Johnson
Opened: 2010
Size: 27,000 sq ft
Market share: 7.6%
Population: 533,143
Grocery spend: £12m
Spend by household: £54.11
Competitors: 116
Nearest rivals: Aldi 0.2 miles, Asda 1.7 miles, Co-op 1.1 miles, Iceland 1.7 miles, Lidl 1.2 miles, M&S 1.6 miles, Morrisons 1.7 miles, Sainsbury's 0.5 miles, Tesco 1.4 miles, Waitrose 7.4 miles
Source: CACI. For more info visit www.caci.co.uk/contact. Notes: Shopper profiling is measured using Grocery Acorn shopper segmentation. Store catchment data (market share, population, expenditure, spend by household, competition) is within a five-mile radius.
For CACI's shopper segmentation of the other stores we visited this week see the online report at www.thegrocer.co.uk/stores/the-grocer-33
Tell us a bit about your store: Meanwood is just outside the city centre, so it's about a 10-minute drive and it's really well connected. It's a residential area with plentiful bars, restaurants and schools, as well as independent shops. We have some neighbouring supermarkets and also a beautiful local park. It's a community that attracts students, young professionals, couples and families. Leeds has a lower-income customer base compared with the national average.
How have you managed to find your niche? We've recently committed a record £100m to lower the prices of hundreds of our everyday products. We aim to provide the value our customers desire without compromising on quality, high welfare and strong sustainability credentials. In terms of the local market, it's definitely achievable with the breadth of our range, allowing customers to shop within their budget.
Waitrose has been facing supply issues recently. How have you been dealing with this and how are you communicating the issue to shoppers? Our next delivery is scheduled to arrive in the next two hours. We have been running to our standard delivery schedule, with good availability for customers and a strong performance over recent weeks. But I'm really confident that, when there are availability issues, the team will be in the best place to advise on alternatives. It's about the service partners offer. Our partners work around the clock to drive availability for us. On a local level we are doing everything we can.
How do you deal with gaps on the shelves when customers are looking for a particular product? The team will engage in conversation. Say the customer is looking for a particular ingredient – on the rare occasion we don't have it, my partners are experts in suggesting either an alternative ingredient or recommending their best-loved products. It's that kind of bespoke individual interaction where our partners are empowered to give the best service and make recommendations.
What's new in the store? We've been elevating some key categories recently, improving the fixtures and the point of sale around a number of our fresh categories. We also regularly refresh the front of our store to promote new products. Summer appears to be finally arriving so we've got some new products for barbecues and summer picnics, as well as lemon & mascarpone profiteroles, which went down brilliantly with partners when we did some recent testing. In store we have really concentrated on our home assortment. I have a partner who recently went over to our local John Lewis branch and upskilled in visual merchandising standards, and this has helped us improve our standards and availability across our home assortment.
Finally, tell us about you and your career at Waitrose: I've been fortunate in the last six years to have shop leadership roles for Waitrose and John Lewis across the Yorkshire region. I joined the partnership and continue to be a partner because of the way we do business and the way we use our position as a force for good. I've been working alongside the team in Meanwood for nine months and I'm super proud that all their hard work is being recognised by The Grocer.