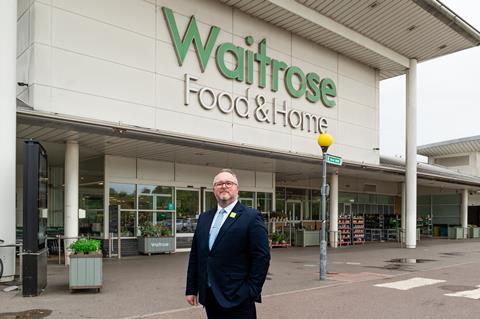 Store: Waitrose Salisbury
Deputy manager: Jonathan Pearcey
Opened: 1997
Size: 55,000 sq ft
Market share: 10.0%
Population: 67,192
Grocery spend: £1,849,418.18
Spend by household: £62.72
Competitors: 17
Nearest rivals: Aldi 1.3 miles,, Asda 16.4 miles, Co-op 0.6 miles, Iceland 0.4 miles, Lidl 1.4 miles, M&S 0.6 miles, Morrisons 14.2 miles, Sainsbury's 0.5 miles, Tesco 0.4 miles, Waitrose 14.5 miles
Source: CACI. For more info visit www.caci.co.uk/contact. Notes: Shopper profiling is measured using Grocery Acorn shopper segmentation. Store catchment data (market share, population, expenditure, spend by household, competition) is within a five-mile radius.
For CACI's shopper segmentation of the other stores we visited this week see the online report at www.thegrocer.co.uk/stores/the-grocer-33
What makes your store stand out? There are a lot of things. We have a fantastic range of food for all customer needs. We've also got a big John Lewis general merchandise section, which is probably about a quarter of the shop. It's quite a destination for our customers in Salisbury. We also offer a wine bar, and a large café with some really tempting food. The whole proposition is very attractive to our loyal customers.
How long have you been working with Waitrose? This is my 24th year in the partnership. I came to this branch in 2015, so I've been here roughly eight years. I have a great team of partners, who are passionate about customer service. I really enjoy the leadership side.
What's your approach to leadership? To make sure I'm always available for partners. We have conversations around what we can do to improve service. I ensure I'm always visible and available.
What's been happening in store recently? As we've gone from summer into autumn, we've traded very strongly. As a business we continue to invest in lower prices and last week we announced a further 250 price cuts that our customers have responded to very favourably. We've also had a great reaction to the meal deal that we recently lauched. And this week we launched our Japan menu, which is an own-brand range of 26 products. Fifty per cent are suitable for vegetarians, and 10 products are suitable for vegans. It's an exciting range and really well received by customers.
What's your personal meal deal go to? I'd go for some sushi, probably with one of the cereal bars and a juice. It's really good value.
What's triggered the introduction of your Japan range? Customers are looking for Friday night dinners that are already prepared. There are some prepared meals in there and also some extra additions to complement our own cooking creations. It really gives our customers even more choice when considering whether to stay at home to cook or go out.
There were quite long queues on the checkout this week. What happened there? Hopefully that's just a moment in time. We're very focused on our response time at the checkout. We have lots of cross-trained partners that can respond to queues in the moment, so our focus will be firmly on that going forward.
What have you got coming up for the rest of the year? The main plan right now is preparing for peak training at Christmas. We are focusing on the recruitment of temporary partners over the seasonal period.
Have you had any issues finding temporary workers? Not at all at this point. We have lots of interest and the recent job adverts we've put out have had a good response.
How are you dealing with the rise in shoplifting? Thankfully we're not the worst affected. The safety and security of my partners and customers is my highest priority, and we'll take whatever steps are necessary to keep them safe. We're using the likes of body-worn cameras and CCTV. Waitrose has made free hot drinks available to all police officers and in fact that's something we've been doing in this branch for quite some time, which makes a big difference.