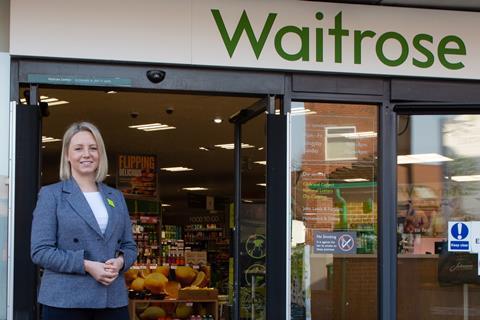 Store: Waitrose Thatcham
Store manager: Chloe Byng
Opened: 2000
Size: 18,306 sq ft
Market share: 18.23%
Population: 87,864
Grocery spend: 2,436,491.83
Spend by household: £66.21
Competitors: 23
Nearest rivals: Aldi 2.8 miles, Asda 10.3 miles, Co-op 0.1 miles, Iceland 11.8 miles, Lidl 2.5 miles, M&S 2.1 miles, Morrisons 11.7 miles, Sainsbury's 0.2 miles, Tesco 0.6 miles, Waitrose 3.1 miles
Source: CACI. For more info visit www.caci.co.uk/contact. Notes: Shopper profiling is measured using Grocery Acorn shopper segmentation. Store catchment data (market share, population, expenditure, spend by household, competition) is within a five-mile radius.
For CACI's shopper segmentation of the other stores we visited this week see the online report at www.thegrocer.co.uk/stores/the-grocer-33
What has been your career trajectory at Waitrose? I joined the partnership 18 years ago as a graduate. I've had many roles in that time, from multi-site management to regional projects to sole branch management, which I'm doing at the moment. It's been a pretty varied career within those last 18 years. Waitrose is full of fantastic partners to work with and it's always great to work with different people.
Could you tell me about the Thatcham store? Waitrose Thatcham is a lovely shop to shop in, it's got very friendly partners. It's just a lovely shopping experience. Waitrose has its type of customer – they are food lovers, with a passion for quality food. I guess Waitrose customers are looking to recreate that restaurant experience at home. We are doing particularly well at the minute on things like Valentine's, with our Valentine's Meal Deal this week. And we also have our No.1 range that we've got as a meal deal. It's perfect for the Waitrose customer. But Waitrose is also for everyone and for everyday shopping, and we've got our Waitrose Essential range too. It's a broad range of appeal really.
How do you keep store standards high? The customer experience as a whole is a huge focus of ours. We recognise that a shopping experience is not just about availability, it's about the aesthetics. It's about how customers interact with the partners, it's about how they feel when they leave after spending their time and money. We recognise that and do everything we can to make that time they spend with us as enjoyable as possible, looking at all those various aspects.
What does good service mean to you and how do you make that happen in store? I think service to us as a branch and to the partnership is offering that value for money, but also it's offering that hello and goodbye, the personal interactions. We really encourage personal one-to-one chats with our customers. It makes a huge difference to some people, and we recognise where we can make that difference to a person's day by interacting with them. We've got our service counters, we've got trainee meat specialists, we've got wine specialists that can really offer that personal service. Our shoppers can also have a free coffee with their MyWaitrose card.
Could you tell me a bit about your Easter range? We have a selection of our Easter range at the moment in the seasonal aisle – it's sharing the space with Valentine's at the moment, and we'll go full-on with Easter after that. We have a great variety of children's eggs as well as products that would entice the adults in. A great broad selection to suit different customers who'd want to celebrate Easter.
What are your focuses for the store for the next year? We want to just continue delighting the customers that come through the door. For new customers that might be discovering us, we want to give them a brilliant reason to come back again, and to put us in the front of their minds when they're thinking of the special occasions they want to celebrate, like that barbecue in the summer. We want to really make sure that from the moment they step into the branch, they see it as a different shopping experience.