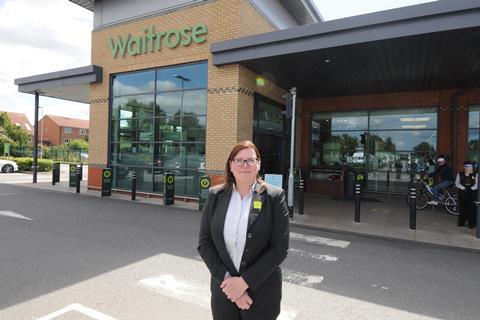 Winner: Waitrose, Wootton
Compliance team manager: Kate Davis
Opened: 2013
Size: 15,000 sq ft
Market share: 7%
Nearest rivals: Tesco – 2.7 miles, Asda – 3 miles, Morrisons –5 miles, Sainsbury's – 5.2 miles
Store data source: Analysis by CACI.
Call the market planning group on 020 7602 6000
What has been the reaction to the law on face coverings in shops coming into force? Our shoppers have been incredibly supportive of that regulation. We haven't had any concerns from customers about wearing face masks in store so far. It's a big change for everybody though.
Our mystery shopper noted partners ensured customers adhered to safety measures. Has that been difficult to implement? The partners have embraced the procedures we've had to introduce and have really grasped just how important they are. The safety of our team and customers has always been a top priority, and the measures we've implemented from government guidelines around coronavirus have been positively received by our shoppers.
The store scored 10/10 for its layout. How important do you think a shop's layout is to customers currently? It's massively important. Customers aren't spending as much time browsing as they once were, and we need to make sure products are easy to find.
With all of this going on, how big a challenge has it been keeping staff morale high? The team have worked amazingly well together. There's a real family feel to the business; we look out for each other.
The store's availability level was 100%. How challenging has it been keeping shelves well-stocked during the crisis? Our high availability levels have been kept up by collaboration between the store team, distribution staff and head office. It's a real team effort. We've now got most items back in stock.
What's been the biggest change in your customers' shopping habits due to coronavirus? Customers still seem to be shopping less frequently by buying more when they do come into stores. We've seen a few more 'food for tonight' purchases in recent weeks as customers start to feel more comfortable about coming into store with face coverings becoming compulsory, but weekly shops are still the most popular.
Does the store do online grocery delivery? We don't unfortunately, but we have supported other local Waitrose branches that offer it through coronavirus. Some partners from this store have done driving for others, for example.
As Waitrose is adding to its vegan and vegetarian range, how have the new items been selling? They're doing very well, as are our barbecue and Scrumptious Summer ranges. Home baking lines such as flour, sugar and butter are also still selling well, despite a lot of people starting to go back to work now.
What is the store's best feature? Definitely our team. They're fantastic and really enjoy looking after our customers and are passionate about our food.
Sharon White sent out a progress update on the strategic review this week. How do you feel about the future? I've been with the John Lewis Partnership for 23 years. I feel we have a great business model and enjoy coming to work. I love working with like-minded people and as part of a team.