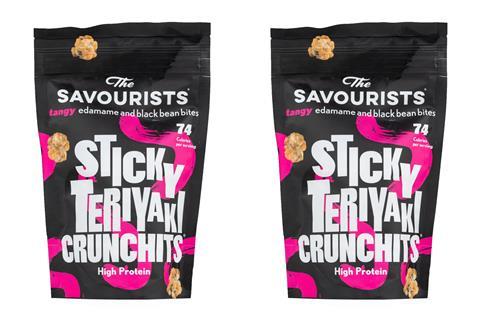 Champion: The Savourists Sticky Teriyaki Crunchits
Putting the 'jiggle' back into snacking was the aim behind The Savourists Crunchits range of snacks. And this teriyaki variant certainly shook up the judging panel.
One judge described it as "the lovechild of cereal clusters and spicy snacks", while another said it felt like breakfast technology had been "applied to healthy snacks".
Innovative they most certainly are. The range is made from edamame, black bean and puffed rice, in this case bundled together and seasoned with sticky teriyaki. And they're HFSS-compliant, too. As such, The Savourists says Crunchits could be the answer "ending the healthy/tasty tension at a mass market level".
Silver Medal
Popchips Hot & Spicy
Simply Roasted Duck and Hoisin Flavour Crisps
Tyrrells Tomato & Chilli Chutney
Bronze Medal
Cathedral City Cheese and Onion Crisps
Rustle Truffle Chips
Saved Lentil and Cricket Puffs Mediterranean Herbs
With thanks