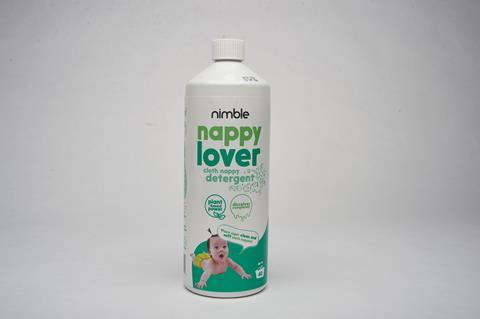 Winner: Nimble Nappy Lover Cloth Nappy Detergent
Nimble cleverly caters to a new generation of eco-friendly parents that are now far more likely to use cloth nappies for their little ones, rather than disposable ones. Their detergent creates a tailored solution, and builds on the same sustainable credentials that would motivate parents to use reusable options in the first place by incorporating plant-based surfactants and allergen-free fragrance, as well as being free of anything nasty, including enzymes, optical brighteners or dyes. The liquid also dissolves in the wash to ensure there are no concerns about residues left on sensitive skin.
This detergent has simple clean packaging that fits well with its plant-based ingredients. Judges liked that the ingredients are simple and natural and even when used at lower temperatures still gave a good clean finish. A product with a good ethos that works too.
Finalists:
Pura Flushable Baby Wipes
With thanks to our sponsors