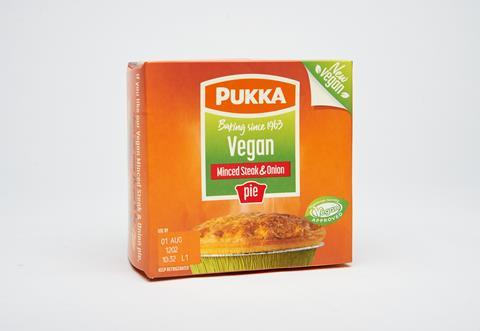 Winner: Pukka Vegan Minced Steak & Onion Pie
Marking Pukka's first foray into the plant-based market, this Minced Steak & Onion pie struck all the right chords with our judges. Offering a direct alternative to the brand's bestselling Minced Beef & Onion pie, the vegan pie uses minced soya protein vegan 'steak' paired with chopped onions and a rich gravy, to deliver all the warmth, comfort and fantastic flavour of the original, while avoiding the overly processed pitfalls of some plant-based alternatives. It's also smartly focused on accessibly too, becoming one of the few chilled vegan pies to sell at a more standard price point of just £2, and has already reached new demographics as a result, with older shoppers in particular seeing it as a great stepping stone into vegan products.
Pukka has come a long way over recent year, completely revitalising its brand and pushing heavily into the booming plant-based market, with much success. This launch pulls no punches, delivering a great tasting pie at an incredibly good value price, our judges said, staying true to the core Pukka offer.
Highly commended: Moving Mountains Plant-Based Fingers Fish Flavoured
Finalists:
HECK Vegan Mince
Finnebrogue Naked Without the Cluck 2 No Chicken Kievs
Pukka Vegan Chicken & Mushroom Pie
Soulful X THIS Meal Kit For 2 - Tikka
Squeaky Bean Vegan Chargrilled Cajun Mini Fillets
The Happy Pear Sourdough Spicy Veg Pizza
With thanks to our sponsors