With a raft of trade bodies warning supply chain issues are set to worsen, could Ireland, a key strategic UK partner and supplier of food, drink and horticulture, offer a solution?
Supply chain disruption in the UK has rocketed in recent years. The causes are varied and complex, from HGV driver shortages and a lack of skilled labour to energy price rises and inflation, all of which have added strain and pushed up prices for UK retailers.
What's more, while the UK food sector struggles to find ways to tackle the risks to food security from Brexit, Covid-19 and global supply chain volatility, it also finds itself under pressure to reach net zero goals and reduce the impact of UK food and farming on the planet.
As a key strategic UK supplier of food, drink and horticulture, Ireland could offer a solution. Here are five ways cross-border trade and a consistent and reliable supply of Irish food and drink could help ease some of the UK's current food supply chain pressures.
Bolstering security of supply
Food security and surety of supply is increasingly important as consumers demand access to more affordable, nutritious food. According to a recent survey by Bord Bia (The Irish Food Board), 53% of UK shoppers are concerned about the availability and choice of food and this has doubled since May 2021.
Against this backdrop, Ireland has continued to provide a consistent, reliable and secure supply to the UK market. Overall, the value of Irish exports to the UK has increased by 6.8% between June 2016 (when the Brexit Referendum vote was held) and December 2021, with volumes increasing by 8.9% in the same period. This, says Bord Bia, is testament to Ireland's continued investment in the UK, as well as long-standing strategic relationships with UK retailers, foodservice operators and manufacturers.
What's more, UK consumers not only love Irish produce but research reveals that it is also seen as the most trusted exported food provider to the UK.
Established local supply chains
While there are calls for greater self-sufficiency in food production, the reality is the UK relies on imports to feed the nation. Sourcing quality produce from nearby not only ensures it is fresher, but also that it produces lower food miles and less waste.
There is an interconnectedness and interdependence between Ireland and the UK, with a long history of trade. Irish beef supply, for example, is incredibly well established in the UK market. It is the only imported beef in UK mainstream retail and has commanded close to 80% of the UK import market share for the past three years due to Ireland's close geographical proximity, just-in-time supply chain and similar quality assurance standards. These clear differentiators compared to other imports are some of the reasons why Ireland is perfectly placed to deliver on the UK's needs, notes Bord Bia.
In addition, recent research has shown 88% of UK shoppers remain as open as ever to choosing food and drink from ROI post-Brexit. Given the shared history and border, UK consumers consider Ireland to be local, further tapping into the growing trends towards known provenance and support for local suppliers.
Safeguarding food standards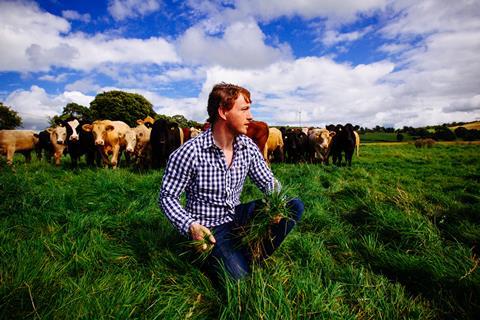 With future post-Brexit trade deals being negotiated with countries that have differing standards and production systems, concerns over lower quality foods are rising, especially when it comes to traceability, animal welfare and the environmental impact.
Coupled with this, 45% of UK shoppers anticipate that the quality of product on shelves will be negatively impacted due to Brexit. So, it's crucial for retailers to ensure quality standards remain high.
Ireland prides itself on high standards of agriculture and Bord Bia's Sustainable Quality Assurance scheme is recognised and accepted as equivalent to the UK Red Tractor Scheme, so it is well placed to serve both UK retailers and consumers.
Addressing climate change
With climate change continuing to impact the production and availability of food, there is a growing need for evidence and data to back up sustainability claims, according to Bord Bia's recent Global Food Sustainability Survey.
This brings both challenges and opportunities for the food sector, as consumers increasingly seek out healthy, natural food. As a nation, Ireland works collectively and collaboratively to reduce carbon emissions and further embed sustainability across its production, manufacturing, and distribution activities, notes Bord Bia, as it has invested in sustainability for over a decade and launched the world's first national sustainability programme, Origin Green, in 2012. Through this voluntary programme, which drives, monitors and measures sustainability improvements across the entire food and drink supply chain on a national level, Bord Bia collects data to demonstrate the results of its sustainability initiatives.
Independently audited, verified and accredited at every stage, Origin Green is open to farmers, producers, manufacturers, retailers and foodservice companies on the island of Ireland and covers over 90% of Irish exports globally.
Working towards a food systems approach
The National Food Strategy, the first independent review of England's entire food system for over 75 years, has shown there is a need for an integrated food system, with all areas along the supply chain working with each other and aligning on a shared vision for the future.
Ireland's integrated sustainable food system is a best-in-class example of how this can be achieved, says Bord Bia. It has forged a unique infrastructure that partners the Irish Government and its agencies with industry stakeholders, comprising producers, manufacturers and operators. Together, they hold a shared common vision for the development of the Irish food and drink sector, outlined in Ireland's Food Vision 2030.
By adopting an integrated food systems approach, Ireland is set to become a global leader in innovation for sustainable food and agriculture systems. As well as producing safe, nutritious, and high-quality food, an approach of this nature will protect and enhance Ireland's natural and cultural resources and contribute to vibrant rural and coastal communities as well as the national economy.
It is difficult to predict how the next year will develop. Pressures such as climate change, international conflicts, price hikes, trade disruptions will all present unforeseen challenges to the UK's food supply chain. However, Ireland is well placed and located to offer consistency on food quality, food safety, sustainability standards, and has a strong reputation as a reliable source of products trusted by UK consumers.