A shopper's decision to dodge dairy, gluten and other potential allergens often has nothing to do with medical need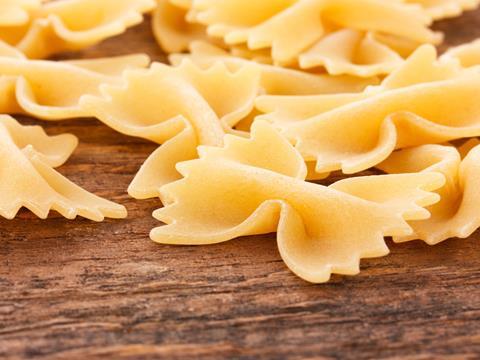 More often than not, a shopper's decision to dodge dairy, gluten and other potential allergens has nothing to do with medical need.

It's usually based on the wo0lly idea that free-from is somehow healthier, according to an October poll for The Grocer, which also found 27% of Brits now regularly shopping the fixture, up from 19% a year previously. Thirty one per cent say they do so for their general health, 27% say it's a lifestyle choice. Only 14% say they have a condition requiring them to do so.

This fashion for going free-from has driven the second greatest absolute food & drink category gain in this year's report, worth a whopping £122.9m extra at the tills. In percentage terms, free-from's 18.9% growth is also the biggest in food & drink - though e-cigs are up 20% (p195). This represents an acceleration on the £99.9m gain we reported a year ago, and it's been driven by a stream of innovative new products that simultaneously pushed average prices up 0.9%. Not bad in the midst of a price war.
Data Box
Data supplied by nielsen.com
"The end goal is for innovation to help normalise the free-from experience and make sure it isn't isolating consumers," says Genius commercial director Dave Shaw, pointing to new Genius Seeded Brown Farmhouse Loaf and Plain and Cinnamon & Raisin Bagels.

Schär's £6.8m growth can be explained in similar terms, with new panini rolls, seeded ciabatta rolls, a Wholesome Vitality loaf and a white baguette helping to fill some of the growing shelf space retailers are devoting to the sector. By contrast, after a relatively quiet year in NPD, Warburtons' gluten-free spin-off brand Newburn Bakehouse failed to keep up.

But the really big space gains for free-from have been in the chilled aisle, says Frida Kjellberg, brand manager for Lactofree at Arla: "Retailers have really started to understand this is a key area of growth and for these reasons expanded the shelf space for free-from and also started to create designated chilled free-from bays, something that will help the category grow even more."

With growth of £23.2m, Alpro has been the biggest beneficiary of this. In October, the brand teamed up with Tesco to create a designated chilled free-from fixture signposted Dairy Alternatives. The fixture has now gone national and entails the migration of all chilled dairy alternatives to a new area next to Tesco's chilled dairy aisles. Tesco claims to have upped its free-from range by more than 40% in the past year.

"This is a hugely exciting development for plant-based food & drink," says Alpro marketing controller Vicky Upton. "We're keen to support any initiative that increases the space and visibility of plant-based food and drink in store, and are delighted to be chosen to play such a key role in the development."

Not everyone agrees with this approach. The Co-op has rolled free-from alternatives into 500 new stores in the past year and will expand further in 2017, but the retailer won't be setting up dedicated fixtures, says free-from buyer Michael Baranowski. "Over the next five years we expect the free-from category to explode. It will be present in almost every main parent category rather than having separate space within each store."
Top Launch 2016
It's what Schär MD Bradley Grimshaw calls the "$6bn question": on the one hand, designated shelf space provides an easy area for consumers to search for products relating to specific allergies. On the other, bunching all the free-from products together creates a totally separate shopping experience that is not always easy to navigate - especially if consumers are shopping for lifestyle reasons.

Of course there are compelling reasons for either approach. Free-from's assimilation into standard fixtures will further broaden the appeal of such products, but could lead to unfavourable price comparisons with standard products and ultimately drive down prices, say some. Others contend it could alienate consumers who have a medical need.

But with the number of brands moving in on the category growing almost as quickly as sales, the migration of free-from products into mainstream fixtures has a certain inevitability about it. Particularly when you consider how grain-free, low-sugar snack brands such as Nakd and Eat Natural have capitalised on the removal of confectionery from checkouts, as well as muscling in on meal deals in a number of retailers.

"The UK market was crying out for a healthier alternative to the many sugar-laden snacks masquerading as healthy," says Marina Love, marketing director at Natural Balance Foods, which labels its Nakd bars as free from added sugar, syrups, gluten, wheat or dairy. See our roundup of the sports nutrition market for proof of how the company is attracting more active consumers with its Trek Bars.

Therein lies a problem for the sector. As claims of being free from gluten, wheat, dairy or other potential allergens become common currency, the sector is becoming increasingly difficult to measure. For example, The Collective claims to contain 'no nasties' (many of its yoghurts are gluten-free), yet doesn't identify as a free-from brand. Nevertheless, Nielsen ranks it as the sector's ninth biggest brand. Conversely, two of sports nutrition's biggest players, Trek and Bounce, are gluten-free yet do not appear in this ranking. Some suggest the time is approaching for free-from products to be measured alongside standard versions by the analysts.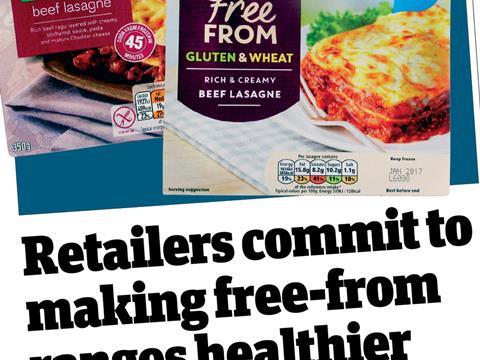 Think free-from means healthier? Think again. In May we revealed that levels of fat in own-label gluten-free products are often much higher than in lines that contain gluten. Asda Chosen by You free-from white loaf was found to contain seven times the fat of the standard equivalent (12.7g/100g). Comparable lines in Sainsbury's and Tesco contained four and three times the fat of standard lines. The story prompted pledges to make the lines healthier.
There could be another challenge on the horizon, suggests Schär's Grimshaw: fashion is fickle, and if much of free-from's growth is being driven by the current vogue for avoidance of certain ingredients, such as grains or lactose, there's a risk the market is being built on shaky foundations. "Our research tells us that lifestyle consumers are high in number but have great propensity to come into and then leave the category," he says. "They are a transient set of consumers."

No one's suggesting the growth we've seen in recent years is going to fall flat, of course, but it does mean brands need to work hard to encourage these transient shoppers to remain in the sector. Chris Hook, free-from director at Warburtons' gluten free brand Newburn Bakehouse, believes the sector is up to the challenge. "As more new and existing brands enter the category, the total UK free-from foods market, which stood at £470m in 2015, is forecast to grow 43% by 2020," he says.

There remains one last 'if', however. In May an investigation by The Grocer found some gluten-free products contained up to seven times the fat of standard lines, prompting pledges to make them healthier. Given nearly a third of Brits buy such products for their 'general health', there's surely not a moment to lose.