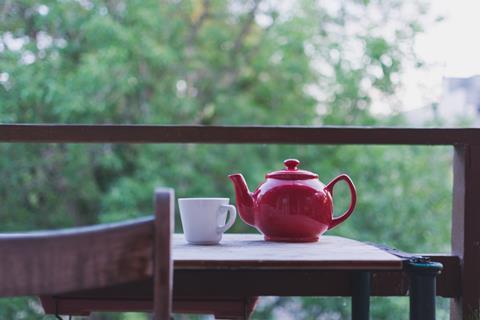 When the you-know-what hits the fan, Britain puts the kettle on. See the extra £126.7m shoppers have splashed out on tea, coffee and hot chocolate in the supermarkets for proof. That's a rise of 7.1%, which brings total hot beverage sales to £1,920.3m.
But this amounts to little more than froth next to the massive losses suffered by foodservice. As The Grocer revealed earlier this month, coffee shops and cafés were the biggest foodservice casualty of 2020, with £2.4bn – 37.7% of annual sales – going down the drain. Coffee saw the sharpest decline of any food or drink: £1.8bn (31.7%).
This helps explain why pricier ground coffee is in strongest growth in grocery, up £67.7m. "With commuting down dramatically and fewer opportunities to visit venues due to lockdown, consumers have migrated regular out-of-home coffee occasions in-home," says Jacobs Douwe Egberts category team leader Hannah Morris.
"Quick and convenient formats that deliver speciality, coffee shop tastes have become firm favourites for at-home consumers, with speciality options on the rise from last year. There has been a strong rise in single-serve coffee, demonstrating 19% value sales growth, reaching 18% share of total coffee sales [52 w/e 3 October 2020]."
That goes some way to explaining why average prices have risen in this sector. The single-serve and speciality coffees described by Morris command a higher average price, which has been pushed even higher by the cut in deals by retailers to manage demand after the arrival of the pandemic in March.
Luckily, Brits were only too happy to pay for a taste of what they were missing on the high street. Covid-19 may have wiped 40% off Starbucks' global sales in the three months to June, as its outlets were forced to close, but its retail offer has exploded, delivering the greatest growth in ground coffee of £26.7m.
This follows the 2019 launch of Starbucks branded Dolce Gusto and Nespresso compatible pods by Nestlé, which bought the rights to manufacture Starbucks branded products (excluding RTDs) in 2018 for £5.5bn. Given what 2020 had in store for us all, that high price was worth every penny.
"Sales of roast & ground and pod coffee have performed very strongly, linked to an increase in coffee machine purchases," says a spokeswoman for Nestlé. "Nescafé Dolce Gusto and, in particular, Starbucks by Nescafé have been key category winners."
Lavazza (up £8.2m), Costa (£6.6m), Tassimo (£5.2m) and L'Or (£4.4m) are ground coffee's next fastest growers, although it's worth noting even the combined growth of these brands is less than that of Starbucks.
The latter stood out partly because of its promotional efforts. "Starbucks has been heavily promoted and doing more media in recent months," one industry source told The Grocer in September. "I wonder if they have diverted investment they would usually spend on the wider brand into the take-home market."
The pandemic has certainly prompted fresh thinking by big brands. Costa, for example, launched a campaign on Asda.com to encourage shoppers to build their favourite coffee shop serves by combining Costa At Home Nespresso and Tassimo compatible products with syrups and milk.
In October, Costa Premium Instant rolled into Asda, following the February launch of Starbucks Premium Instant, which racked up sales of £1.6m in its first seven months on shelf. The launches mark both of the coffee shop giants' first moves into the £757m instant coffee market and look set to drive further premiumisation in the sector.
Overall, instant's performance has lagged behind that of ground, with sales up 3.8% in value and 3.9% in volume. Nescafé, which accounts for more than half of overall supermarket sales value, has turned in the greatest growth of any instant brand, with value up £15.5m and volumes up 4.5%. It is feeling positive about its prospects.
"Within instant coffee, premiumisation is also evident," says the Nestlé spokeswoman, pointing to 8% value growth for Nescafé Gold and an 11% surge for Azera. "Sales of Frothy Instant Coffee have also accelerated, with growth of 14%. The range of Nescafé Gold Frothy Coffees continues to drive growth in the category with sales up 15%, and the new Starbucks at Home Frothy capsule products have already contributed £4.6m, having only been in market since March."
Nevertheless, Nescafé has lost share to Kenco over the past year. The JDE brand is up £15.3m – a rise of 11.1% on volumes up 10.2%. Morris attributes this to the success of premium offerings such as Kenco Specialities and the 2019 launch Duo.
"Creating a new segment within the coffee category, Kenco Duo comprises two quality ingredients in a fully recyclable pot, enabling consumers to craft their chosen beverage easily and without access to a coffee machine," continues Morris, adding that the addition of an unsweetened variant has helped widen the range's appeal.
Tea's new leader
Tea could do with widening its appeal too. Brands in decline are few and far between in the coffee sector, but it's a different story in tea. Overall value sales are up 3.5% to £581.4m but, crucially, units have fallen 0.5%, marking the 11th consecutive year of volume decline in the Top Products report.
PG Tips is down £3m following a decline of 3% on volumes down 3.8%. Typhoo is down £1.2m, having lost nearly a fifth of its volume sales.
The standout performer is Yorkshire Tea, which has overtaken Twinings to become market leader. The brand has delivered £14.6m of the market's £19.6m growth, with sales up 14.5% on volumes up 7.6%.
Yorkshire's strong performance might appear puzzling given that it sits only in black tea, a market that's been in decline for years. Indeed, PG owner Unilever says the brand's large footprint in black tea is a key reason for its decline.
But Yorkshire's position as a 'proper brew', backed by heavy investment in marketing, has helped it make distribution gains and steal share from its rivals.
"Our unwavering commitment to doing things properly is at the heart of our growth and this has resonated with consumers during the uncertainty of 2020," said brand manager Lucy Jordan in September.
"The consistently high-quality tea that goes into our blends and our authentic communications help us build genuine relationships with our drinkers," she added. "By interacting with our fans on social, we know the importance that a proper brew makes to their day and that's why we've endeavoured to make our fans smile through positive and entertaining online content."
With retailers devoting more space to premium ground coffee (particularly pods) and looking to increase efficiency in the wake of the pandemic, brands with cluttered portfolios have been the biggest casualties. Take Twinings, where value is up 3% on volumes down 1.6% partly as a result of range rationalisation.
It's a similar situation for PG. Unilever is hoping to revive the brand by making its black tea greener. The company says PG is the first "major black tea brand" to use only biodegradable tea bags (see Top Launch) and next year plans to remove all plastic wrap from its packaging, making PG "fully plant-based". In October, it also unveiled a trio of functional black teas.
"Even before Covid-19, the functional tea category was predicted to increase by 5.5% by 2022," says Unilever tea director Fiachra Moloney. "So, we've made it simple for shoppers to make the switch towards more functional drinks with added benefits, with the launch of PG Tips Plus. The range comprises Caffeine, Immunity and Metabolism, which help to reduce tiredness and support a normal immune system metabolism."
PG is following in the footsteps of Clipper (up 10.2% on volumes up 2%), which has been trumpeting its health and environmental credentials in recent years. "Transparency and traceability have become more important for consumers who want tea that tastes good and does good too – from sustainable packaging to ethical sourcing and organic ingredients," says Bryan Martins, marketing & category director at brand owner Wessanen UK.
"That's driven strong demand for Clipper this year, fuelled by our unrivalled organic, Fairtrade, environmental and taste credentials. We became the UK's first tea brand to make all our heat-sealed tea bags unbleached, plant-based, non-GM and fully biodegradable in 2018. We also have the best-selling green tea SKU, which is seeing impressive growth of 16.4%."
With Covid-19 continuing to hammer home the importance of health and immunity, expect more functional hot beverages to hit the market in 2021.
Top Products 2020
In association with Nielsen
Top 10 Roast & ground coffee
£m
£ change
%
Total volume change:
15.1%
Total Category:
446.4
67.7
17.9
Total Own Label:
97.4
10.8
12.5
This year's rank
Last year's rank
Brand
Manufacturer
£m
change (£m)
change (%)
1
1
Tassimo
JDE
81.4
5.2
6.8
2
3
Taylors of Harrogate
Taylors of Harrogate
54.1
3.8
7.6
3
2
Nescafé
Nestlé
53.7
1.8
3.6
4
4
Lavazza
Lavazza
53.5
8.2
18.1
5
11
Starbucks
Nestlé
31.0
26.7
615.8
6
5
L'Or
JDE
17.2
4.4
34.2
7
6
Cafédirect
Cafédirect
12.0
3.1
35.7
8
10
Costa
The Coca Cola Co
11.5
6.6
134.4
9
7
Illycaffè
Illy
8.0
1.2
18.1
10
12
Union
Union Coffee Roasters
5.6
1.6
39.2
Top 10 Instant Coffee
£m
£ change
%
Total volume change:
3.9%
Total Category:
757.0
28.0
3.8
Total Own Label:
69.1
-5.9
-7.9
This year's rank
Last year's rank
Brand
Manufacturer
£m
change (£m)
change (%)
1
1
Nescafé
Nestlé
403.9
15.5
4.0
2
2
Kenco
JDE
153.8
15.3
11.1
3
3
Douwe Egberts
JDE
46.4
2.7
6.2
4
4
L'Or
JDE
42.4
2.3
5.7
5
5
Carte Noire
Lavazza
7.4
–0.5
–6.2
6
7
Lavazza
Lavazza
5.0
–0.5
–9.3
7
6
Percol
Food Brands
4.6
–1.5
–24.6
8
8
Mellow Birds
JDE
3.9
0.0
1.4
9
9
Maxwell House
JDE
3.1
0.0
0.8
10
10
Clipper
Wessanen
2.5
0.3
13.0
Top 10 Tea
£m
£ change
%
Total volume change:
-0.5%
Total Category:
581.4
19.6
3.5
Total Own Label:
82.4
-1.6
-1.9
This year's rank
Last year's rank
Brand
Manufacturer
£m
change (£m)
change (%)
1
2
Yorkshire Tea
Taylors of Harrogate
114.9
14.6
14.5
2
1
Twinings
ABF
111.3
3.7
3.4
3
3
PG Tips
Unilever
96.0
–3.0
–3.0
4
4
Tetley
Tata Global Beverages
91.7
2.0
2.2
5
5
Pukka
Unilever
27.6
4.8
21.0
6
6
Clipper
Wessanen
14.4
1.3
10.2
7
7
Teapigs
Tata Global Beverages
6.8
0.0
–1.0
8
9
Tick Tock
Wistbray
5.4
0.8
18.4
9
8
Typhoo
Apeejay
5.3
–1.2
–18.8
10
10
Scottish Blend
Unilever
3.6
–0.2
–5.6
Top 10 Hot Chocolate & Malted Drinks
£m
£ change
%
Total volume change:
-5.2%
Total Category:
135.5
11.4
9.2
Total Own Label:
15.1
1.8
13.5
This year's rank
Last year's rank
Brand
Manufacturer
£m
change (£m)
change (%)
1
1
Cadbury
Mondelez
31.6
2.6
9.0
2
2
Options
ABF
14.4
1.2
9.3
3
3
Horlicks
Aimia Foods
13.2
0.6
4.6
4
4
Ovaltine
ABF
11.1
1.3
13.4
5
6
Galaxy
Aimia Foods
8.7
1.4
18.7
6
5
Tassimo
JDE
7.8
0.0
0.9
7
8
Cadbury Cocoa
Mondelez
5.5
1.3
31.9
8
9
Green & Blacks
Mondelez
4.4
0.5
12.5
9
7
Cadbury Highlights
Mondelez
4.2
–0.6
–11.7
10
10
Nescafé
Nestlé
3.6
0.2
7.0
The Grocer's Top Launch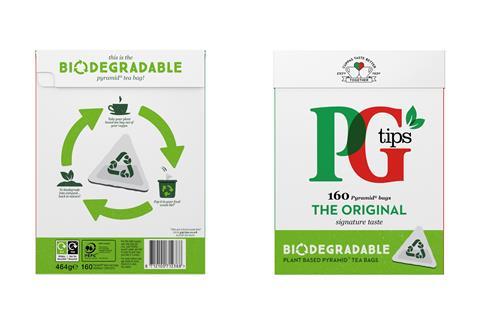 PG Tips plastic-free, Unilever
July saw PG Tips become the first major tea brand to remove all plastic from its tea bags. Having debuted the plant-based bags across a limited number of SKUs in 2018, it rolled out the biodegradable versions, made from corn starch, across its entire retail range in summer. It has also removed the outer plastic wrap on its 160-pack retail boxes. As the first major brand to make the move, PG Tips has paved the way for others to follow suit – and those that don't will undoubtedly face questio