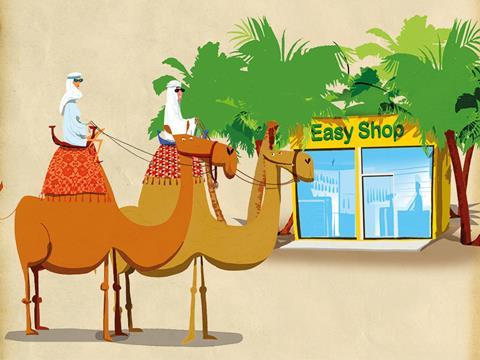 It wasn't long ago we had convenience stores actually named 'Fags & Booze'. As shocking as the title of the former West Midlands establishment may sound to today's consumer, it did what it said on the tin. Convenience retailers were somewhere to pop in for cigarettes, alcohol, crisps or chocolate. The chances of picking up a healthy, balanced meal were slim to zero.
Since then, many players have upped their game to offer healthy meal deals, snacks and fresh fruit & veg. Yet research suggests convenience stores haven't quite shaken off the 'fags and booze' image in the eyes of the consumer. So should c-stores be doing more to appeal to the health-conscious shopper? What are they doing already? And do these efforts risk alienating their core clientele?
Watch: Are convenience stores a desert for healthy options?
First, the good news. As 'little and often' shopping habits begin to replace the weekly shop, the majority of consumers visit their local c-store regularly. An encouraging 62% of people said they made a trip at least every week in a poll of 2,090 consumers by Harris Interactive conducted on behalf of The Grocer. Numbers were even higher among the younger generation, reaching as many as 76% of 18 to 34-year-olds (see below).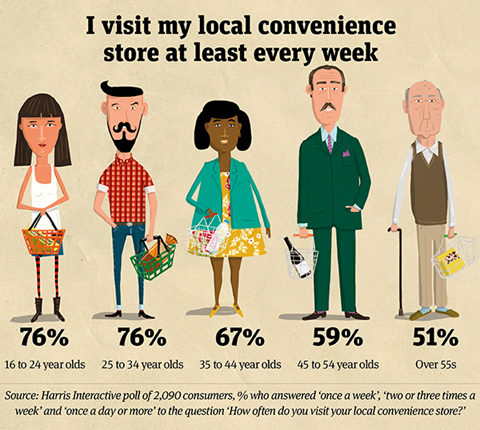 What these consumers are looking for is hardly surprising. Top of the list were essentials such as bread, milk and cheese, cited by 68% as among their top three reasons for visiting a c-store, followed by 45% who were looking for snacks. Fruit & veg was a distant third, cited by 32% of respondents.
You could assume punters just aren't interested in healthy options. It turns out the opposite is true: shoppers want the more virtuous stuff, but doubt their local store will meet that demand. Just over half (51%) of shoppers said they would buy healthy options if they were available. That figure rises to 58% among the core demographic of 25 to 34-year-olds, and women are also more likely to buy into salads and the like (see below).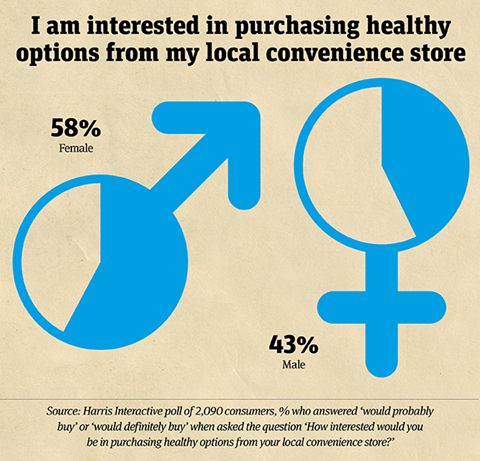 Of those who would buy healthy options, 68% said they would buy fresh fruit & veg and 64% wanted healthy snacks. This is where the gap between demand and reality kicks in. Only 29% felt there was a wide range of fruit & veg in their local store, for example, and an even smaller 18% had access to a wide range of healthy snacks. Harris Interactive's head of research Lucia Juliano believes this indicates a need for change. "There is clearly a market for healthy options to be offered by c-stores," she says. "However, consumers say the current range of healthy foods on offer is limited."
Heidi Lanschuetzer, head of insight & innovation at retail research consultancy Him, admits the convenience channel has "some catching up to do when it comes to when it comes to healthy options". On the plus side, she has noticed the Co-op and certain symbol groups starting to up their game of late.
Nisa is one of these symbols. Retail director Nigel Gray has noticed "a definite shift towards consumers wanting healthier options" as Brits become more savvy about what they're putting into their bodies. "More consumers are starting to look at the product ingredients and nutritional fact labels before they make a purchase with the aim of being 'healthier'," he explains. Nisa is keen to respond to this changing mindset. At its annual trade show last month, the group demonstrated how fruit & veg could work as a centrepiece and showcased a comprehensive salad bar (see The Real Life Healthy Retailers, below). Retailers are also shaking up what they are putting in these aisles. "Stores are starting to offer more healthy options across food to go such as fruit pots, eggs with spinach and protein-packed salads, and there is also a definite shift to more locally produced food (home-cooked style), that is seen as healthier," says Gray. "More stores are producing their own products, from sandwiches and salads to ready meals." That would certainly address the lack of healthy lunch options, which shoppers felt were sorely missing from their local stores (see below).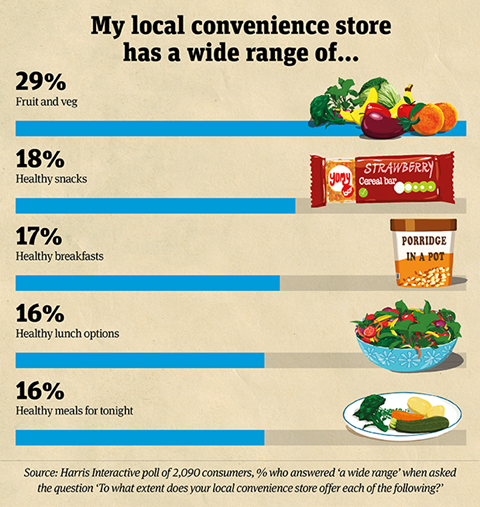 Plenty of other groups are taking the same tack. Spar appointed its first UK format proposition manager, Cat Worsfold, last year. She is tasked with making store formats "more representative for the customer" – and part of that includes highlighting healthy options. Worsfold admits there has been something of an image problem in the convenience sector; there remains a perception they are primarily just "crisps and chocolate". Spar is tackling this misconception head on. "We've been doing a lot of work in terms of how stores are laid out with food to go and encouraging consumers to choose healthy options," she says. Examples include its Pwllheli store with a food-to-go section packed full of healthy options, and the 'fresh and hearty' made-to-order sandwiches at its Donegall Road branch in Belfast (see The Real Life Healthy Retailers, below). "Changing the whole image of the convenience market isn't going to happen overnight," stresses Worsfold. "But there's been a real trend in the marketplace of people putting more space on to food to go and healthy options."
Lack of space shouldn't be an insurmountable obstacle, she argues. In some cases, it's not about adding new products to the range, but effectively merchandising what you do have. "We make our stores an easy format by highlighting healthy options in one place so it can help consumers see what options there are."
Being healthy doesn't necessarily mean a full store overhaul to fill your aisles with quinoa salads and fruit compotes. Just revamping existing lines can be a start, as Spar has shown. It has removed 2.9 tonnes of salt from its crisps and snacks range to meet demand for healthy snacking. The Co-op has taken a similarly evolutionary, rather than revolutionary, approach to health with the launch of its Well and Good brand. The range includes better-for-you versions of "basket favourites" such as curries and fish pies, as well as some more hardcore healthy options such as nourishment bowls and wheatgrass shots.
Costcutter stresses that the concept of health means different things to different demographics. There are "busy mums and dads" looking for primarily for healthy meal solutions, while younger people expect a "large fresh food range" and older consumers put more of an emphasis on locally sourced products. "Responding to these diverse needs is vital for convenience stores and this begins by understanding their local shoppers and their diverse needs when it comes to healthy food and drinks options," says Sean Russell, director of marketing at Costcutter Supermarkets Group.
And this is the crucial point behind all this drive to be healthy. A concept such as Raw Store – a Nisa retailer that stocks almost exclusively organic, diet-specific or local produce – may work in trendy Shoreditch. In other areas, it would be unthinkable to start selling three different varieties of apple from an organic local producer. So, just as in all areas of retailing, the key is understanding the consumer. That also means recognising that, as much as we try to be healthy, there will also be times when we fall off the wagon. "I think it's important to highlight that while interest in healthy eating is growing, people still leave room for the occasional treat – so there really is, and always will be, demand for both healthy and more indulgent products," says Him's Lanschuetzer. So don't ditch the crisps and chocolate just yet.
How can c-stores really hammer home the health message? We challenged Conran Design Group to devise a bold new concept. The result is Ark, the 'mindful' health food store.
Stores that sell a bit of healthy food are 10 a penny. Ark is different. The concept of health is enshrined in everything it does: from the design of its premises to its choice of products. The modular prefabricated units that make up the stores are created entirely from recycled or reclaimed materials. Solar panels provide an eco-friendly source of energy, and rainwater is harvested to make sure nothing goes to waste. All food is "mindfully" chosen. That means produce is of a high quality with traceable ingredients, all with the aim of supporting "a healthier lifestyle and healthier mind". There will be a range of options to suit every time of day: from freshly prepared breakfast and lunches to healthy snacks, and meal packs for a quick yet healthy evening meal.
But Ark aims to sell far more than food. Each franchisee can choose exactly what services to offer their local community. Add-on options include a Wellness Studio – designed for mindfulness sessions, yoga, pilates or mother and baby groups – or an allotment for growing of veg, herbs and grasses. And just to prove it practises what it preaches, Ark will put profits into outreach programmes such as pop-up cookery classes in more deprived areas of its locality.
Priced on a par with Whole Foods Market, the store aims to attract professionals who are concerned with wellness and where their food comes from, and are willing to pay a bit more for a business with the right values. "The concept is grounded in retail spaces that provide a community gathering point of like-minded people," says Conran. "It's a destination with thoughtful product ranging, offering customers the pint of milk, the perfect lunch and so very much more."
The real-life healthy retailers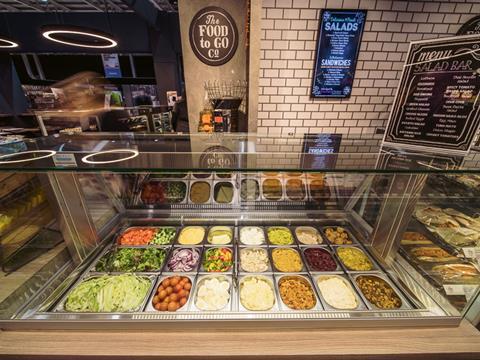 Nisa
Salad bars and wide-ranging fruit & veg aisles featured at Nisa's annual trade exhibition, when a mock store showcased its latest innovations in format.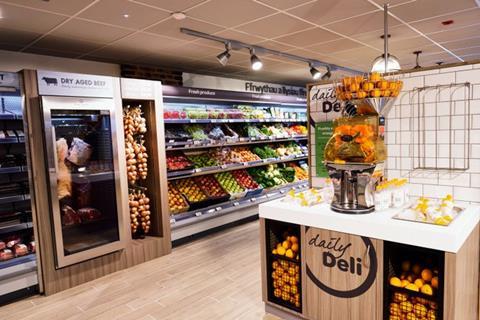 Spar
Freshly-made orange juice and healthy food-to-go options aim to tempt in the lunch crowd at the Spar store in Pwllheli, North Wales.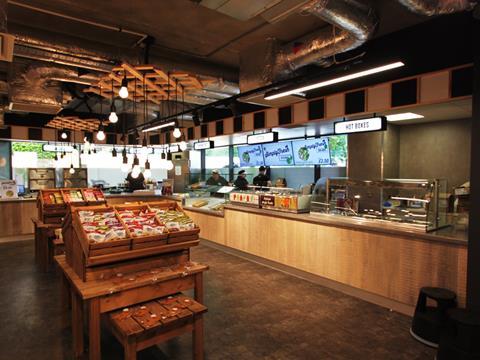 Simply Fresh
Branches of this health-orientated chain include 'kitchens' with fresh, healthy options and it is set to launch a store in Reading with a home-cooked seasonal menu of hot boxes.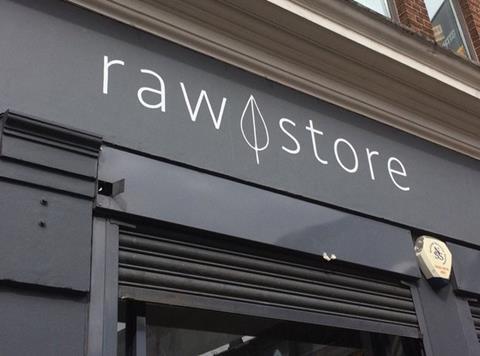 Raw Store
This Nisa store rebranded last year to sell organic, local produce and meet demand for "something a little bit different in the area".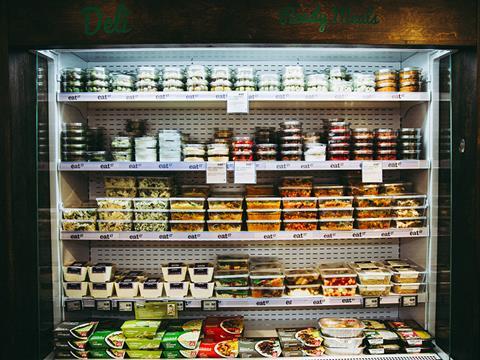 Eat 17
The four London Eat 17 stores have launched a 72-strong range of homemade meals including sandwiches, dinner options, sides and desserts in a bid to tap into the growth of healthy eating in convenience.