Sustainable, full of protein and reportedly served up at Justin Timberlake's latest album party – insect food ticks plenty of trend boxes. But the average UK consumer is yet to embrace the culinary potential of our six-legged friends. So can insect grub ever hit the mainstream and where do the opportunities lie?
Say insect food to a UK consumer and chances are it will conjure up images of a bushtucker trial. Thanks to the popularity of I'm a Celebrity…, we're used to seeing the likes of Paul Burrell and Kerry Katona chowing down on critters under duress. Eating our six-legged friends for pleasure, however, is an altogether different prospect. Various attempts to make insect food mainstream – and numerous predictions it will be the next big thing – haven't quite translated into reality. Only 14% of Brits would consider eating insects as a snack, found a poll of 2,036 consumers conducted by Harris Interactive on behalf of The Grocer. Even if the critters were made more palatable by being ground up into food – for example, used as flour in bread – only a fifth of us would be on board.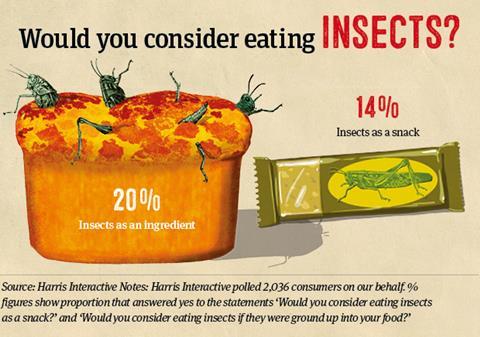 It seems UK consumers are still too squeamish to crunch a cricket or munch on a mealworm. But elsewhere insect cuisine is as everyday as a Mars bar. About two million people regularly eat insects as a source of protein, according to the Food and Agriculture Organization of the United Nations, particularly in Asian countries such as Thailand and Vietnam.
The western world is just starting to catch on. Back in November, Finnish bakery Fazer claimed to be the first store in the world to offer insect bread, which contains about 70 crickets ground up into flour. It says the response to its artisan-style bread has been "overwhelming" and "almost every day it has been sold out before the end of the day".
Cricket-based food brand Crické believes it is only a matter of time before the UK follows. It sells both cricket flour and crackers, which are made up of 15% ground crickets and have already won over some early adopters in the UK and Italy. "It's not easy to get people to eat a whole insect," says co-founder Francesco Majno. "But our crackers have a nutty flavour and consumers like the product. Every time we go to a food event or market, people really want to understand what is going on and there are always a lot of questions."
Video: Who's eating insects in the UK?
Majno points out it always takes time for a new food concept to work its way into the mainstream. Take sushi, for example. "Twenty years ago, the thought of eating raw fish was inconceivable," he says. Now sushi bars are so mainstream that they have become a fixture at Sainsbury's and Waitrose. "Perceptions of food are always changing."
If current trends are anything to go by, insect food may well be the next sushi. The low carb content of insects could appeal to the 22% of us who are looking to cut back on carbs [Harris Interactive]. With crickets containing as much as 69% protein, they could also prove a winner among the 18% of consumers looking to up their intake. As the benefits of a high-protein diet are more widely publicised, this percentage only looks set to grow.
Plus, insects potentially represent an ethical way of getting your protein fix. According to Kantar Worldpanel, we have upped our national protein intake over the past two years. But the percentage that comes from pork, bacon and sausages is slowly declining as consumers become more conscious of the environmental impact of eating meat. A whopping 27% of consumers told Harris Interactive they were worried about the ethics of eating meat, and 5% don't eat meat at all. This concern is even more pronounced among the younger generation.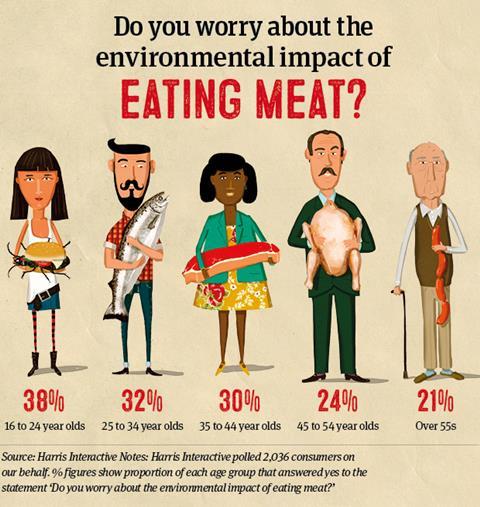 It is this ethically minded market that insect snack brand Eat Grub is attempting to capture. Describing insects as "the original superfood", its site points out just how sustainable they are compared to meat as a source of protein. "They use a fraction of the land, water and feed that traditional livestock does and less land than plant protein does," says co-founder Shami Radia.
His brand is very much positioned for the foodie, early adopter audience. Founded in 2014, Eat Grub partnered with chef Sebby Holmes (of Farang and formerly of Smoking Goat) to stage pop-up restaurants demonstrating how tasty insects could be as an ingredient in Thai street food. The retail products – including energy bars in Planet Organic and selected Budgens stores – followed shortly afterwards. Radia admits his products may not be mainstream for now, but he believes "adventurers and foodies" will lead the way. Tech-savvy employees at AOL and Google are already tucking into Eat Grub at their offices. Plus, he points out Justin Timberlake served up insect food at his latest album party. Surely where Justin goes, others will follow?
The data does show an encouraging interest among the younger audience. Among the 25-34 age group, 23% would consider eating insects as a snack versus 14% of the total sample in the Harris Interactive poll.
Given this skew towards young innovators, marketing agency The Gate believes the hipster is the ideal target market. It suggests a protein craft beer could be the right route for this experimental population.
Introducing… HOP!
Insects have an image problem, admits The Gate's executive creative director Beri Cheetham. "They're ethically sound, environmentally friendly and highly nutritious," he says. "But there's still one major barrier to eating them… they're gross!"
Step in the product to overcome this yuck factor: HOP! A premium craft beer, it could overcome barriers to eating insects among the trendy urban population, believes Cheetham. "Our approach is to normalise the consumption of insect protein via stealth; incorporating them into products that are inherently associated with good times," he says.
Design will be a large part of this product. Sold in a lightweight Tetra Pak container, HOP! will stand out among the bottled brands on shelf. The resealable lid means it can be consumed at your own pace, which fits with the "growing cultural shift from excessive alcohol consumption to careful, quality choices".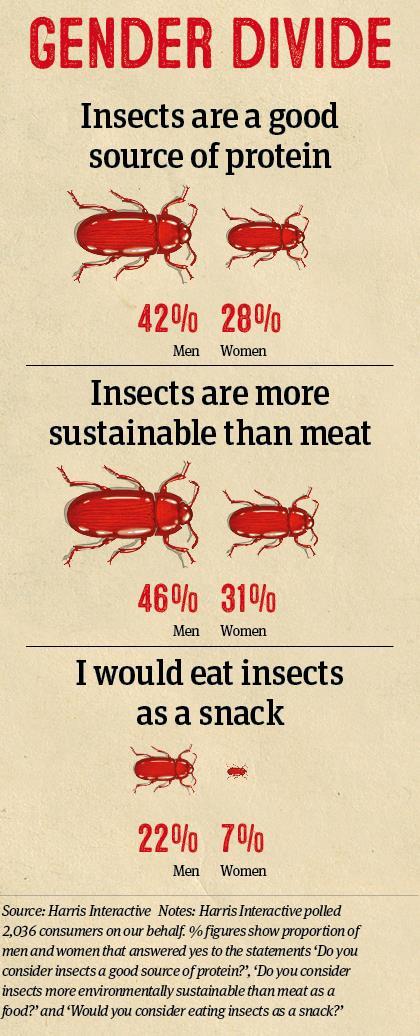 Plus, being in a lightweight format means HOP! is highly transportable. To appeal to the younger consumer who expects everything on demand, the brand will partner with every major delivery platform to offer a "hop to it" service that will courier over your beer "before it has a chance to warm up". The Gate also suggests linking the brand to Snapchat to target this tech-savvy demographic. Users can simply send a picture of where they are via Snapchat to get a fully licenced "hop-up bar" appear at their location. Made from cardboard to mirror the packaging, it will be the world's first 100% recyclable beer.
"Although the craft beer category is already awash with cool, brilliantly quirky brands, we feel there's still room for disruption – with a brave positioning, beautiful branding and packaging, and a liquid that delivers on both taste and health benefits," says Cheetham.
"HOP! would become a thoroughly modern and cool way to buy and consume beer. It just so happens to be enriched by protein-packed crickets. What's not to love?"It's easy to get swept away with the marketing potential of insect food. But there remain clear barriers to entry among certain sub-sections of the population. Older age groups remain sceptical and there is a huge gender divide. As few as 7% of all women polled would consider eating insects as a snack. For older women, the images of a bushtucker trial may take a long time to break down (if it ever happens).Perhaps the only way to make insects truly mainstream is through agriculture. David Little, a professor at the University of Stirling, has researched the idea of using insects as animal feed. If waste products are fed to insects, which are then fed to animals, it could make farming more sustainable. "It's about putting insects at the heart of the circular economy," says Little. "If you're taking something that's a waste product of the agricultural sector and turning that into waste into animal protein, it's doing something fundamentally different."
Either way, insects are set to be a growing fixture on the menu. Whether ground into bars, made into a hipster snack or used in agriculture, creepy crawlies are making their way into the west's appetite. It won't be long before I'm a Celebrity… has to look elsewhere for unappetising fodder.
The insect pioneers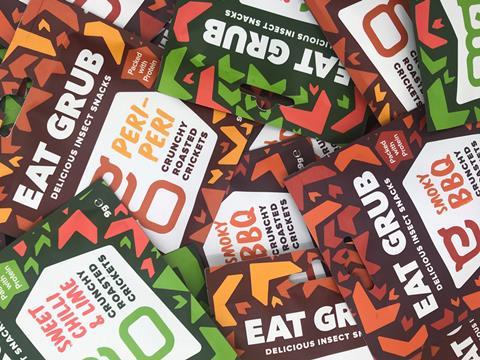 Eat Grub: From cricket energy bars to ready-to-cook buffalo worms, this small business is a one-stop shop for insect grub. Roasted crickets became the latest addition to its portfolio at the beginning of this year in tasty flavours such as peri peri and smoky BBQ (£8.99 for three 9g packs).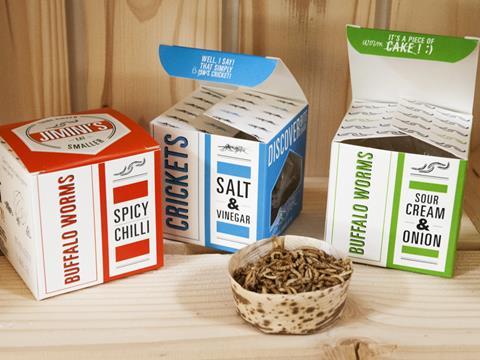 Jimini's Edible Insects: Listed on Ocado last Christmas, these insect boxes were designed to be a fun stocking filler. Packs of sweet mango crickets, paprika grasshoppers and smoked onion BBQ crickets come at a price of £6.99.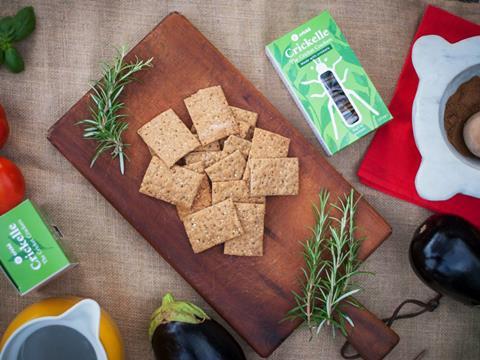 Crické: For consumers who are wary of eating a whole cricket, this company makes insect food more digestible. Its products include Crickelle crackers made with 15% ground crickets (£3.25 for 100g).