Potted noodles need a makeover. It was back in 2002 that Pot Noodle summed up public feeling with its 'The Slag of All Snacks' marketing campaign (later banned and reintroduced with the tamer but equally seedy 'Sounds Dirty and It Is' tagline). The ad was designed to embrace its low-end image and turn it into a positive. At the time, the sheer buzz around the campaign was enough for it to be hailed a success. Fifteen years later, though, this big-budget marketing campaign is arguably symptomatic of everything that is holding back noodles to go.
Indeed, perceptions don't seem to have changed much since 2002. A whopping 63% of Brits perceive the noodles-to-go category as 'cheap and cheerful', according to a poll of more than 2,000 consumers conducted by Harris Interactive on behalf of The Grocer. This is perhaps unsurprising considering the category's history of quick, easy but nutritionally questionable products.
Damien Lee, founder of high-end noodle brand Mr Lee's, says the collective disdain is deep-rooted. "When potted noodles started appearing in our market in the seventies, the prevailing opinion was that a convenient noodle meal was for lazy people who couldn't be bothered to make 'proper food'," he says. That isn't necessarily a bad thing in itself. Convenience beat taste, nutrition and enjoying a warm snack as the top reason for purchasing noodle cups in our Harris Interactive survey.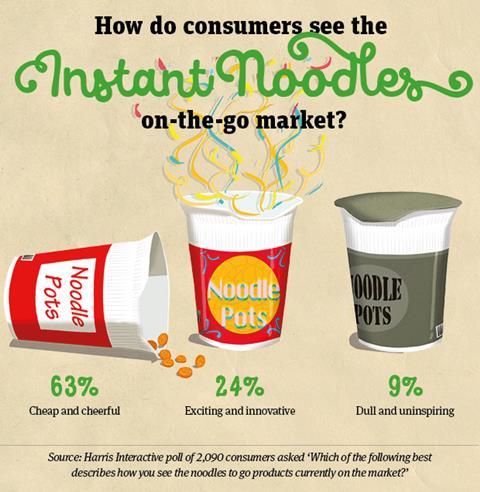 Yet Lee - and many other new wave noodle brands - believe noodles can offer much more. Mr Lee's premium "no nasties" noodles launched last July promising to contain no gluten, hydrogenated fats or e-numbers, with a low salt content to boot. The range of six SKUs includes flavours such as Warrior Fighting Shrimp and Hong Kong Street Beef, all made with ingredients that have been freeze-dried to lock in nutrition. It seems a world away from a Sausage Casserole Pot Noodle.
Lee says he was inspired to create the brand after being diagnosed with stage four cancer, as he realised there was no healthy version of his favourite snack. "A quick dive into research about the 'cheap and nasty' instant noodle market made me realise that in light of an ever-expanding, global, instant noodle market, an opportunity existed in the creation of a gourmet, premium noodle," he explains. The brand has expanded quickly in grocery and within the travel and hospitality sectors, gaining partnerships with the likes of East Midlands Railways, Jetstar Airways Australasia and travel operator TUI.
His brand is in good company. Restaurant chain Itsu is also taking aim at the more discerning consumer with its range of Asian-inspired crystal noodle cups, launched into grocery in 2014. "The category was typically seen as low quality, low price and lacking in authenticity," says brand manager Melissa Negretti. "Our range of restaurant-quality noodles in a convenient format was the first of its kind."
That leap of faith seems to have paid off. Having hailed its original product a success, Itsu completely revamped its six-strong range of rice and udon noodle cups in January this year. Armed with customer feedback showing a demand for popular Asian flavours, the brand doubled the amount of noodles per cup in the new range and brought out new flavours including Satay, Chilli Miso and Pho.
Flavour was a key focus of the relaunch, explains Negretti. "Consumers are travelling a lot more and so their palates have diversified. Foodie culture is on the rise and demand for new and authentic flavours to enjoy at home is only set to continue."
Watch: Could noodle pots be a dish fit for a prince?
Kabuto Noodles has found the same. While traditional British flavours of roast beef and creamy chicken may have pleased the masses a decade ago, founder Crispin Busk says today's consumers are looking for more variety. "British palates are changing. Asian food has boomed in the UK, and a big part of that has been the increase in number of Asian food and noodle restaurants in high streets. Asian restaurants like Wagamama at first seemed so exotic, but nowadays they're mainstream."
The sheer range of flavours in its portfolio seems to suggest Buck has a point. Starting out with just three flavours in 2009, Kabuto Noodles now has a choice of 10 SKUs with listings in Tesco, Morrisons and Ocado.
Even Pot Noodle has been swayed, venturing outside its core British flavours for innovations such as Bombay Bad Boy and Sticky Rib. "As consumer tastes have evolved so have our flavours," says Andre Burger, VP of brand building for food and beverages at brand owner Unilever UK & Ireland. "Last June, we added Chicken Korma and BBQ Pulled Pork to our range in response to the growing popularity of world food flavours."
The question is how much people are prepared to pay for these more premium, exotic offerings. Itsu admits its research found consumers wanted more affordable options, which prompted the decision to lower the price of its noodle pots from £1.99 to £1.75.
That said, Unilever is going the other way. A decade after dipping its toe into the premium pond with a £30 limited edition Poulet et Champignon Pot Noodle in Harrods, the company has returned once more to the higher end. New brand Prep Co launched in April with four "globally-inspired" pots – Mediterranean Couscous, Thai Green Curry, Indian Spiced Lentils and Mexican Chilli Rice – at £1.99 each. (The original price Itsu climbed down from and nearly twice the price of a Pot Noodle.)
"Each pot is made with natural ingredients, contains enough vegetables to fulfil one of the recommended '5 a day' and provides a source of fibre and protein, whilst being low in saturated fat," says Prep Co founder Lena Portchmouth.
In theory, it's a good bet for Unilever. An encouraging 31% of consumers said they would pay more for a potted noodle with a higher nutritional value than standard fare in our Harris Interactive survey. And 64% of shoppers would be willing to pay more for a more premium product. Of these, one in five would happily pay 50p or more extra. So a product that offers both a higher nutritional value and more premium feel could be on to a winner.
"Shoppers are happy to pay more for goods that satisfy more of their needs," says Kantar analyst William Sohler. "The more needs a manufacturer can tap into, the bigger the premium it can justify. On average, shoppers will pay 9% more for a product that satisfies two needs, 16% more for three needs and 24% more for four needs."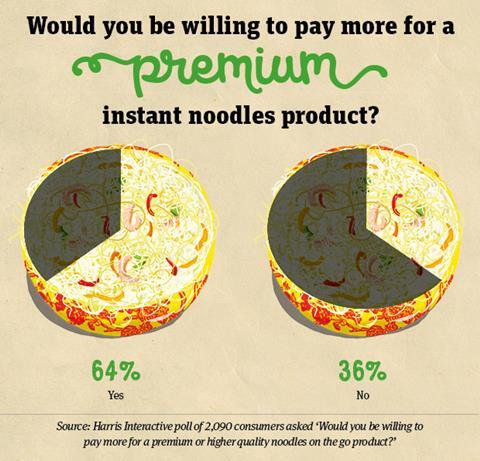 It may seem there aren't may needs left to fill. But one brand thinks it has spotted a gap in the market. Low-carb, high-protein noodle brand Oomi is hoping to appeal to the gym-going crowd. Protein may have graced everything from ice cream to bagels and ketchup but, until now, cup noodles have lagged behind. Following the launch of its packet noodles made from fish protein in September 2016, Oomi is now looking to go into cup noodles. "It makes complete sense for us to move in that direction," says marketing manager Sarah Augustine. "Watch this space."
So there are plenty of exciting and innovative noodles on the market, despite only 24% of punters seeing them that way. And this is where the real challenge lies. Despite all this activity, over 40% of consumers believe the category is the same as it's always been in terms of range and quality. A further 16% believe the market has actually got worse and just 6% of noodle eaters felt choice had vastly improved in recent years [Harris Interactive].
"Consumers don't seem to be aware that more innovative noodle products are available," says Lucia Juliano, head of research at Harris Interactive. "While new products are being launched with more premium, healthier offerings, it seems that many consumers remain loyal to the longstanding favourites. Pot Noodle and Mug Shot are the most well-known brands amongst consumers, with more than three quarters (76%) having tried Pot Noodle, and almost half (47%) having tried Mug Shot. It may be that these well-known products are influencing people's perceptions of the noodles on the go market as mainly cheaper, lower quality noodle products."
Admittedly, the trailblazer brands are relatively small. Marketing budgets are limited, as is space on the retail shelf. This lack of visibility is a key issue for the category, says Stacy Cronly-Dillon, brand manager at new healthy noodle pot company Numai. "The dry noodles aisle is dominated by just a few, long-standing brands, which makes it very difficult for newer companies to fight for the remaining space available. Consumer awareness of the range of options on the market suffers as a result." This lack of awareness of anything beyond traditionally 'student' brands could explain why as many as 47% of shoppers never eat noodles, rising to as many as 76% of older consumers.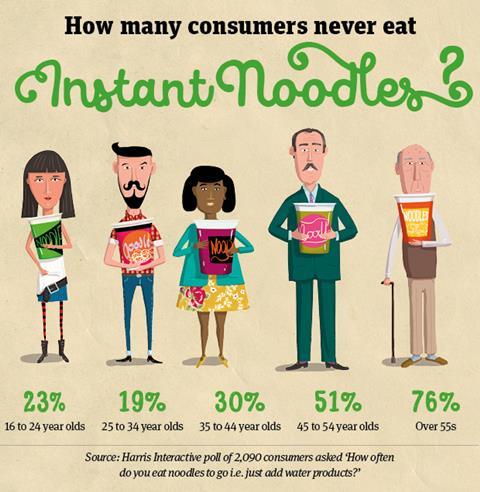 In lieu of shelf space, smaller brands will need to get creative to tackle this problem. Mr Lee's, for example, is launching vending machines in June to appeal to customers on the go. Spanning UK locations including hospitals, universities, entertainment venues and workplaces, the interactive, cashless kiosks will allow customers to buy Mr Lee's noodle cups quickly and easily via a 42-inch touchscreen at any time of day or night. "Innovation and disruption is the name of the game," says Lee. He hopes shelf space in the major mults will follow.
The upshot is: awareness is everything. If instant noodles are to get a makeover, it will be less about product innovation and more about PR. Forget the slag of all snacks, the new noodle pot is exotic, wholesome and doesn't come (that) cheap.
Creative Challenge
While potted noodles have long been a staple of the time-starved consumer, rice hasn't enjoyed the same on-the-go appeal. We challenged global brand consultancy Interbrand to come up with a rice or riced product for the modern shopper looking for a convenient, healthy lunch on the go.
Carbs are the enemy of many a dieter. Yet most of the lunch options on the market – sandwiches, noodles and rice – will contain some form of carb. So what's out there for those looking to reduce their intake? Enter Riced, from The Rooted Food Company.
Each Riced tub contains a root vegetable that has been chopped into a rice-like consistency: Mexican sweet potato, beetroot tabbouleh and or Cajun spiced carrot. This base is topped with plant-based ingredients such as tofu, fresh greens and mixed peppers, tapping into the growing plant-based movement. Plus, all this veg means one pot represents three of the 5 a day.
The product aims to build on the ground prepared by brands such as Cauli Rice. "The 'riced' vegetable trend has really grown," says Donna West, creative director of Interbrand. "What started out as a trendy way of eating cauliflower has continued to gain momentum, you can now 'rice' just about any sort of root vegetable."
A significant USP of the Riced range is its location in the on-the-go chilled lunch aisle, West adds. "The frozen aisle has picked up on the trend in both the UK and the US, with brands including Birds Eye and Green Giant launching riced vegetable SKUs in recent years. The same can't be said of the chiller, where riced vegetable products are limited or non-existent."
Consumer research from Interbrand found that many Brits looking for plant-based options were bored of the limited selection on offer in food to go. "We learned that vegetarian and vegan consumers feel there's a lack of variety and excitement in the flavours of the chilled lunchtime options available currently. The flavours of our three Riced SKUs were inspired by world trends and offering shoppers a different taste experience to what they're used to at lunchtime."
Priced at £4.99, the Riced tubs are definitely targeting the premium end of the market. But Interbrand is confident consumers will cough up for a quick and easy hot meal that should be heated in the microwave. Interbrand also stresses that ethics were at the core of The Rooted Food Company values. "It was important for us that the Riced tubs were reusable, and that we used wonky root vegetables that would otherwise be wasted in our products. Shoppers are increasingly concerned about sustainability and waste, and food brands need to get on board with that movement."
The real life rice and noodle innovations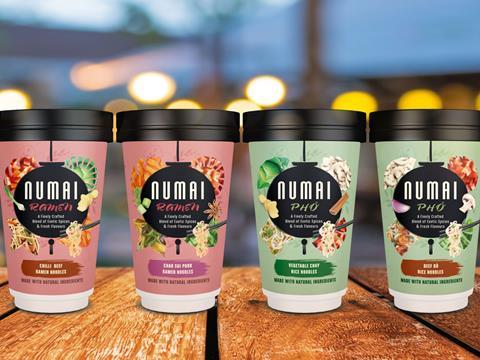 Numai Noodles
Launch date: May 2018
Manufacturer: Triangle Nutrition
Healthy noodle brand Numai launched this month with a six-strong range of pho and ramen instant noodle cups aimed at the health-conscious consumer (rsp: £1.99/60g-73g). Following an analysis of the category by brand owner Triangle Nutrition, the Numai noodle range was created to fill the gap in the market for authentic and healthy instant noodles. The premium noodle cups are made from natural ingredients including freeze-dried vegetable and meat pieces, with Japanese and Vietnamese-inspired flavours ranging from Chilli Beef Ramen to vegan and gluten-free Vegetable Chay Pho.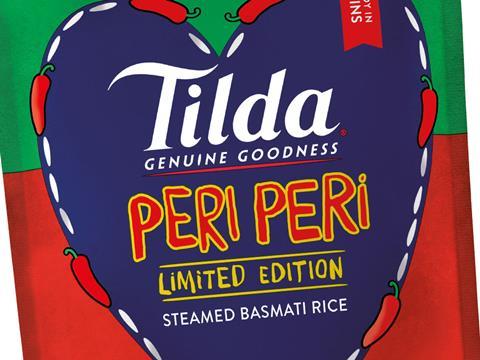 Peri Peri Steamed Basmati Rice
Launch date: March 2018
Manufacturer: Tilda
As the consumer trend for world flavours and spice continue to permeate food categories, it comes as little surprise that Tilda customers selected Peri Peri as the winner of the brand's latest 'Choose Your Flavour' competition. The new, limited edition flavour hit retail shelves in ready to heat Basmati Rice bags in March, following previous winners Tilda Firecracker in 2016 and Caribbean Rice & Peas in 2017. Combining basmati rice with red and green peppers, chili, garlic, onion, oregano and lemon juice, the Peri Peri flavour has an rsp of £1.59/250g.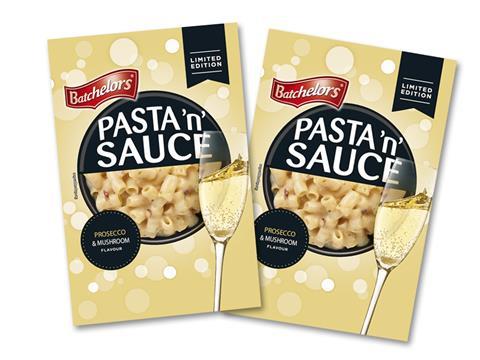 Batchelors Pasta 'n' Sauce - Prosecco and Mushroom
Launch date: April 2018
Manufacturer: Batchelors
The newest addition to Batchelors line of Pasta 'n' Sauce is limited edition Prosecco and Mushroom flavour (rsp: £0.99/108g), which the brand states was inspired by growing consumer demand for a modern spin on classic white wine dishes. As Brit's love of prosecco shows no signs of slowing down, the new flavour is aimed at injecting some fun and excitement into the convenient hot lunch category, taking minimal time to cook via hob or microwave. Packets are available in Asda stores nationwide, with no artificial colours and low fat content.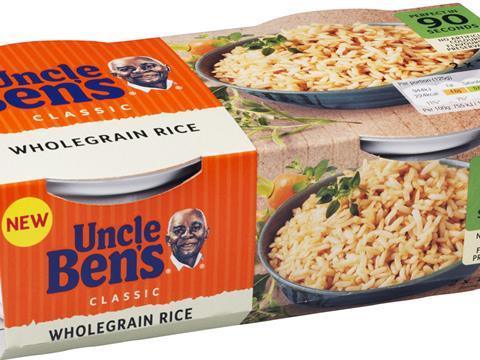 Rice Cups
Launch date: May 2018
Manufacturer: Mars Food UK
Uncle Ben's is set to introduce a new range of single-serve Rice Cups this week, available in six flavours from the brand's Ready to Heat range. Having recognised single-serve ambient products were outstripping the overall category in growth, the brand created the packs of two 125g cups for one-person households or solo meal occasions. Launching in Asda with further listings to be announced over summer, the range comprises Basmati, Long grain, Wholegrain, Vegetable Medley, Mexican and Egg Fried variants (rsp: £1.79/50g), each taking 90 seconds to cook in a microwave.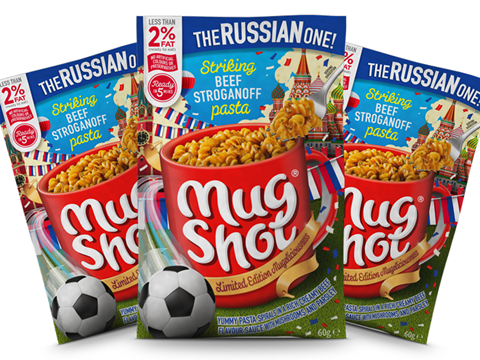 The Russian One Beef Stroganoff
Launch date: May 2018
Manufacturer: Symington's
Symington's latest Mug Shot limited edition (rsp: 85p/60g) launched in May with the aim of helping retailers capitalise on the opportunity presented by the 2018 World Cup. The soup contains less than 2% saturated fat, with the brand stating the flavour brings "a taste of Russia that can be enjoyed quickly and easily at half time or throughout the game".