Move over, John Dillinger. So long, Bonnie and Clyde. Butch Cassidy can take a back seat. For soft drinks have become the new public enemy number one.
Long held responsible for rising obesity rates, the introduction of the soft drinks levy has put the sector under the microscope more than ever before. On Radio 4 this month, John Humphrys accused Coca-Cola of being "cynical" for reducing the size of its Classic bottles to mitigate tax-related price rises. Lucozade, which has taken out so much sugar from its drinks that it provoked a backlash from fans, was lambasted for the fact it could have "done more". It feels like soft drinks are caught between a stick of sugary rock and a hard levy-laden place.
That doesn't mean the soft drinks industry is taking it lying down. Rather than settling for being demonised, big and small players are now unveiling a raft of NPD that promises to be lower in sugar and better for you. And they're hoping these new recipes will give the industry a much-needed halo effect.
Tax or no tax, the industry is right to be concerned about sugar levels. More than seven in 10 (71%) of consumers are worried about the amount of sugar in soft drinks, according to a poll of more than 2,000 consumers conducted by Harris Interactive on behalf of The Grocer. As many as 20% go as far as saying they are "very worried", and this is particularly true of the up-and-coming younger generation (see below). So even without government intervention, it would make sense for companies to cater for this concern.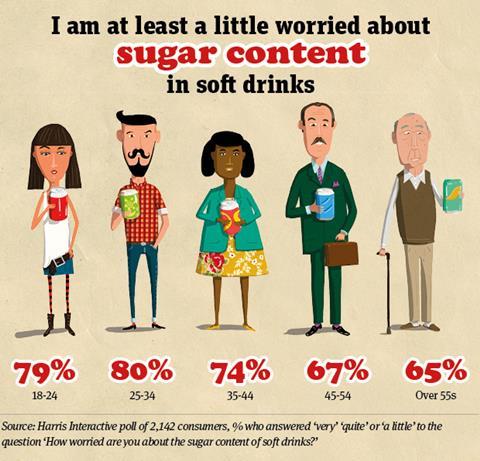 Coca-Cola is one of the companies fighting for the hearts, minds (and wallets) of the new, sugar-conscious consumer. It argues this is no new thing: it started looking to cut sugar from its portfolio more than 30 years ago with the launch of Diet Coke. But the threat of a 24p per litre levy has certainly prompted the giant to up its game. It has pumped investment into the reformulated Coca-Cola Zero Sugar with a major sampling campaign that has attracted a "dedicated fan base". (According to Nielsen, it brought in £39m worth of extra sales last year.) And there have been a raft of new zero-sugar flavours to boot – from Coke Zero Sugar Peach to Diet Coke Exotic Mango. "Millennials consume around 65% of all flavoured carbonates in Great Britain and they are constantly on the hunt for new and exciting tastes or flavour combinations," says Simon Harrison, customer marketing director at Coca-Cola European Partners.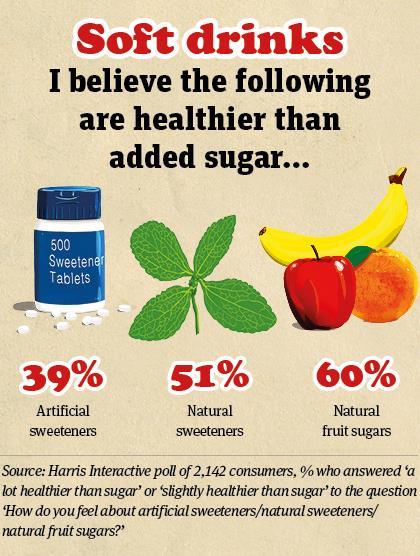 That may well be, but they are also looking for something else that these drinks aren't quite providing. In our consumer poll, only 39% of respondents believed artificial sweeteners were any healthier than sugar. That scepticism is present across all age groups, but millennials are most likely to be cutting back on drinks with artificial sweeteners (34% of the 18- to 24-year-old age group compared with 24% of the general population). "This suggests that although these drinks are being sold as healthier sugar replacements, some consumers are not convinced that they are really a healthy alternative to sugar," says Lucia Juliano, head of research at Harris Interactive.
By contrast, 51% of respondents thought natural sweeteners were healthier than sugar, and 60% believed naturally occurring sugars in fruit were a better option.
Coca-Cola is all too aware of this trend, as evidenced by its newly launched brands in the UK: Honest, Fuze Tea and Adez. All three actively promote their natural credentials. But these are all outside the realm of carbonated drinks – and there are plenty of smaller players snapping at its heels with the promise of an all-natural fizzy option with maximum taste.
Take Cawston Press, for example. It has launched new recipes that only use naturally occurring sugars from fruit, resulting in a 33% reduction in sugar and 24% reduction in calories across the range. MD Steve Kearns says artificial sweeteners were never on the cards. "For us, natural was the only answer," he explains. "Artificial sweeteners are in some cases pretty cost-effective and they would have made life a lot easier but we would rather have a brand position that says we are fresh juice all the way across."
Plenty are following the same mantra. We have Green Cola, a "healthier cola" just launched in the UK with no aspartame, phosphoric acid, sugar or calories. Startup fermented drink brand Switchle uses just fruit juice and organic honey for sweetness. Peel & Spice drinks contain no artificial sweeteners or sugar, and promise added vitamin C (see innovations, below).
Amid all this healthiness, the lines between soft drinks and flavoured sparkling water are beginning to blur. Up-and-coming brand Ugly may look like a soft drink with its bold packaging and flavours like 'triple berry', but it sells itself as a 'flavoured sparkling water' (it is a mix of sparkling water, fruit extracts and 'natural aromas'). Fruity water brand Sparkling Ice similarly wouldn't look out of place in the soft drinks aisle. Its owner Red Star Brands refers to this market as "water-plus". It believes this concept is a winner at a time when consumers are looking for more from their soft drinks than just 'no added sugar'.
"There has been a redefinition of health," says MD Clark McIlroy. "Once meaning 'diet' or 'lite' with a real focus on calories, health has now evolved to mean 'healthful' – more about the fuel going into your body than the absence of certain ingredients."
It is perhaps no bad thing considering sales of water outstripped cola for the first time last year. And it would certainly give soft drinks an image overhaul. There is one caveat to all this saintly pop, though. When Harris Interactive asked consumers what was most important to them in a soft drink, one key factor came out as king: flavour.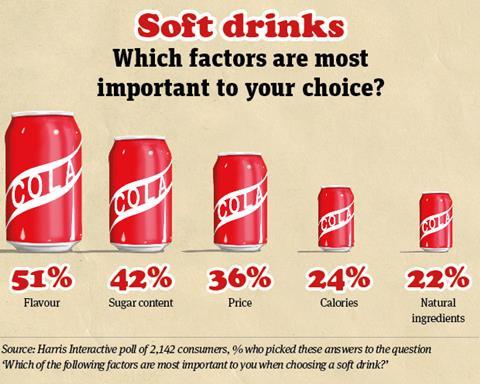 While 42% named sugar content among their top three considerations when purchasing a soft drink, 51% cited flavour. As Cawston's Kearns sums up, if it doesn't taste good, shoppers won't be buying it. "Forget all the noise from the media about the sugar levy. For the masses, the first thing they notice in a soft drink isn't going to be sugar content, it's all going to be down to taste. And the best-tasting brands will win."
So it is down to these new, healthy brands to convince consumers they can compete on taste. Otherwise, public health's enemy number one isn't likely to be going anywhere.
We posed the challenge of combining health and flavour to design and branding agency OurCreative. Here's what they came up with.
Creative challenge: a fermented soft drink for millennials
Looking to the success of craft gin for inspiration, OurCreative created a small-batch, organic soft drink that wouldn't look out of place in your local bar: Bonds. The trendy brew will squarely target the increasingly health-conscious millennial consumer. Made using fermented fruit juice, the high fruit content means it is packed full of vitamins and minerals. "Millennials want a healthier lifestyle and more savoury flavours as opposed to sweet, sugary drinks," says Craig Harriott, design director at OurCreative. "We looked at how craft gins were positioning themselves and took inspiration from that."
Plus, the fermented element of the juice will tap into the increasing awareness of gut health. Bonds will promise to promote healthy bacteria in the gut, adding another health promise into the concept. "Fermentation is going to be one of the big key trends this year," says Harriott.
Plenty of thought has gone into the packaging, too. The bottle is designed to stand out from other soft drinks on shelf with a cork top to give it a "more natural" feel. The poison shape of the bottle plays into the 'What's your poison?' strapline but, to prove it is anything but poisonous to the environment, it will be made out of glass. Consumers will be encouraged to recycle and pop-up 'kick' bars will refill empty bottles with customised juice blends to keep shoppers coming back. Meanwhile, here is a taste of what real-life brands are doing in the market.
The new healthy soft drink players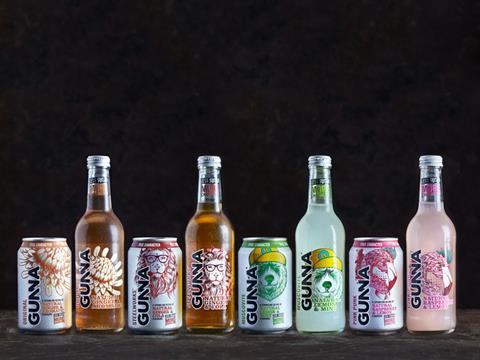 Gunna
Launched: February 2018
Manufacturer: Gunna Drinks Ltd
New craft soft drink range Gunna is hoping to hook in millennial customers looking for 'less sugar, more character' with two new flavours, each containing less than 5% sugar. London-based manufacturer Gunna Drinks undertook various taste tests with groups of 20 to 30-year-olds before launching its original range in 2016, comprising original (aromatic and ginger aromatic flavoured) and Steelworks (ginger and cola tonic flavoured). Two new SKUs, Pink Punk (raspberry and lemon flavoured) and Muscovite (lemon and mint flavoured) were added in February, with the range now available in both can (rsp: 99p/330ml) and glass bottle (£1.49/330ml) formats.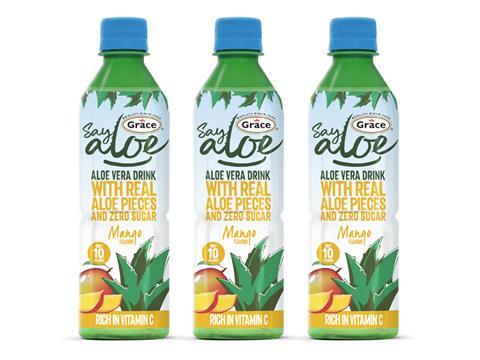 Say Aloe
Launching: April 2018
Manufacturer: Grace Foods
The numerous health benefits of aloe vera are far from secret; the ingredient features in everything from shampoos and aftersun to food and drink. One of the latest products to make use of the succulent plant is Say Aloe, a soft drinks range created using freshly harvested aloe vera. The range includes original (grape), strawberry and mango flavours, and has gained listings in Tesco, Asda, Morrisons and Sainsbury's, among others. Each Say Aloe drink is gluten free, suitable for vegetarians and every 500ml bottle (rsp: £1.49) contains 100% of consumers' recommended daily allowance of vitamin C. Say Aloe original flavour is also available in reduced sugar and zero-sugar variants, with reduced sugar options also available for the strawberry and mango flavours.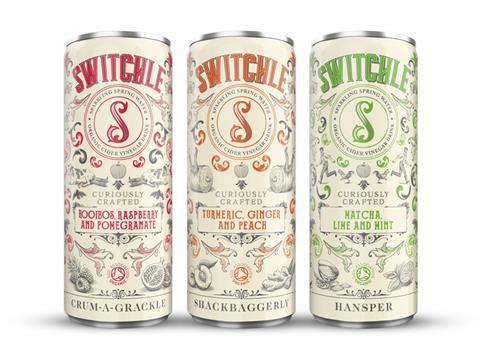 Switchle
Launching: June 2018
Manufacturer: Healthy Food Brands
Gut health is the new black. Growing consumer demand for products containing gut-boosting ingredients is at an all-time high, making fermented foods and drinks one of the biggest predicted trends for 2018. Keen to tap into that trend is fermented adult soft drink brand Switchle, who will be launching a three-strong range of organic, premium-crafted flavours in June. Made from natural spring water and blended with organic honey and apple cider vinegar 'with mother' (containing a culture of beneficial bacteria) before a blend of natural juices is added, each can of Switchle contains just 55 calories (rsp: £1.79/250ml). And really, can you get much more on-trend than Rooibos, Raspberry & Pomegranate, Turmeric, Ginger & Peach and Matcha, Lime & Mint flavours?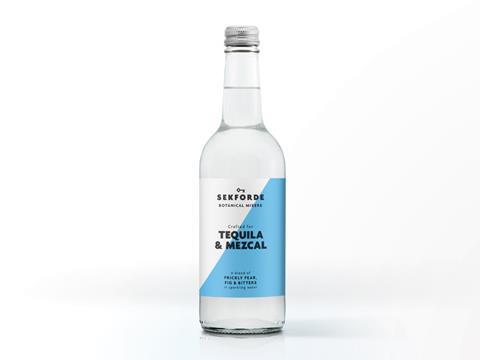 Sekforde Tequila & Mezcal
Launched: March 2018
Manufacturer: CBL
Talk of the evils of sugar continues to swarm across news and media, with public health reports urging Brits to cut down on the sweet stuff for the sake of their health. New adult soft drink brand Sekforde aims to provide a 100% natural alternative to conventional spirit mixers, with less than half the sugar content of standard soft drinks; created using a blend of botanicals and English sparkling water. The original three-strong range comprises a whisky, rum and gin mixer launched in June 2017, containing less than 40 calories, each with listings in Borough Wines and Harvey Nichols. The brands fourth and latest flavour, a mixer for tequila and mezcal, joined the range in March this year in 500ml bottles, with a 200ml variant due to be added in June.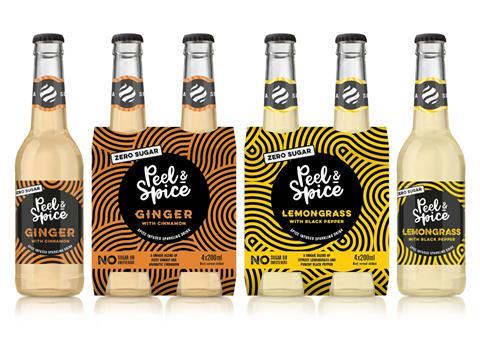 Peel & Spice
Launching: June 2018
Manufacturer: Liquid Fusion
Baby boomers may recoil in horror, but teetotalling is becoming an accepted and increasingly common lifestyle choice, particularly for younger consumers. Growing numbers of Brits aged 16 to 24 are choosing to put down the plonk, creating a substantial gap in the adult soft drinks market for legitimate alcohol alternatives. Peel & Spice is one brand looking to capitalise on the teetotal trend, launching a two-strong range of spice-flavoured adult soft drinks, Ginger with Cinnamon and Lemongrass with Black Pepper in bars and restaurants this June (rsp: £3/250ml). Both flavours are sugar-free and flavoured using fruit peels and spices to create a healthier alternative to the standard cola or lemonade for consumers who can't or don't drink alcohol. The brand is hoping to gain retail listings in the coming months.