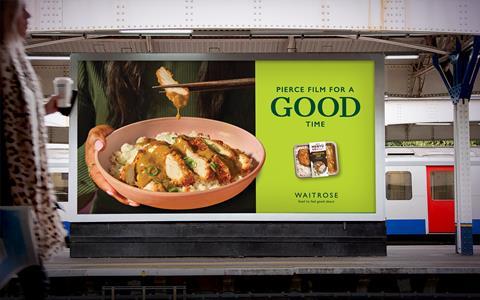 Waitrose will increasingly focus its food innovation efforts on developing more 'dine in' products and ranges, as it looks to broaden its appeal to customers.
On Wednesday the supermarket unveiled a marketing campaign to promote the launch of its new Japan Menyū own-label ready meal range. The 26-strong lineup is Waitrose's biggest non-seasonal launch this year. It is the latest in a string of dine-in lines launched by the supermarket recently as it seeks to adapt to a wider slowdown in customers eating out at restaurants during the cost of living crisis.
"We want to make sure that we position Waitrose as a really great choice for customers," said Waitrose chief customer officer Nathan Ansell. "Equally, Japanese is a food that's on trend. We think we can create something really special."
Waitrose had seen sales of its 'dine in' products triple during the first half of the year. Sales of the new Japan Menyū products had increased 140% week on week since it hit stores on 14 September.
Waitrose remained "really committed to dine in" as a concept, Ansell said, hinting at future launches.
As well as reflecting a wider shift in customer behaviour, Ansell said that that Japan Menyū represented a good example of how the supermarket has sought to improve its approach to food innovation and new product development.
Two years ago it began working using AI tools created by the company Tastewise to track emerging food trends. One of the uses of the tools has been to track what consumers are searching for online and using this to tailor its ranges or NPD.
It comes in addition to a wider expansion of the supermarket's team of in-house development chefs, following the launch of its Food Innovation studio at its Bracknell HQ in 2019.
"We saw an opportunity with Japan Menyū," Ansell said. "Partly because our customers really enjoy eating Japanese food, but also its an area that is currently underserved."
Waitrose already stocks a lineup of Japanese products, including from Snowfox-owned Taiko, as well as Sushi Daily counters operated by KellyDeli across its network. The addition of Japan Menyū had made its Japanese lineup "really comprehensive and credible" Ansell said.
The new Japan Menyū advertising campaign is the first campaign of Waitrose's creative partnership with the agency Saatchi & Saatchi announced earlier this year. It will run across multiple formats including print, audio, digital and out of home.
It aims to highlight that the new range can be "good" for customers, for example helping them in their busy lives. It will feature slogans including 'Good for a midweek quickie' and 'Good news for tired cooks'.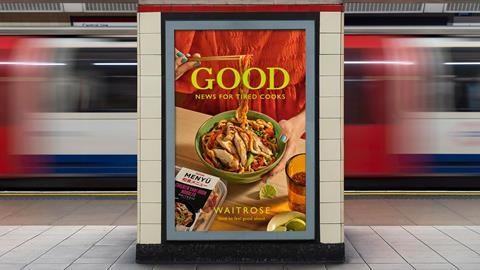 It's the latest iteration of Waitrose's wider 'Food to Feel Good About' brand message, which is focused on playing up the quality of its food and the ethics and sustainability of its supply chain – which execs view as its key point of difference from other supermarkets. It was launched in September 2022 as part of rebrand in response to the cost of living crisis.
The message has been a key part of Waitrose strategy to reverse falling market share during the cost of living crisis, alongside a swathe of price cuts and increase in its convenience offer.