Ian Quinn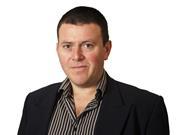 Ian covers Tesco and Asda among the major retailers, as well as suppliers including Unilever, P&G and Coca Cola. He's also our go-to guy for all issues related to health.
Contact Info
Tel:

01293 610265

Email:
Recent stories
Tesco is today created teams of dedicated bag packers at 400 of its stores to help ramp up service in the run up to Christmas.

With nearly three weeks of endurance eating and drinking yet to come before we all go cold turkey…

The efforts of both national and local government to tackle the problems of town centres has come under strong attack from MPs and the former high street tsar today. The Communities and Local Government Select Committee claimed the National Planning Policy Framework was being mishandled by councils, with local planning a bureaucratic mess, which had ignored changes in shopping habits and lacked proper data. Meanwhile, Mary Po

Dave Lewis 'close' to appointing new Tesco UK MD

Subscription
Recent blog posts
There could be no doubt about Philip Clarke's passion for Tesco and his commitment to turning its fortunes around.

It was good to see MPs in their droves yesterday backing the BRC's call for a fundamental overhaul of business rates…

Traffic-light labelling appears to have fizzled out. Will we ever achieve a universal system?
Ian Quinn contributes to: