Ian Quinn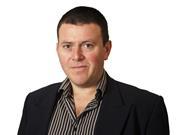 Ian covers Tesco and Asda among the major retailers, as well as suppliers including Unilever, P&G and Coca Cola. He's also our go-to guy for all issues related to health.
Contact Info
Tel:

01293 610265
Recent stories
Consumer confidence in the UK economy has fallen for the first time in six months, according to a new study.

Morrisons has become the first retailer to sign up to the new Responsibility Deal pledge banning any carbonated product in its stores with more than four units of alcohol in a single-serve can.

High streets are experiencing a "retail resurgence" due to the convenience culture sparked by austerity Britain, a government report claimed today.

A new front in the war on obesity

Subscription

London supermarkets sign up to anti-obesity push

Subscription
Recent blog posts
There could be no doubt about Philip Clarke's passion for Tesco and his commitment to turning its fortunes around.

It was good to see MPs in their droves yesterday backing the BRC's call for a fundamental overhaul of business rates…

Traffic-light labelling appears to have fizzled out. Will we ever achieve a universal system?
Ian Quinn contributes to: