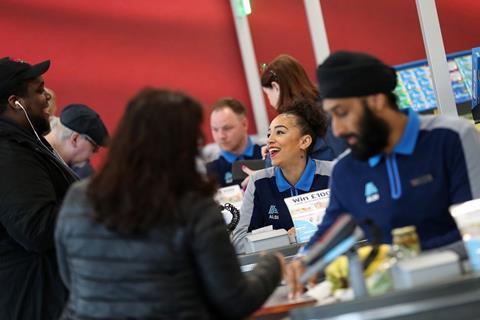 Aldi has become the latest supermarket to equip staff with body-worn cameras as it battles with the surging rates of shoplifting hitting the retail sector.
The trial of the technology was revealed by Aldi UK & Ireland CEO Giles Hurley as he announced the discounter's annual results this morning.
"There's an uptick [in shoplifting] across the industry and we're not immune to that," said Hurley.
"With body cams, we currently have a trial which is underway in part of our business, exploring what benefits we can derive from that for our colleagues.
"We have an absolutely fantastic team here at Aldi and we are very clear that they should expect a safe and secure working environment and it is therefore a priority for us."
He said the body cameras were among "a range of security measures in place" in response to rising crime.
"Our management teams are well attuned to monitoring those and tightening them when there are localised issues," he added.
"It's something that we're working on with and through the industry to try and drive improvements."
It is understood the body-worn cameras have been offered to assistants and security guards at a small number of Aldi stores in the recently launched trial. A decision on future use of the cameras is to be made following the trial's conclusion.
Other measures recently deployed by Aldi have included checking customers' shopping bags at the checkouts in some stores.
Earlier this month, Morrisons also equipped staff with body cameras, in a 25-store trial. That came days after Tesco announced a rollout of the devices to all store workers, with its CEO Ken Murphy highlighting BRC figures showing violence or abuse against staff had almost doubled from 450 incidents per day in 2019-20 to more than 850 last year.
Co-op, which has been providing staff with body cameras since 2020, saw incidents of crime or antisocial behaviour surge 35% year on year in the first half of 2023, to 175,000, or almost 1,000 a day.
Commenting as Co-op announced its half-year results last week, group CEO Shirine Khoury-Haq said the retailer was "campaigning for every police force to take organised criminal activity against retail stores more seriously" and "asking that every police and crime commissioner sets out clear plans to tackle persistent and prolific offenders".
Aldi UK & Ireland revenues rose by 14%, or almost £2bn, to £15.5bn in the 12 months to 31 December 2022. Operating profits increased almost three-fold to £178.7m, as margins bounced back from 2021's 11-year Covid-related low of 0.4% to 1.2%.
Hurley used the trading update to reiterate a new Aldi target of 1,500 stores, which it first announced earlier in September as it opened its 1,000th.
However, no time frame has been set for the goal, and Hurley acknowledged it was also "difficult to say" whether Aldi would hit a previous target of 1,200 stores by the end of 2025.
"There are a number of factors which affect an expansion programme like ours," he said. "It's clearly unrivalled within the sector. While we're scaling up, others are slowing down or scaling back. There is clearly the challenge of identifying a site, acquiring it, going through the planning process, constructing it.
"That whole process is probably slower than it's ever been and there are many things outside our control there. What's important to stress is our commitments are backed up by real investments. This year and next year we're investing £1.4bn in expanding our business and I would envisage those levels will continue."
Responding to a question about prime minister Rishi Sunak last week saying a "proposal" for households to have seven different bins had been "scrapped", Hurley also said government and retailers needed to work together on improving recycling.
"We've always held a view that we need to work very closely with the government, with aims we all share," Hurley said. "We also need to ensure that we don't inadvertently create costs in the supply chain that in any way affect prices for customers, now more than ever."