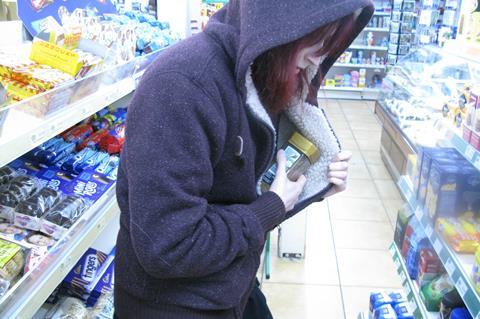 Co-op was identified as the most targeted retailer by shoplifters in new research this week, as the industry launched a fightback against organised crime groups.
In a list of the top 20 most-hit retailers, including supermarkets, discounters and high street chains, Co-op came top. It reported 65,868 incidents between August 2020 and July 2023, found analysis of police crime data by insurance experts Money.co.uk – representing 15.3% of all shoplifting.
Figures direct from Co-op, which include anti-social behaviour as well as shoplifting, put the number of incidents at more than 175,000 in the first six months of 2023, a 35% increase year-on-year.
Despite being the UK's biggest retailer, Tesco was second in the ranking. It was hit 42,459 times, accounting for 9.9% of incidents. Sainsbury's was number three, with 32,183 incidents, or 7.5% share.
"The rise in shop looting and retail crime, perpetuated by repeat, prolific offenders and organised criminal gangs, is becoming one of the most significant issues facing UK communities," said Co-op Food MD Matt Hood. He said Co-op had invested over £200m in trying to keep staff and stores safe.
The research came in the same week the UK's biggest supermarkets and retailers agreed to fund a £600,000 police operation to crack down on shoplifting, dubbed Project Pegasus.
Co-op, Tesco, Sainsbury's, John Lewis and Next are understood to have pledged funding for police intelligence analysts to focus on organised crime groups.
As part of Project Pegasus, retailers will share their crime data with each other and police analysts to build a national picture of where shoplifting gangs are operating and which stores they are targeting.
Katy Bourne, Sussex PCC and national PCC lead for business and retail crime, said it would lead to a better conviction rate, because offenders would be charged with "multiple offences across multiple areas".
The analysts will work within Opal – the national intelligence unit for organised acquisitive crime, led by chief constable Amanda Blakeman. The recruitment process is underway, with the project set to be up and running by the new year.
The Federation of Independent Retailers and the British Independent Retailers Association have also written to policing minister Chris Philp calling for a government grant of up to £1,500 per retailer to beef up security systems.
Smaller retailers were hampered by tighter margins, preventing them from rolling out measures such as increased CCTV or body-worn cameras, the groups said.
"The burden of crime prevention shouldn't fall on retailers' shoulders," said The Fed's national president Muntazir Dipoti. "Government intervention is crucial to safeguard retailers, particularly smaller shops.
"Security measures are expensive to buy and install, and we as shop owners need support to protect ourselves, our staff and our livelihoods."