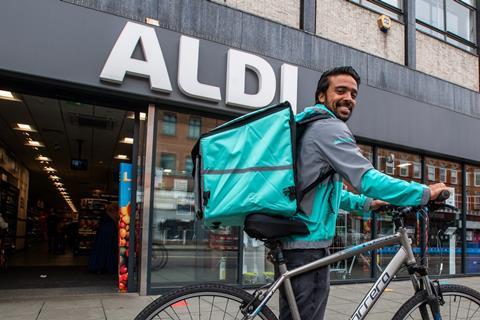 Aldi is extending its partnership with Deliveroo to offer on-demand rapid groceries from a further 22 stores.
The discounter partnered with the courier firm in May, and rolled out the service to 20 stores in London, Greater Manchester, Cambridge and the Midlands.
The expansion – which Aldi is still calling a "trial" – will bring availability of the service to a total of 42 stores, including locations in Liverpool, Brighton and Bristol.
Customers living within a 6km radius of the participating stores will be able to choose from around 400 essential Aldi grocery items, which are picked and packed by store staff. The range has increased from the 150 SKUs available through the service at launch. The service comes with a £4.99 delivery charge and a mark-up on shelf prices.
Aldi said further expansion could happen if the trial continued to be successful.
"Since launching the partnership back in May, customers have been contacting us daily asking about plans for the rollout," said Aldi UK communications chief Richard Thornton.
"The on-demand delivery service is just one of the ways we're making it easier for customers to access Aldi's quality food at prices you won't find elsewhere," he added.
Last month, Aldi launched its first click & collect service to the public at its Allendale Road store in Loughborough, with 15 further stores scheduled to be added in the coming months.
Announcing its full-year results in September, Aldi said it would create 4,000 jobs next year and invest a record £1.3bn over the next two years into new and upgraded stores, distribution centres and further innovations across its business.
Deliveroo's VP of new business Ajay Lakhwani said he was "delighted that Aldi's trial with Deliveroo will double in size".
"Deliveroo's on-demand grocery partnerships have proven vital for so many people during this difficult period, allowing families to get the food and household items they need and want quickly. The fast expansion and success of this trial reflects the strong customer demand for groceries, an area in which Deliveroo is providing increasing choice," he said.
"We are excited that even more customers across the country can now enjoy Aldi's great quality food," Lakhwani added.