In a year that saw shelves stripped bare as panic-stricken shoppers flocked to 'trusted brands', 76 of this year's 100 biggest added value. The question now is how can they maintain that momentum?
This feature is part of our Britain's Biggest Brands special, you can see the top 100 brands here.
What goes up must come down. Or must it? After a record-breaking year that saw brands grow ahead of own label for the first time in six years [NielsenIQ 52 w/e 26 December 2020], brands are looking to defy the laws of gravity and keep flying high on the wings of Covid-19 success.
They'll have their work cut out. Seventy-six of this year's top 100 brands added value in 2020, with 47 posting double-digit growth. A huge achievement, but one that makes for tough comparatives.
Add to this an uncertain shopping environment, a fast-moving health agenda, range rationalisation and renewed retailer focus on private label, and the bar to achieving growth – or even holding steady – has rarely been higher.
So, how much of 2020's gains can brands realistically hold on to? And what will it take to maintain momentum?
The answer to these questions starts with a closer look at what happened in 2020. More than in any other year, winners and losers were separated along category lines.
As consumers' lives revolved around the home, brands in categories that cater for family meals and scratch-cooking thrived. Long-life staples in ambient and frozen proved a hit with locked-down shoppers, while heightened concerns around hygiene propelled cleaning and household products.
It's why Heinz (up £113.7m), Birds Eye (up £100m) and Dettol (up £55.6m) are among the star performers in Britain's Biggest Brands this year – while many brands reliant on impulse and on-the-go consumption struggled.
Shopping patterns also changed. Consumers visited stores less often, spent more on each shop and bought more online. In the process, they also chose brands over own label more often. Across total fmcg, not only have brands grown ahead of own label for the first time since 2014, they've done so by a sizeable margin, up 12% in 2020 against 7% for own label [NielsenIQ].
"Brands have strong equity and that's been really important," says Mike Watkins, head of retailer & business insight at NielsenIQ. "When people were shopping online or in store and making decisions about family meals and eating and drinking at home, they wanted those trusted brands they feel comfortable with."
A case in point is Nestlé, whose cereals portfolio saw strong growth in 2020. "During lockdown it was our core, traditional brands that sold best," says a spokeswoman. "Our Shreddies, Cheerios and Shredded Wheat breakfast cereals performed particularly well, which isn't surprising given these are trusted brands with a long-standing legacy in the UK."
It wasn't just tried and trusted that did well, though. Covid also pushed consumers to experiment. Premier Foods says its Sharwood's cooking sauces gained one million new customers in 2020, pushing sales up 36.5% to £87.3m. Similarly, Birds Eye says it attracted "millions of new customers" to its frozen range.
"Everything right now is incredibly difficult to predict, and we know we'll have to continue to be pretty fleet of foot in terms of reacting to government announcements"
Now the focus is on shopper retention. As the economy reopens, grocery retail will lose its captive audience and brands will have to work harder to stay in shoppers' repertoires. To do so, they are zeroing in on three areas: shopper insight, NPD and marketing.
Understanding how shoppers behave has always been important, but it's critical at a time when behaviour is changing rapidly. "We're looking at the data much more regularly and with a greater level of detail," says Danny Micklethwaite, senior marketing director at Arla Foods. "Everything right now is incredibly difficult to predict, and we know we'll have to continue to be pretty fleet of foot in terms of reacting to government announcements."
The impact of hospitality's reopening is proving especially hard to gauge. On paper, the return of restaurants, pubs and bars should pull sales away from grocery, but continued social distancing issues, the threat of vaccine passports, new flexible working policies, and restricted international travel could all constrain capacity. Plus, there are residual fears over mixing in public spaces. As a result, there could be more socialising in the home, driving sales back into grocery and creating valuable opportunities for brands. A packed summer of sports, including the postponed Olympic Games and Euro 2020, is also set to drive demand for in-home consumption.
"The wise retailers will be the ones that pay attention to the data on that and the wise brands will be the ones that are able to respond to that and have something in the market for those people who want to see their friends but want them round their house," says Alister French, partner at management consultancy Oliver Wyman. "It may be that summer 2021, depending on the level of restrictions, ends up being one with a lot of barbecues and house parties."
It's why brands like Birds Eye are keeping an extra-close eye on social media right now. "We want to understand what people are getting excited about, the recipes they're recreating and what they're posting and, importantly, the ingredients they're choosing to use as part of that," says UK&IE marketing director Sarah Koppens.
Opportunities to hold on to sales will also come from pandemic habits that stick post-lockdown, including online and larger formats and multipacks, particularly in categories such as soft drinks.
Pepsi's strong performance in 2020 (up £84.1m) was driven heavily by multipack. Ben Parker, at-home commercial director at Pepsi distributor Britvic, believes demand will stay high. "I think we've shifted that consumer behaviour to take a bigger take-home pack," he says. "The trend towards bigger pack formats was already building before the pandemic, and then the panic-buying a year ago really kicked it off."
Coca-Cola European Partners GB also expects more in-home consumption than before the lockdown. "The impulse mission is already making a comeback, but we are confident that in the long term there will be more consumption in the home than there was pre-Covid," says Simon Harrison, VP of commercial development. "From a soft drinks perspective, this means more occasions to cater for, more often."
How have challenger brands coped?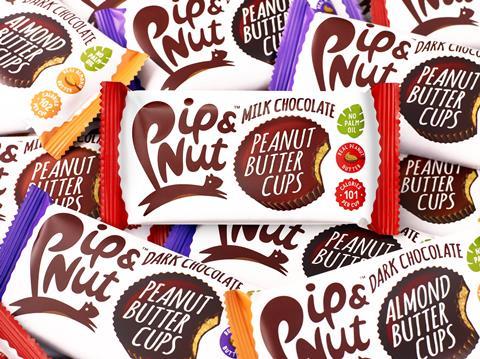 It's not just brands in the top 100 that thrived during lockdown. Scores of challengers, disruptors and startups were quick to capitalise on changing shopping patterns to achieve record sales.
The role of online and DTC in this is well documented, but challengers also drove significant growth through the major mults.
Small brands that managed to maintain supply in fast-growing categories did especially well. Take Pip & Nut, whose sales surged by 65% in 2020, well ahead of the 28% growth across peanut butter [NielsenIQ 52 w/e 26 December].
As other brands struggled to retain supply and dropped out of promotional plans, Pip & Nut secured secondary space in Asda and Sainsbury's. "That's the beauty of being a smaller business in some respects," says founder Pip Murray. "You are able to move and react quicker."
Challengers focused on health, immunity and plant-based also thrived. Vadasz, Winterbotham Darby's brand of pickles and ferments, shifted an additional half a million pots worth over £2m between April 2020 and March 2021, and secured several new listings.
Sales also soared at The Vegetarian Butcher – up 228% in 2020, says owner Unilever. It says it is now readying several "exciting new launches for 2021"
With post-Covid shoppers hungry for eye-catching NPD, the prospects for challenger in 2021 should remain bright. Retailers are aware of the importance of smaller brands in driving both margin and distinctiveness, says Thea Alexander, co-founder of Young Foodies.
Getting cut-through with buyers, however, is a growing headache. "With declining headcounts at HQs and a huge number of strategic priorities, allocating buyer time to newness is a challenge," she says.
Like all brands, challengers also have to contend with smaller ranges, which has raised the bar on getting listed. "Buyers won't go out of their way to support small brands unless they can see real innovation," warns Tessa Stuart, a consultant who works with challenger brands. "Without that, buyers won't be interested and you'll be out much faster."
Innovation
In all this, innovation is moot. Retailers simplified ranges and focused on availability in 2020, and though most have since reintroduced variants, the postponement of many launch plans as a result of coronavirus means there's a pipeline and a market appetite for new products. "If ever there was a time to bring some genuinely new products to the shelves or online, the second part of 2021 is that," says NielsenIQ's Watkins.
The emphasis on "genuinely new". Retailers are more conscious of the impact of range complexity than ever – as Asda's End2End category transformation programme proves, and many brands report it's harder than ever to engage buyers on NPD.
To be in with a chance, they need to focus on breakthrough innovation, believes Tim Brooks, founder of consultancy Muzeable. This is particularly important for those that didn't have a great 2020. "In tough times, people do lots of incremental innovation," says Brooks. "But if retailers are being curmudgeonly about ranging, getting in a third flavour won't float their boat."
One brand upping its game is Müller: after a tough 2020 for the dairy giant, with sales down nearly £41m, it recently launched a high-protein version of Müller Rice into Morrisons. It also plans to invest heavily in marketing to regain momentum in 2021. "It's a big year for athletics, so we have new campaigns for core brands like Müller Corner, Müllerlight and Müller Rice, which feature our athletics ambassadors," says head of category Carol Hand.
"It's very much about being in people's minds and being salient as they make choices"
Big-ticket campaigns are also on the agenda at Suntory Beverage & Food. Its Lucozade and Ribena brands struggled in 2020 as on-the-go and sporting occasions disappeared. Now they're coming back, Suntory wants to make the most of the opportunity.
"We've kicked 2021 off with a £10m marketing investment for Lucozade and a £2.4m marketing campaign this year for Ribena," says sales director Alpesh Mistry. "As the world emerges out of lockdowns, and on-the-go occasions and team sports return for the golden summer of sport ahead, we're excited to deliver our plans for our brands this year."
Marketing will be just as important for brands that had a strong 2020, though, with tough comparatives. "It's very much about being in people's minds and being salient as they make choices," says Oliver Wyman's French. "As a brand, you need to explain how you fit into the next phase of people's lives, so that as people move on from lockdown they don't move on from the habits they've built up."
Brands also see an opportunity in emphasising their credentials around health, wellness and sustainability – all trends that accelerated during the pandemic and are likely here to stay. "Health and sustainability in particular tie into the 'build back better' narrative, with more than half of consumers now changing their diets or considering making changes to be healthier and more sustainable," says Harrison at CCEP.
Kraft Heinz is also betting big on health and sustainability. Global CEO Miguel Patricio recently said he wants the company's portfolio to be "cleaner and greener". The UK is part of that ambition. "We continue to see good performance in the core parts of our portfolio that benefited from a boost during lockdown and are really focused on continuing to innovate in line with consumer trends," says northern Europe commercial director and CMO Sam Greenwood.
Who's up?
↑ 50
Dettol 63 (113)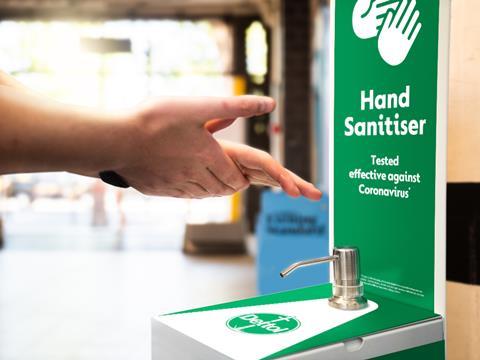 Disinfectant brand Dettol has shot up the rankings on the back of a £55.6m (or 65%) sales gain. As brand owner Reckitt Benckiser says, 2020 "was the year of antibacterial products" (although technically the coronavirus is a virus)
↑ 50
Freshways 97 (147)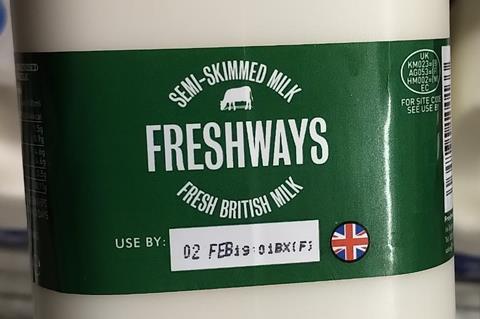 The extra £44.8m in Freshways sales is largely due to its merger with rival dairy Medina – most of whose milk is now under the Freshways label. A rise in at-home cuppas, home-baking and shopping locally have also helped drive growth
↑ 39
Starbucks 83 (122)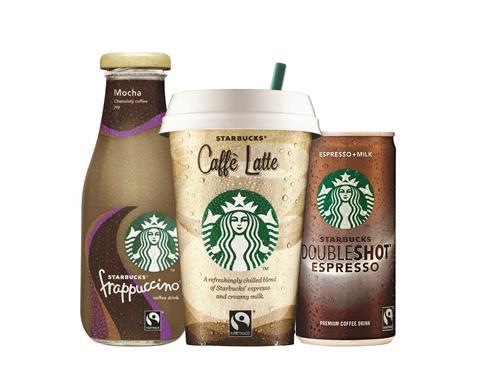 Starbucks' range of instant and ground coffee has been key to its top 100 debut. The £42.4m gain won't make up for the losses in coffee shop sales, but at least Starbucks could give grocery shoppers a fix of its signature caffeine fix. Impressively the brand's RTDs were seemingly unaffected by on-the-go's collapse too
Who's down?
↓ 39
Highland Spring 96 (57)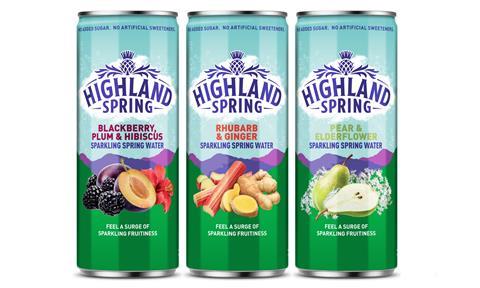 As lockdown hit, no water brand was hit harder than Highland Spring, with its single-serve sales taking a pummelling. Its £34.3m loss might have been even higher were it not for the relative success of its larger formats and higher-priced sparkling water
↓ 29
Ribena 100 (71)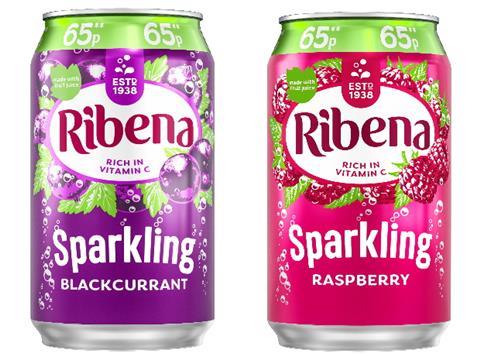 Another victim of on-the-go's collapse, Ribena is worth £14.9m less than last year. Lightning fast innovation in larger formats prevented further value losses
↓ 25
Evian 80 (55)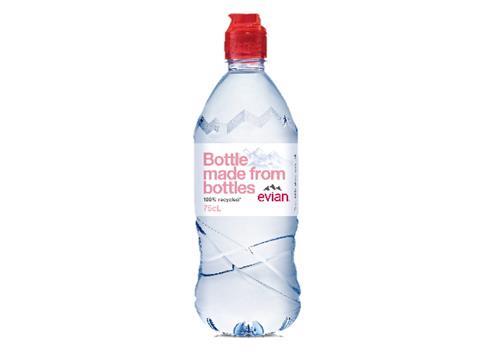 Evian suffered the same fate as Highland Spring, shedding £25.4m as a result of lockdowns. Like its Scottish rival, the French brand is banking on new large formats and fruit flavours to recoup losses
Health and sustainability
Brands are right to focus on trends such as health and sustainability, says Muzeable's Brooks. "It will be easy for retailers to become obsessed with EDLP and small ranges, so brands need to create category stories and narratives that drive where the growth is going to come from."
Schemes such as Tesco's and now Sainsbury's Aldi Price Match show retailers are already laser-focused on value. And with good reason: research by NielsenIQ suggests 35% of consumers are "newly constrained", meaning their financial and economic circumstances have changed as a direct result of the pandemic.
There are even more fundamental challenges ahead. No matter how brilliant this summer will be for grocery, some structural shift back into out-of-home is inevitable. NielsenIQ is forecasting grocery sales in 2021 to be "flat at best", says Watkins.
This means brands need to be realistic about their prospects. Instead of trying to hold on to sales, focusing on maintaining and growing share may be more productive.
Premier Foods, whose Sharwood's, Bisto and Ambrosia brands were among 2020's winners, says it's remained focused on share throughout. What's more, it's benchmarking its 2021 performance against 2019, not 2020. "We want to make sure we achieve two years' worth of growth," says chief marketing officer Yilmaz Erceyes. "Of course, we always have an eye on what we did versus a year ago and we want to maximise that, but there's a certain reality here. There's a lot of unpredictability, so what's important for us is that over the long term we're progressing in the right direction."
It's a point echoed by many. As bullish as brands want to be, they know there's a danger in being blinded by last year's dizzying figures. Rather than obsessing about 2020 comparatives, the brands that will be flying high in 2021 and beyond will be those that keep a cool head, stay agile – and focus on the long term.
This feature is part of our Britain's Biggest Brands special, you can see the top 100 brands here.
Britain's Biggest Brands 2021: how can brands continue to fly off shelves?
1

Currently reading

Britain's Biggest Brands 2021: how can brands continue to fly off shelves?

2