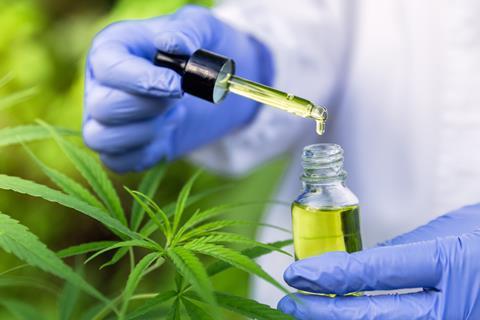 Plans for a CBD safety certification programme have been launched today as the industry readies itself for new FSA regulations set to come into force in exactly a year's time.
The Association for the Cannabinoid Industry (ACI) certification was an important part of its vision for a sustainable future for the UK CBD sector, the industry body said as it announced the plans.
The programme will be composed of three tiers, each representing the necessary steps to gaining the full novel foods authorisation CBD food and drink producers will need from the appropriate regulatory bodies to continue to trade normally after 31 March 2021.
In February, the Food Standards Agency instigated a clampdown on CBD products after finding evidence of potential adverse health effects.
After the 31 March 2021 deadline, CBD food and drink manufacturers have a legal requirement to provide more information about the contents of products and also to apply for novel foods authorisation. Only goods that have submitted a valid application will be allowed to remain on the market.
The ACI said today its new certification scheme would bring a level of trust to the industry that until now has been lacking.
ACI pharmacy lead Dr Andy Yates added: "It's been clear that retailers and consumers don't have complete faith in CBD products that are currently for sale in the UK.
"The ACI's certification is a simple way for retailers and consumers to be sure that the CBD products they are stocking or buying are complying with or working towards all of the relevant regulations."
The ACI is establishing a new regulatory and compliance unit, under the leadership of Dr Parveen Bhatarah, to support its members with accreditation and novel foods dossier development.
CBD product use has grown significantly in the UK within the past year, with recent research commissioned by the Centre for Medicinal Cannabis putting the value of the UK CBD market at £300m. It is forecast to grow to be worth more than £1bn by 2025.
The ACI is an industry body advocating for "a safe, legal and well-regulated" CBD market in the UK.
The three tiers for ACI certification are:
Tier 1 – Certified: An ACI member has proven to comply with its seven-pillar charter after passing an audit and verifying quality management systems. Companies will be able to display this mark on products by the end of the summer 2020.
Tier 2 – Validated: To gain ACI validation, a company must have its novel foods application validated by the Food Standards Agency and/or the European Food Safety Authority (EFSA).
Tier 3 – Authorised: This certification will be granted when a company has had its novel foods application authorised by the FSA and/or EFSA. It will be subject to annual review.