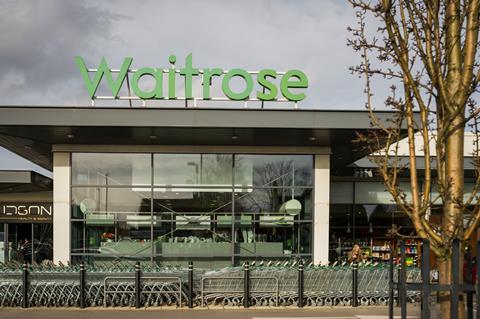 Waitrose is introducing a new centralised buying administration system that takes responsibility away from individual buyers as part of the shake-up of its commercial division.

The move, which Waitrose said was aimed at simplifying supplier relations, comes three months after The Grocer revealed it was planning to slash the head count in its buying team as part of a switch to a new category management approach. However, some suppliers have warned the initiative is driven by cost-cutting.

In a letter to suppliers, seen by The Grocer, Waitrose said it was starting a rollout of the new system, which would centralise tasks such as "new line setups", "mid-life changes" and "delivery standards queries".

'We are implementing new ways of working to drive consistency in our approach, simpler and more efficient ways of working and clear time lines of when activities will be completed,' said the letter.

'You will of course maintain your relationship with your buyers, but the focus moving forward will be on nonadministrative elements.'

Last month, Waitrose said it was investing heavily in data analytics and customer insight research as it looked to move to a more category management-based approach.

Under the latest move, all suppliers have been given four weeks to register on a new supplier portal, including an activity based 'dashboard'. The letter said suppliers registering and updating their details represented 'critical enablers to the success of our commercial operating model and as such we really need your support and cooperation to make this a success'.
Some suppliers expressed unease at the proposed changes.

"My suspicion is that this is being done to save costs, and it's going to remove a link between the buyers and suppliers.

"It's almost as if there isn't going to be a buying team anymore. They have obviously invested a lot of money in new systems but Waitrose doesn't have a glowing record when it comes to this sort of thing."

Another Waitrose supplier said it looked like "a very convoluted process".

"It's of course well known that the business is under pressure and there will be a lot of questions going forward about whether this is being driven to improve systems or to take costs out of the business."

However, some sources supported the move: "In effect this is a dull way of saying that buyers will be buyers, not trading assistants. It is no different to Asda setting up their Central Admin function about 15 years ago. It just goes to show how far behind Waitrose really are.

"I would expect there to be teething problems, there always are when you make these kind of changes. But the impact on suppliers should be minimal if the new system works." Another supplier source added: "Waitrose has had fairly antiquated systems in the past so in some ways it would be welcome if this is going to streamline relationships with suppliers, but the fear is that it's driven by cost cutting.

A Waitrose spokeswoman said: "We are introducing new ways of working which will gear us up for future success by allowing our buyers to devote more time to differentiating our products and better tailoring our ranges in line with our strategy. We will also make our processes more consistent and smoother for our suppliers, which is something they have asked for.

"This proposal, as well as being designed to make our processes smoother for suppliers, is shaped by our category management approach so that buyers will have more of a strategic focus on differentiating our products and tailoring our ranges."