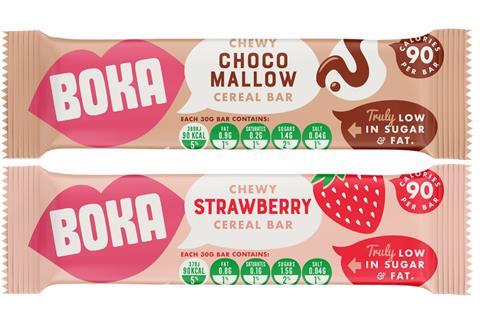 Boka has gone vegan and rebranded to highlight its green nutritional labels.
It has reformulated all four of its cereal bars – Apple & Cinnamon, Strawberry, Choco Mallow and Caramel – to make them vegan and relaunched them in new-look packaging.
They have rolled into Sainsbury's, Booths and Amazon (rsp: 85p-£2.45/30g-4x30g).
Its duo of granolas – in Strawberry, and Apple & Cinnamon flavours – have also been rebranded (rsp: £3.50/400g).
In line with the relaunch, Boka's website will be updated next week.
It said the updated packaging would allow consumers to quickly identify the nutritional health benefits and give it more standout on shelf ahead of the HFSS clampdowns.
It was "the only cereal bar brand in the UK with all green traffic lights and one of the first to be 100% HFSS compliant", it claimed.
This was "a key advantage for the brand as competitors seek to reformulate their products to capitalise on promotional opportunities instore", Boka added.
Boka founder Franco Beer said sales had "grown exponentially" over the past 12 months.
Consumers were "trying to make healthier choices" but snack bar suppliers were "misleading them with confusing added health benefits, disparate labelling and vast amounts of hidden sugar, especially concealed under the 'no added sugar' banner", said Beer, adding it was "time for change".