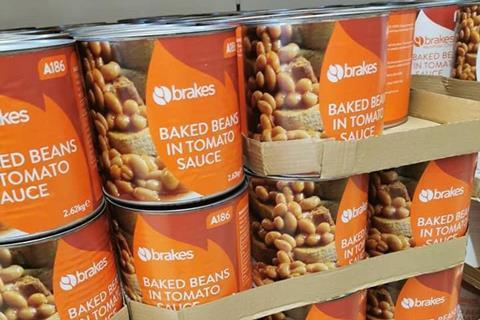 Sainsbury's has begun clearing the huge foodservice tubs of beans it sourced from Brakes in the early days of the pandemic.
The retailer was spotted selling the 2.5kg tubs of beans for as low as 63p in some cases – a massive reduction from their initial shelf price of £2.10.
The retailer linked up with Brakes when lockdown commenced amid mass panic-buying in March, marking one of the first major tie-ups between a supermarket and a large foodservice operator.
The trial initially spanned 10 stores in Kent, but it is understood they were available in some 150 stores at the time of writing.
A Sainsbury's spokesman told The Grocer the retailer was "reducing the price of Brakes Bros beans but stock is very limited and we don't expect these prices to be available for long", adding shoppers were "advised to act quickly if they want to take advantage".
A Brakes spokesman said it was "inappropriate for us to comment on what Sainsbury's does in its stores" but stressed "we enjoyed an excellent working relationship with Sainsbury's throughout the pandemic, providing products that were in very short supply".
"We were very pleased, as we believe were Sainsbury's, at how the products performed and the positive consumer reaction."
It follows mass clear-outs by rival Tesco, which this month was selling huge 16kg bags of flour it purchased amid the surge in home baking during lockdown for as low as £1 in some stores.