After years of value decline, battery sales are up, with Energizer and Panasonic in particular thriving. What's brought the change?
The battery market, long in need of spark, is showing signs of life. After years of value decline, induced by changing device trends, heavy promoting, and indifferent customers, the sector has been re-energised.
Value sales of batteries are up 3.8% to £255.7m [Kantar 52 w/e 24 May 14] on volumes up 3.6% to 579.8 million. And it's brands making hay: Energizer and Panasonic in particular recorded impressive gains. And though Duracell disputes IRI figures suggesting it hasn't had as easy a time, it still owns more of the market than its bestselling rivals combined.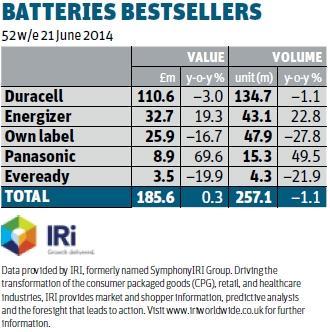 So, how have retailers and suppliers turned sales round? Is it a consumer-led electronics play, or a case study in category management and retail execution? And how are structural changes in retail affecting the market?
Amid new promotional tactics and pack sizes, there has been a marked uptick in marketing spend among the brands, who have not been afraid to flash the cash to grab share. "Customers are looking for value for money," says Tim Clark, group manager of Panasonic UK & Ireland. "But they are looking for brands they trust, too." Panasonic is clearly earning that trust: value sales are up a whopping 70% to £8.9m on volumes up 50% [IRI 52 w/e 21 June 14]. Its success is attributable to new listings: it replaced Energizer in Waitrose and Morrisons in 2013. Clark credits Panasonic's "collaborative approach" with retailers, wholesalers and indies: "We don't take a dictatorial approach. We adapt to what the retailer needs."
Listings losses don't appear to have dented Energizer's progress. It recorded value gains of 19.3% to £32.7m [IRI], with volumes up 23%, on the back of a strong NPD programme. It claims Energizer Ultra+, which it relaunched in April with added PowerSeal technology – meaning cells will hold their power for up to 10 years in their packaging – is the fastest-growing battery range of the year.
As to Duracell, brand manager Menna Zaghloul points to Kantar data to support claims that it has been a good year "for Duracell and the batteries category as a whole, with both returning to solid growth after a turbulent few years." Duracell has worked hard on its in-store promotion, she adds, driving home its message of superior performance. "We've also brought bigger packs to stores and this has played well in the grocers," she says.
"It has been a good year for Duracell and batteries with both returning to growth"
It hasn't been a great year for own label: value sales are down 13.3% to £44.5m [Kantar] on volumes down 18.8%. "The main reason is that the price differential between a private label and a branded battery is less noticeable for a consumer, especially when brands remain willing to promote," says Clark.
"The customer needs a brand to have a little confidence," says Hussein Lalani, commercial director at 99p Stores, of its introduction of licensed brand lines.
X-for-y shift
Changes in the promotions mix have also been crucial in driving up prices, according to Clark, who points to a move away from bogofs and more towards trade-up, x-for-y promotions. "Batteries remain a high impulse-driven category and, while there has been a drop in the percentage of branded batteries sold on promotion, consumers still have an appetite for branded promotions."
The batteries market grew ahead of grocery this year, driven by shoppers buying more per trip (bigger packs). Despite this, penetration fell marginally.
From a retail perspective the key growth driver is the bargain stores, which continue to steal spend across the market. Asda and Sainsbury's have also grown year on year.
On the surface average price per cell is flat, however the key growth driver, alkaline, has seen prices increase 4.5% across the year, with shoppers paying more the key source of growth.
Brands are the key growth driver across the market, in particular through alkaline batteries, where bigger packs have driven shopper spend. Own-label ranges continue to decline due to lost shoppers and repeat shoppers making fewer trips than last year.
Michael Nyhan, Kantar Worldpanel
Toshiba is also embracing the x-for-y strategy: "We have found a positive reaction to our promotional packs, especially our 4+2 alkaline packs," says Savvas Papachristou, MD of Premier World Brands, which markets Toshiba batteries in the UK. "Our total sales [on that line] are on average 24% up month on month since launching earlier this year."
"The market is moving towards two-fors as opposed to bogofs," says Varta's sales and marketing director Anthony Sewart. "Quite deep-cut two-fors, but not quite a buy one get one free."
Varta, as a challenger brand, is nonetheless sticking to its guns by offering bogofs in the form of 4+4 packs. "Consumers like to see they're getting something for free," he adds. It is also banging the drum for its performance capabilities by adding an on-pack sticker declaring it 'Lasts as long as Duracell.'
Less heavy promoting has contributed to a drift upwards in the average price of a battery cell. Alkaline batteries have risen 6%; own label has climbed 7.3%. "I'm not sure we've seen base prices increase but perhaps the level of promotion has driven that," says Sewart.
Bargain batteries 
can prove 
a big draw
Discounters are a force to be reckoned with in batteries. They have a 13.4% share of the category – rivalling Asda (13%), Sainsbury's (12%), and even Tesco (20.1%) [Kantar].
Batteries are an essential part of 99p Stores' offer, says commercial director Hussein Lalani, with value packs of 10 batteries or more "the better sellers."
"Many of our customers make the trip especially for batteries. We offer the best value in the market.
"However, there is a very strong segment of the market that will only go for the Duracell brand. We only stock a two-pack of Duracell, whereas we do a 10-pack of Panasonic. But Duracell is always there."
Not all Duracells are alike, however; the pound stores usually stock Duracell Simply, a budget version of P&G's brand.
99p Stores also tries out secondary-branded guest batteries for six months at a time. This year it's the turn of Automobile Association batteries.
Elsewhere, Poundland is pushing its own-label Fusiomax Endurance brand, launched earlier this year. It "has been rigorously tested and outperforms leading brands," Poundland says. It also stocks Duracell, Kodak and Sony.
"The discounters keep it incredibly simple," says Varta's Antony Sewart. "Currently, in Aldi, they have a branded four-pack at £1.99, and an Aldi-labelled eight-pack for £1.99. And that's pretty much it."
Bargain stores also place more of an emphasis on larger packs of zinc batteries, which give the appearance of value for money – if not great performance. Zinc batteries are more suited for low-power devices such as remote controls, rather than cameras or gaming controllers.
However, Toshiba, which has seen sales of its alkaline batteries grow through the discounters, believes consumers are waking up to the superiority of alkaline over zinc. "They are gradually realising that alkaline is now required more than ever to power modern devices," says Savvas Papachristou.
Regardless of discounter tactics, brands are agreed on one point: as Clark puts it: "You can't ignore the discount chains. They're a really big growth area." As Michael Nyhan of Kantar says, the reliance of supermarkets on price inflation and big packs can only last so long before their share is further hit.
Multipacks, meanwhile, seem to be on the rise – in part thanks to their popularity with the discounters. Toshiba now offers shrinkwrap multipacks of 12, 16 and 20 AA and AAA alkaline batteries.
Marketing
With batteries a perennial impulse buy – "it's unlikely they would appear on a shopping list," says Sewart – marketing is as important as ever in the battle to woo shoppers. To support its three major launches (Energizer Ultra+, Energizer Recharge Technology Innovation, and Energizer Ultimate Lithium Batteries), Energizer's ad spend soared 176% to £27,823 [Ebiquity 52 w/e 30 April 2014].
Energizer also launched an in-store campaign in 1,600 Tescos in August offering shoppers the chance to win a number of 'added value' prizes including Ticketmaster vouchers, free childcare and family days out, as well as incentives to store staff.
Panasonic's marketing spend remained flat at £16,325, most of it on press ads, as it continued to push its messages around 'anti-leak' protection, 10-year shelf life and long-lasting charge – the three areas its research says are most important to consumers. "It's such a mature, stable market – NPD is going to be more marketing than performance-led," says Clark.
"The price differential between a private label and a branded battery is less noticeable"
And although Duracell's media spend slipped to £2.9m it remains the only battery brand to invest in TV advertising (82% of its marketing budget goes on TV), and it still dwarfs that of rivals. "We've also made a deliberate effort to move Duracell and batteries in general away from just a seasonal uplift," says Zaghoul.
"We want it to be an always-on proposition and we've launched innovative in-store programmes through a partnership with Microsoft Xbox and a raft of retailer-specific, differentiated campaigns."
Device trends
All brands continue to watch the electronic device market closely. Varta, for example, has rebranded its packaging to incorporate icons representing the types of devices its three alkaline products are designed to support: Long Life (for low-powered devices such as a remote controls); High Energy (for toys and torches); and Lithium (for digital cameras and outdoor usage). It has worked with retailers to make sure the appropriate battery is displayed in store next to the devices it is meant to power.
Device sizes are also changing . "Appliances and the products that take batteries are getting smaller and this has resulted in a significant growth in smaller specialist batteries such as coin-sized lithium as well as AAA batteries," says Clark.
"We've made a deliberate effort to move Duracell away from just a seasonal uplift"
But there seems no danger that specialist sizes will displace the dominant AA battery just yet – specialist batteries account for just 8.7% of the market [Kantar], not far below rechargeable batteries (9.2%), sales of which continue to plateau.
"I always expected rechargeable to grow but it seems fairly stable," says Clark, "which, – given the environmental and economic benefits – I'm always staggered at. Consumers still have an apathy towards recharging."
Sewart suggests people need to be educated about the benefits of rechargeable. "The traditional thinking is that you need to charge the batteries before you use them," he says – but this is no longer the case.
Portable chargers, though, are a growth area – albeit from a small base – as brands look to capitalise on consumers' need to recharge smartphones and tablets. But for the vast majority of brands, alkaline remains the battleground, with value sales up 6.1% and volume up 1.6% [Kantar].
Time will tell if this year's upward trend in sales is the start of a long-term resurgence or merely a blip in a market looking for a charge of its own.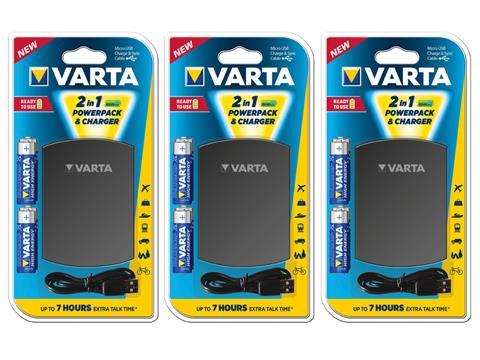 2in1 Powerpack & Charger
Launched: July 2014 
Manufacturer: Varta
Having launched into the portable power market last year, Varta has added three new powerpacks to its range. The 2in1 Powerpack & Charger (£14.99) uses four AA batteries to give up to seven hours' extra talk time to a typical mobile phone. Handily, it also acts as a battery recharger itself, meaning you can pop out the AA batteries and use them in another device. "This makes it perfect for anyone who is out and about without access to mains power supply for longer periods," says Varta.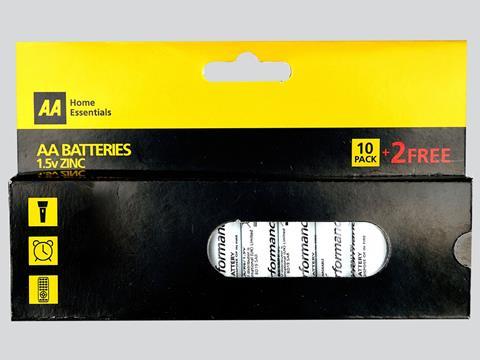 AA batteries
Launches: September 2014
Manufacturer: AA
99p Stores' guest battery this year is an Automobile Association-branded AA battery (99p/2-pack) – which gives rise to the somewhat confusing prospect of shopping for AA AA batteries. Commercial director Hussein Lalani believes consumers will respond to the association with a brand that rescues you when your car breaks down.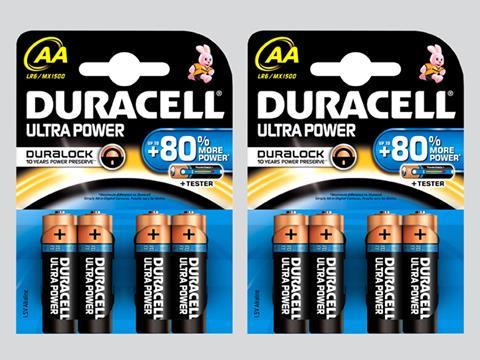 Duracell Ultra Power AA Batteries
Launched: October 2013
Manufacturer: Duracell
Duracell says its Ultra Power AA batteries (£4.99/4-pack) deliver up to 40% more power in high-drain devices thanks to active ingredients with "increased moisture content and more high-power MnO2." It also boasts Duracell's Powercheck tech, which lets you see how much juice is left.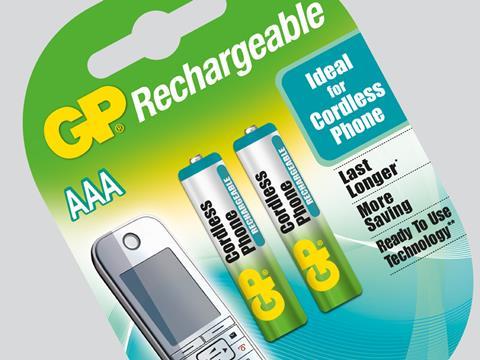 APC batteries
Launched: June 2014
Manufacturer: GP Batteries
GP Batteries has a new range of varying capacity rechargeable batteries, dubbed Application Packaging Concept. Each pack (£3.99) highlights the device for which the battery is best suited, for instance an AA 2600mAh pack is best for digital cameras. GP recommends siting the battery with the corresponding product.