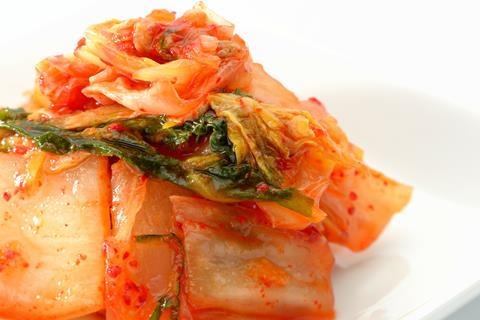 Brits have gone crazy for kimchi.
Exports of the fermented Korean staple to the UK rose 23% to 886 tonnes (worth £2.5m) in 2019, with 656 tonnes (worth £2.1m) of kimchi already imported over the year to 31 September 2020, according to figures from the Korea Agro-Fisheries & Food Trade Corporation.
This was "slightly less in volume but more in terms of value, however what we've seen is a steady increase over the past five years, so we would expect to see that this year", a spokeswoman for the Korea Agro-Fisheries & Food Trade Corporation told The Grocer.
Kimchi – which is made by fermenting a selection of vegetables such as cabbage, radish and cucumber with seasoning such as red pepper powder, garlic, ginger and spice – is often touted for its supposed health benefits.
Sales are surging in the supermarkets: during the first lockdown, Waitrose said sales of kimchi were up 43%.
"As consumers become increasingly health-conscious, interest in fermented food is growing. Kimchi in particular is an unstoppable food trend, with shoppers keen to explore cuisines that can offer new flavours and textures," said its buyer Leyla Page.
Meanwhile suppliers are tweaking the dish with new recipes. Vadasz, for instance, launched a new Super Green Kimchi made with Chinese cabbage, cucumbers, apples, kale, spring onions and jalapeño chillies into Waitrose this month, which the brand said offered "a healthy and moreish twist" compared to the traditional recipe.
Sauce brand Eaten Alive, meanwhile, added a raw kimchi hot sauce to its range earlier this year.