It's time to rethink the phrase 'lipstick economy'. The description of the recessionary phenomenon in which sales of affordable luxury goods such as lipstick surge is outdated, says Nielsen analyst Helen Gracie, who points to the £12.5m nail cosmetics have contributed to the category's £28.8m growth in the past year [Nielsen 52 w/e 12 October].
"The lipstick economy has become the nail economy as nail cosmetic sales have grown 15.4% and nail art and effects trends have become mainstream," she says.
Read The Grocer's full Top Products Survey.
That's not to say lipstick's been left to roll around at the bottom of the proverbial handbag. In value terms, lip cosmetics have grown 4.7%, contributing £4.5m to the category's overall growth. Reflecting the trends towards both bold colours and natural tones, as well as advances in quality, lipstick is up 8.2%, while lip gloss has lost 12.3%.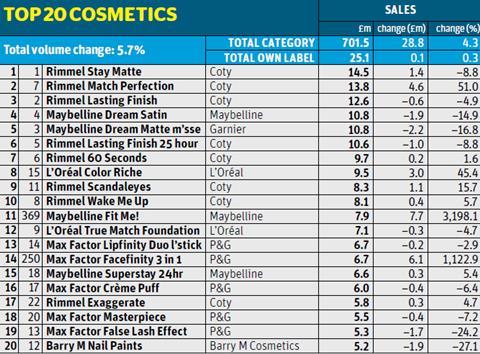 Look no further than L'Oréal Colour Riche for a brand that's benefited from the focus on nails and lips. Sales of the range – featuring lipsticks in everything from Nude to Sparkling Amethyst tones and an equally diverse array of nail colours – are up £3m, on volumes up 45.8%, helping it jump seven places to number eight in our bestsellers list.
As shoppers look to recreate the professional nail bar effect with manicures and 'wrap' acrylic and gel nails at home, Maybelline is cashing in with its new Color Show range. Since its February launch, the range (the brand's first transparent gel-based nail polish) has racked up £3.9m in sales and risen to number 36 in the bestseller rankings.
Such NPD – along with the biggest-selling cosmetics innovation of 2013 , the Rocket (see below) – has been vital to the category over the past year. Innovation contributed £64m to the category's overall £701.5m value, although this represents a slight dip on the £65m value of cosmetics NPD in 2012.
But even the Rocket's sky-high growth pales next to that of Maybelline's Fit Me and Max Factor's Facefinity Three In One, with respective value increases of £7.9m and £6.7m, making them the first and second-biggest growers of the category in 2013.
Again, being bang on trend has been key. Fit Me, which is free of wax and oil, has grown by offering products to complement women's natural skin tones, while Facefinity Three In One (primer, concealer and foundation) has benefited from multifunctional products being in vogue. Both have bucked the past year's 1.8% value decline in facial cosmetics.
Being able to spot a trend is important – for example Rimmel Scandaleyes has grown 15.7%, thanks to the fashion for big lashes – but it's not everything. Offering the right product at the right price is growing in importance. Over the past year the average price of branded cosmetics has fallen 2%.
Read The Grocer's full Top Products Survey.
Top launch: The Rocket Volum' Express Maybelline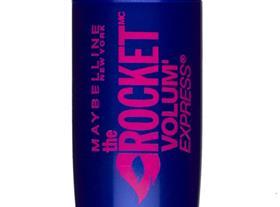 Since its February launch, Maybelline's Rocket Volum' Express has climbed up the bestseller list like a, er, rocket, racking up £5m in incremental sales for Garnier. When it comes to lashes, the fake look was where it was at in 2013, says Garnier. And with its fine bristles and smooth formula delivering a mascara with up to eight times more volume compared with average mascara (it claims), it's contributed 7.8% of cosmetics NPD sales. Supersonic!