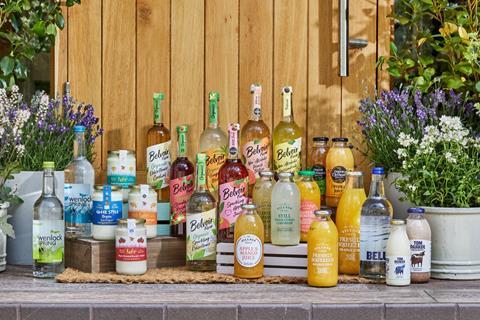 Müller's doorstep delivery service Milk & More has expanded its relationship with circular supply chain business Again – allowing the packaging of even more of its offering to be reused.
Following a successful regional trial of reusable glass bottles earlier this year with the Tom Parker Creamery, the partnership with Again is now being rolled out across the Milk & More business, taking its total refillable offer to 77 lines.
The refillable bottle range now includes water, soft drinks, cream, flavoured milks, yoghurts and new juices from brands including Belu Water, Wenlock Spring, The Village Press, Tom Parker Creamery, River Cottage, Belvoir Farm and Brown Cow Organics.
The tie-up follows a partnership between Milk & More and Coca-Cola Europacific Partners to trial the delivery and collection of one-litre, Coca-Cola Zero Sugar refillable glass bottles last month.
Working with Again consolidated the delivery service's position as 'The Home of Refill', Milk & More said, while making it even easier and more convenient for its customers to be sustainable. And in doing so, ensured its now extensive zero-waste packaging offering extended to 80% of the volumes it sold.
Milk & More already delivers and collects a wide array of other reusable glass bottles and packaging, including organic and standard milk, alternative milk and fruit juices, cereals, and store cupboard and household products, amounting to over 80 million units of zero-waste packaging a year.
"As the 'Home of Refill' we know our customers want to be more sustainable, and we are dedicated to helping them make a difference by extending our offering and supporting brands to switch to refillable packaging," said Milk & More CEO Patrick Müller.
"By expanding our partnership with Again we are offering our customers the service they know and love for even more products, delivered and collected by one of the largest electric delivery fleets in the country, while reducing their carbon footprint, and eliminating the use of pointless plastics."
The announcement came ahead of World Refill Day today (16 June), a global day of action to prevent plastic pollution and help people live with less waste.
This year's theme is 'reimagining the future' and working to accelerate the transition away from single-use plastic towards a circular future, where reuse and refill "are the norm", Milk & More said.
When reusable glass bottles are reused at least five times, the overall CO2 emissions of the product lifecycle was reduced by over a third compared to single-use glass bottles, it added.