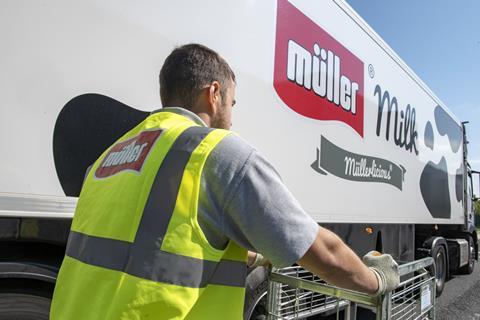 Müller Milk & Ingredients is expected to return to the black later this year, CEO Patrick Müller has said, after a far-reaching cost-cutting drive.
Speaking at the 2020 Semex dairy conference in Glasgow this week, Müller said the dairy giant was on track to arrest "unsustainable losses" that topped £230m during the 2017 and 2018 financial years, and was expected to move back to profitability over the next six months.
The past 18 months had been "very difficult" said Müller, with plunging margins pushing the liquid milk sector "to the brink of collapse".
"Production was going up while consumption was falling. This, coupled with huge competition in retail and very low prices, created an unsustainable situation."
However, a series of initiatives through MMI's Project Darwin cost-cutting plan, including the closure of its Foston dairy in the summer, a cut in the number of SKUs produced and a move to outsource logistics to Müller subsidiary Culina, had contributed to greater efficiency.
A wholesale renegotiation of Müller supermarket supply contracts had also borne fruit, Müller added, with 90% of MMI's retail partners having agreed to new "long-term profitable contracts" and just 6% still under negotiation.
"For the remaining 4%, we said no and walked away. We don't want [the contract] if they are not willing to pay a price that is sustainable," he added.
Darwin "wasn't an easy exercise", Müller admitted, but contract renegotiations had been in everyone's interest in order "to add value back into the category".
His comments follow a turbulent two years for the sector, amid plunging profit margins across the leading processors, which ultimately led to the collapse of north wales-based Tomlinsons Dairies.
"I'm much more positive than a year ago when the whole sector was at a tipping point, and we were questioning whether it was clever to be in the milk business," he added.
"But since then our plan has worked and we do see fundamental positives in this industry – consumers still support the product, it's healthy, tasty and locally sourced compared to many dairy alternatives."