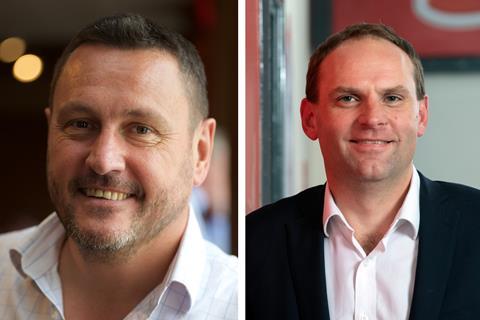 Müller Milk & Ingredients has promoted its commercial director Liam McNamara and its chief operating officer Rob Hutchison to the roles of joint CEO.
The pair replace former Twinings MD and Allied Bakeries CEO Jon Jenkins, who joined Müller as MMI CEO in January 2020 and left the business last month.
Introducing a joint leadership team signalled MMI's intention to leverage the duo's "industry-leading strengths in driving value for customers through strong partnerships underpinned by excellent supply chain, operational and service delivery performance and reliability", the processor said.
McNamara and Hutchison brought "decades of experience within the UK dairy sector and fmcg", it added.
Having joined Müller in 2010 and led the commissioning of its Bridgwater dairy and logistics operation in the south west, Hutchison then played "a leading role in the successful restructuring and transformation of the MMI business", the supplier said.
McNamara, meanwhile, joined the business last year, with more than 25 years of global fmcg and retail experience at general management and senior commercial level. Like Jenkins, he has a background as MD of Twinings and as joint MD at Allied Milling and Baking for UK & Ireland.
Within MMI he had "driven strong and mutually beneficial customer partnerships, helping MMI to become the partner of choice for customers within the fresh milk, flavoured milk, cream, butter, and ingredients sectors", Müller said in a statement.
It comes as MMI has announced plans to recruit 75 new HGV drivers to bolster its logistics operation and maintain service levels for its own label customers.
The dairy giant said the recruitment push would build on recent initiatives that had seen it appoint 30 ex-military personnel to driver roles within the business and upskill 67 existing staff members via its Warehouse to Wheels training programme.
Müller's new recruitment drive was confirmed at a recent visit to Müller's Manchester depot by the minister for defence people and veterans Leo Docherty MP, alongside representatives from non-profit organisation, Veterans into Logistics.
The purpose of the visit was to see at first-hand how Müller was "successfully working with Veterans into Logistics to place highly-trained ex-military personnel into work as drivers within the logistics industry", it said.
In addition to its internal upskilling drive, the processor said it was finding other internal solutions "to support and help potential candidates gain their driver qualifications swiftly", including the hiring of its first ever in-house driver examiner, "accelerating the end-to-end qualification process from up to 12 months to eight weeks", with 40 new drivers qualifying in April.
New employees would be given the appropriate training, depending on experience, as well as a range of employment benefits, Müller said.
The moves follow a chronic shortage of HGV drivers within the food sector over the past year, which led to shortages of a raft of products in supermarkets – including milk and other dairy products – last summer.
Müller was keen to stress at the time that its network had been "resilient", thanks to the fact the majority of its logistics operations were in-house via partner Culina. However, it admitted there were still difficulties in attracting staff to the sector.
"The vast majority of our logistics operations are in-house, rather than outsourced to a third party, and despite the industry-wide driver shortages in 2021, this ensured successful delivery of over 99% of our deliveries," said McNamara.
"As labour shortages continue to be one of the key issues facing the food supply chain, we have built some outstanding partnerships with organisations like Veterans into Logistics, and implemented some unique thinking within our own business to help tackle this problem ourselves," he added.
"So it is great to see this outstanding work being recognised by the minister for defence people and veterans. "We have 75 great HGV driver opportunities, across our sites, to help us deliver our products. If you have the skills and qualifications, and want to help with our aim to become Britain's private label dairy leader, please do get in touch."