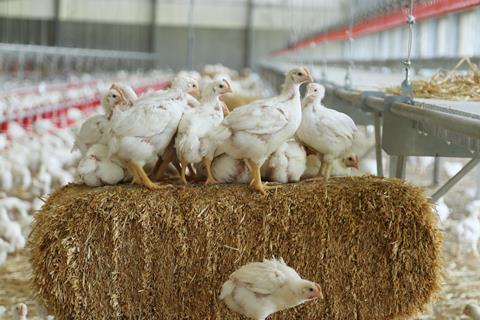 Morrisons' move to launch a new range of chicken that meets the criteria of the Better Chicken Commitment has been criticised by animal welfare group the Humane League for not going far enough.
The retailer announced plans last week to launch the affordable, high-welfare range from early 2022, while stressing many of its existing poultry standards already exceeded the BCC.
Morrisons said it would also work with farmers to introduce a new breed of slower-growing Redbro chicken to the UK as part of the launch, while it had introduced extra daylight and perches into chicken barns over five years ago.
But its announcement of a new BCC range was slammed as "superficial work to appear as though it is taking action" by the Humane League – a BCC founder – which hit out at the fact Morrisons had not signed the commitment and claimed the range would do little to safeguard wider chicken welfare.
The Better Chicken Commitment is a Europe-wide scheme backed by animal welfare groups that advocates a range of measures to improve bird welfare and raise baseline standards by 2026.
These include the adoption of slower-growing breeds, increasing levels of light and play areas, giving birds more room to roam inside barns, and using more humane stunning methods.
But while a raft of European supermarkets and foodservice operators have signed up to the commitment, only M&S and Waitrose have done so out of the UK's major supermarket chains.
"The BCC isn't a range, it is a commitment to raise all chicken sold to meet or exceed these standards," the Humane League said.
"It was devised by leading animal protection groups who recognised that the plight of chickens reared for meat is one of the most pressing animal welfare issues of our time, with the aim of raising baseline standards in which broiler chickens are raised," it added.
"Severe health issues, pain, disease, and high mortality plague the life of a modern broiler chicken."
With its new range – which could affect as little as 1% of its total chicken supply – Morrisons "did little" for the millions of chickens "still suffering in intensive farms under their care", the group claimed.
"All major supermarkets in France have now committed to completely meet the Better Chicken Commitment by 2026," it said. "And yet, despite priding ourselves on our animal welfare standards and on being able to stand out from the crowd post-Brexit, only two of the top 10 UK supermarkets have made the commitment."
In response, Morrisons head of agriculture Sophie Throup said: "All of Morrisons fresh chicken is 100% British and reared to some of the world's highest welfare standards. Morrisons has a set of bespoke standards which go beyond Red Tractor to keep birds healthy – ensuring they have the space, natural light, environment and materials to remain in good physical condition and to express natural behaviours – from the moment they hatch until the end of their life.
"Morrisons has pledged to launch a range grown to the Better Chicken Commitment from as we wished to offer this choice to our customers."