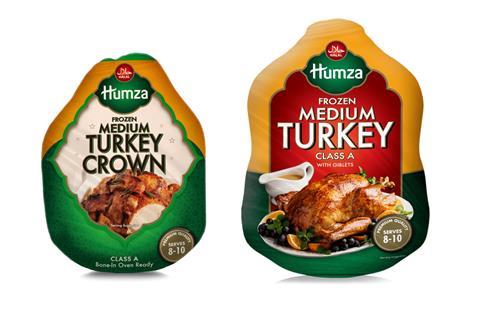 World foods supplier Surya Foods has launched what it is describing as the first frozen halal turkey to be sold in the mults.
Launched in time for Christmas, the turkeys, sold under Surya's Humza Halal brand, went on sale this month in Asda and Morrisons. Shoppers can choose from whole birds weighing from 4kg to 5kg, alongside 1.8kg to 2kg turkey crowns, priced at £16 and £14.50 respectively. The birds are sourced from France.
Until now, halal turkeys had only been available fresh, from specialist halal butchers or supermarket meat counter concessions, Humza said.
The launch was in response to market research for the brand that suggested Muslims were frustrated at the lack of halal meat choices in the mults. Further research of 200 shoppers by Humza in March, revealed that 50% of Muslim shoppers would buy a frozen halal turkey, with 40% keen to do so for Christmas.
To mark the launch, Humza's newly appointed brand ambassador Saliha Mahmood Ahmed, the 2017 BBC MasterChef winner, has created a series of recipes with a Middle Eastern twist.
Her recipes include firecracker roasties, stir-fried brussels sprouts and her take on a classic halal roast turkey, and will be shared with consumers via the Humza website.
"Although I always make a big, celebratory family meal on Christmas Day, I have found it difficult to source a halal turkey in the past and have sometimes resorted to cooking duck or even roasting a lamb leg," she said.
"Turkey is not a meat that we, as a culture, have a great deal of experience cooking with, so the majority of questions directed at me are simply – how do I cook this? And then, it is very much about knowing the technique, learning how to add spice, colour and depth of flavour."
Surya Foods MD Harry Dulai said: "The arrival of Humza's new halal frozen turkeys in some of our biggest supermarkets mean Muslim families keen to enjoy this delicious and plentiful bird can do so much more easily."