When lockdown derailed plans for a major product launch aimed at the travel market, Family Secret had to move fast
Imagine buying a literal tonne of mini poppadoms to supply customers – and then a pandemic hits.
That's the situation Family Secret co-founder Sunny Mudhar found himself in last March when Covid forced his airline and railway clients to temporarily cease trading.
Mudhar turned the potential disaster into an opportunity by using the poppadoms to create a bagged snack brand now winning listings in the UK and overseas.
It's a venture far removed from Family Secret's origins as a cooking sauce supplier. And cooking sauces are themselves far removed from Mudhar's original career in pharmaceutical and medical equipment sales.
Food is his passion – although it doesn't extend to cooking. In fact, he's "awful" at it, he admits. "That's why I have a cooking sauces company."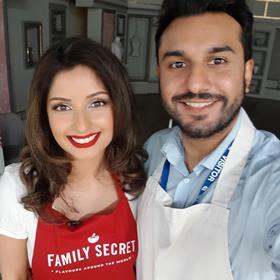 The inspiration for the sauces was a globetrotting honeymoon about five years ago. "You end up meeting people, making friends and getting invited to dinner parties and beach parties," he explains. "People would be cooking these amazing dishes and would say that this is their grandma's recipe that has been passed on."
It was the idea of a 'family secret' recipe that prompted Mudhar and his wife, Harmeet, to launch a range of seven sauces low in fat, salt and sugar and free from artificial preservatives or colours.
Selling initially through farmers' markets and food shows, demand quickly outstripped the couple's own production facilities.
After a nine-month search for the right production partner, Mudhar found a small family business that produces its own stocks and gravies. "They weren't contract manufacturing for any other brand but I went down and convinced them to help scale up our recipes," he says.
"I didn't want to go to a big production company. It just wasn't what we are about. But they set up to produce larger quantities if we need them."
Around three years ago, Mudhar and Harmeet gave up their jobs to focus on Family Secret full-time.
"My wife's background was creative and digital resource management. She worked with some of the biggest kind of brands on their digital campaigns and digital presence," he says. "Her skills were transferable to our business and most of the branding has been directed by her."
As listings grew, initially with Midcounties Co-Operative and later wholesalers including Cotswold Fayre and Springvale Foods, Family Secret expanded with a range of snack boxes inspired by restaurant starters. These included poppadoms and dips, Chinese crackers and dips, Thai crackers and dips, and rosemary crackers and dips.
"These were pretty unique, and we predominantly targeted travel because we thought it would be a fantastic travel product," says Mudhar.
Buyers agreed and were particularly keen on the poppadoms box, which was listed by Virgin Trains (now Avanti) and London North Eastern Railway. Then came a big one: an order for the poppadoms box from British airline Jet2.
"The train deals together with the airline deal were forecasting sales north of £1.2m, so we felt this would really put us on the map in terms of business."
Mudhar ordered a tonne of mini poppadoms from India for the boxes. While the majority of Family Secret ingredients are sourced in the UK, the business buys authentic Indian mini poppadoms that are dried in the sun before being shipped to the UK for frying.
The snack boxes were due to launch in March/April 2020, just as Covid hit the UK. The market for the boxes virtually disappeared overnight. "I remember sitting there thinking, 'what am I going to do?'," says Mudhar.
What he did was visit the small crisps factory that fries the mini poppadoms and asked if it was possible to season poppadoms the way crisps are flavoured.
After experimenting with various flavours, the Proppadoms bagged snack brand was born. Like the cooking sauces, variants are inspired by world cuisine. They include jalapeño, duck & plum and turmeric, chilli & ginger.
Soon after Proppadoms' launch, Mudhar pitched on TV's Dragon's Den. He came away without investment, which he believes would not have been the case had the brand already secured the listings it later achieved.
The brand is now listed with wholesalers and has gone into WH Smith in 50 airport locations across 10 countries. Proppadoms also recently started selling online through Holland & Barrett with a view to going into stores in the coming months. Talks are ongoing with supermarkets and travel operators.
Family Secret is also selling its sauces and Proppadoms direct to consumers through its own site and Amazon, which Mudhar says is performing very well for the brand.
"What I've been hearing is that, since the pandemic, people are looking for things that are new, that aren't available in every single retailer," he adds. "They want small, challenger brands that offer quality."
This is the type of product the business intends to continue developing, starting with a health-focused snack box after securing a £25,000 grant from the government's Innovate fund.
"The aim is that these will give you the right vitamins and nutrients you need throughout your day," explains Mudhar.
Plus, having a diversified product range will help protect his business should further pandemics disrupt its sales channels, he adds. "We saw our snacks business pretty much wiped out by the pandemic, while our sauces business grew 100%."
Following a successful crowdfunding drive last September, the business will be looking to raise funds again soon to support a major marketing push. "We know we have fantastic products, but not enough people know about it," says Mudhar. "We want to become a national and well-loved brand."