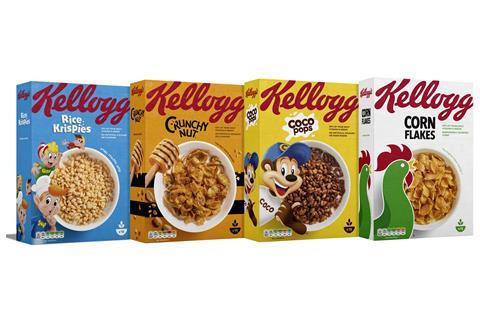 Kellogg's has today approved the separation of the cereal giant into two new separate companies, with a change of name and a new stock exchange listing.
The US group announced a radical overhaul of its structure in June 2022, with the original plan to split into three independent entities: a snacking business, the US, Canadian and Caribbean cereal businesses and a plant-based operation.
However, in February, Kellogg's scrapped the ambitions to spin off or sell the plant-based MorningStar Farms division following a souring of market sentiment over the vegan category more generally.
But today, the Michigan-headquartered company's board of directors formally approved the separation into two independent, publicly traded companies, to be known as Kellanova and WK Kellogg Co.
Upon completion of the separation on 2 October 2023, Kellogg Company (the formal name of the group) will be renamed Kellanova, continuing to trade on the New York Stock Exchange under the ticker symbol 'K', while WK Kellogg Co is expected to begin trading on the NYSE under the ticker symbol 'KLG'.
Shareowners will receive one share of WK Kellogg Co for every four shares of Kellogg Company (K) owned.
"After more than a year of comprehensive planning and execution, we are more confident than ever that the separation will produce two stronger companies and create substantial value for shareowners," said CEO Steve Cahillane.
Kellanova will be made up of the snacking branding and is projected to generate revenues of $13.4bn-$13.6bn and adjusted EBITDA of $2.25bn-$2.3bn in 2024.
"We are looking forward to a new era as Kellanova, marked by a more growth-oriented portfolio, a renewed vision and strategy, and an energised organisation grounded by a winning culture and our founder's values," added Cahillane, who will remain chairman and CEO of Kellanova.
"These elements build on what has already been a track record of strong and consistent financial performance for the Kellanova portfolio."
Building its leading share position in North American cereal, WK Kellogg Co would focus and integrate its commercial strategy and execution and also modernising its supply chain, which is expected to improve competitiveness, profitability and cashflow, the group added.
WK Kellogg Co projects net sales of about $2.7bn and adjusted EBITDA of $255m-$265m in 2024.
"WK Kellogg Co has a 117-year legacy of innovation and the soul of a startup, with an organisation incredibly energised by our future," said Gary Pilnick, who will serve as chairman and CEO following the separation.
"As a standalone company, we will benefit immediately from the executional advantages of increased focus and end-to-end integration, while we modernise our supply chain and substantially improve our profit margins. We're on a profitable journey to take this great business to the next level."
In the original plans, the three international regions – Europe, Latin America & Asia Pacific, and Middle East & Africa – were to remain "almost entirely intact" within the new snacking-focused company, including the international cereal operations.