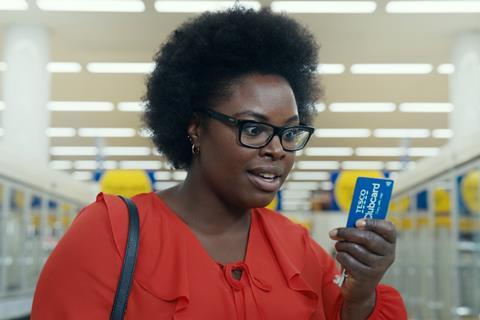 Tesco this week launched a new drive to stop shoppers deserting to the discounters, with hundreds of prices slashed exclusively for members of its Clubcard loyalty scheme.
The move, starting with about 200 frozen products from brands such as Carte D'Or, Birds Eye and McCain, has seen products cut by to 50%. Unlike previous trials of the scheme, Tesco has said the strategy will remain in place permanently, with the products on offer changing "every two to three weeks".
Tesco's price blitz, accompanied by a major new advertising campaign, comes as it told suppliers in negotiations in the summer that it was slamming the brakes on normal brand promotional activity, with all promotions instead to be driven through Clubcard.
The supermarket is seeking to use its 19 million loyalty cards customers as a point of difference against Aldi and Lidl, as well as its traditional supermarket rivals.
Tesco first trialled Clubcard Prices in May last year, the first time a major supermarket had offered its loyalty card holders cheaper prices at the checkouts. That and two other pilots were time limited.
Analysis of the Clubcard cuts by Edge by Ascential, exclusively for The Grocer, shows Tesco has cut prices by an average of 34%, with most of the reductions in the ice cream category, where it reduced the price of 65 products. This was followed by frozen meat & poultry, frozen fish and frozen ready meals.
With the first wave of cuts applying to more than 30 brands, the biggest savings were in the pizza category, with Dr Oetker products, which had six of the nine cuts in the category, all reduced by 50%.
Read more:
Magnum had the greatest price cut at 51%, with nine of its products having a Clubcard price of £1.90, down from the previous of £3.89.
Within ice cream, Carte D'Or just trailed Magnum with a 50% reduction across six of its one-litre ice cream tubs. WeightWatchers had the lowest average reduction, with seven of its frozen ready meals reduced from £1.75 to £1.50.
Edge by Ascential's research suggested in the clear majority of instances Tesco was now cheaper than the other supermarkets in the big four.
Of 131 price cuts analysed at Tesco it was cheaper than Asda on 59 products, compared with just six where it was more expensive. It was cheaper on 55 products at Morrisons, compared with just three more expensive, and cheaper on 55 at Sainsbury's, compared with three where its price was higher.
Patrick O'Brien, UK retail research director at Global Data, said its data showed some of the promotional prices had featured in previous promotions this year but said it was a significant move that Tesco had brought promotional activity under the Clubcard banner
He said: "We suspect these promotions are ones that Tesco may have otherwise offered to all customers but are making them exclusive to Clubcard holders with a view to invigorating the scheme and eventually upselling them to the Clubcard Plus tier.
He added: "Even so, this does contribute to some powerful messaging on price that Tesco has been doing lately, with the expanded Aldi price matching and the Clubcard Plus scheme telling Tesco shoppers that they don't need to go to the discounters to save money.
"Instead they have to adapt the way they shop at Tesco, by buying Aldi Price Match products and Clubcard offers and utilising the Plus scheme's two big shops a month discount. For many, changing the way they shop at Tesco will be easier than travelling to a rival.
Tesco chief customer officer Alessandra Bellini said: "We know that great value matters to customers more than ever before, that's why, to reward our loyal customers, we're offering everyone with a Tesco Clubcard access to hundreds of exclusive deals.
"We're also offering everyday low prices on hundreds of products so that customers can get clear and consistent prices on the products they buy regularly."