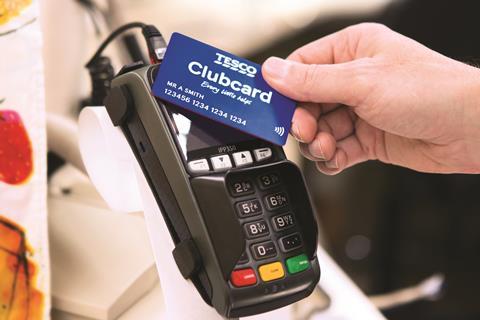 Tesco has launched a new wave of price cuts across hundreds of brands, exclusively for members of its Clubcard loyalty scheme.
The move, which will see 200 frozen products from brands such as Carte D'Or, Birds Eye and McCain cut by up to 50%, is the fourth time it has launched its so-called Clubcard Prices Promotion, but the first since Tesco told suppliers in the summer it was ditching its usual promotional activity in a switch towards everyday low pricing.
The Grocer reported in June that Tesco's plan will see the supermarket stop normal promotional activity, with all promotions driven through the Clubcard loyalty card, as it seeks to use its 19 million loyalty cards as a point of difference against the discounters.
It first trialled Clubcard Prices in May last year, the first time a major supermarket had offered its loyalty cardholders cheaper prices at the checkouts.
Tesco said all its customers would still get everyday low prices following the extension of its Aldi Price Match scheme, which is not just for Clubcard customers.
Tesco launched its last wave of Clubcard cuts in January as it warned consumers were set to cut back on their spending in 2020. However, that was before the coronavirus outbreak and its economic impact.
Read more:
Its new price cuts campaign comes as competition hots up between the supermarkets ahead of an anticipated recession.
Last week Morrisons announced cuts on more than 400 products, including fruit & veg, meat and poultry, bread and cereals, rice and pasta and household products, slashed by an average of 23%.
The week before, Asda launched a a £100m investment into lower prices, which also saw the return of its 'pocket tap' TV ads.
As The Grocer reported, Tesco has already slashed prices on hundreds of branded products under its move to EDLP, with almost 600 ambient SKUs being cut since the beginning of July.
To back its strategy, it has been demanding price cuts from suppliers, which has led to a stand-off in negotiations between sweets manufacturer Haribo and the supermarket, which has led to the supplier's products being widely unavailable in Tesco stores.
Clubcard Prices is being rolled out online and in all stores, excluding Express stores.
"We know that great value matters to customers more than ever before, that's why, to reward our loyal customers, we're offering everyone with a Tesco Clubcard access to hundreds of exclusive deals," said Alessandra Bellini, Tesco's chief customer officer.
"We're also offering everyday low prices on hundreds of products so that customers can get clear and consistent prices on the products they buy regularly."